This delicious broccoli cheese soup is a fantastic lunch or dinner dish. The soup is incredibly easy to cook and does not require much preparation.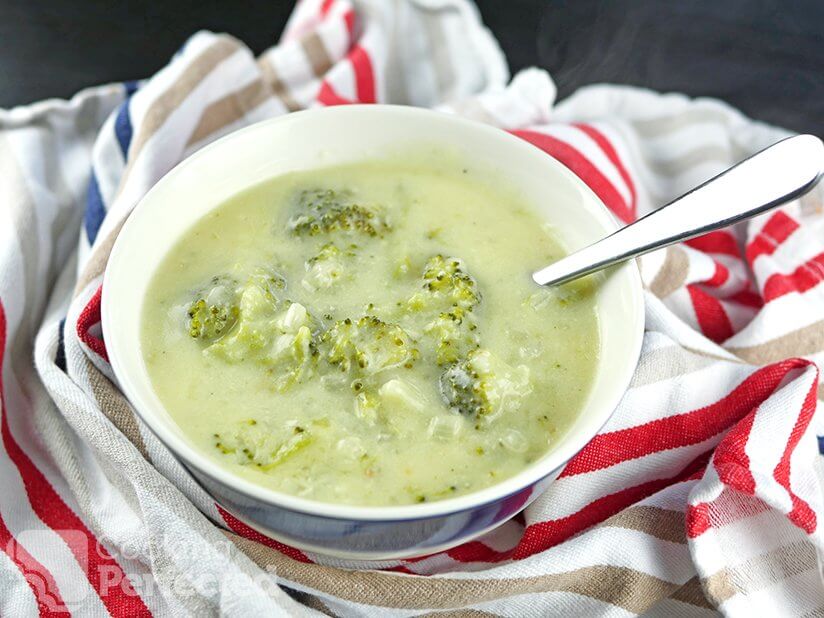 This soup cooks to be creamy, thick, and loaded with flavors from the broccoli, and cheddar cheese. It is the perfect comfort food to sit down and relax with.
I love to make soup whenever I need to feed a crowd as they are super easy to make. This recipe should feed roughly six people, but you can feed more if you make some extra side dishes.
You will be able to keep this soup in the fridge for a few days as it will reheat quite nicely. It makes it a fantastic quick, and easy meal that you can reheat whenever you are feeling hungry.
Side Dishes to Serve with Broccoli Cheese Soup
If you are looking for a side to go with this soup, then the suggestions below might take your fancy.
Something like fresh bread or crunchy garlic bread always works exceptionally as a side dish to the soup. I love to dunk some fresh bread into the soup to soak up the liquid and its amazing flavors.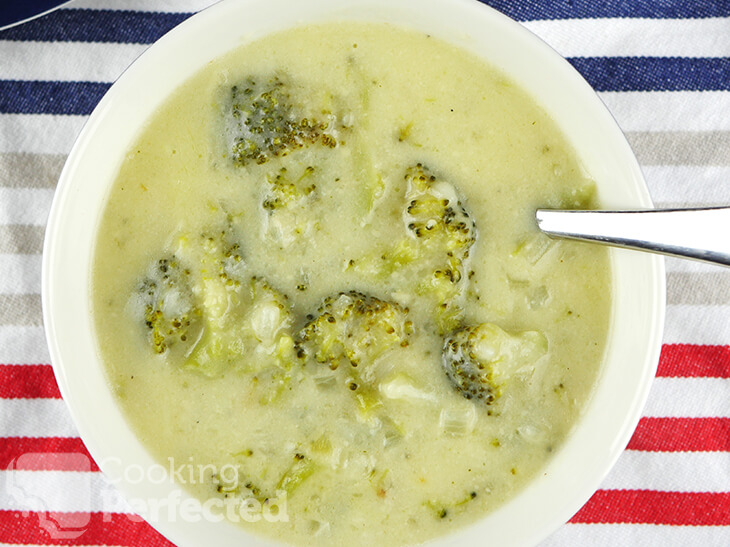 A homemade cornbread also works quite nicely with this soup. You can dip the cornbread into the soup to soak up some of the liquid. You will need to be careful as cornbread can sometimes be very crumbly.
Some hot chips go great as a side dish as you can dip them into the soup. For something a little healthier, you can make sweet potato fries instead.
Adjusting the Soup Flavors
I think this broccoli and cheddar soup is great without any changes. However, if you are looking to make changes, then below are some suggestions.
Using different combinations of cheese is a great way to alter the flavor of the soup. For example, if you use blue cheese, you will get an intense blue cheese tasting soup. A good blend that I love to have is half mozzarella cheese and half cheddar cheese.
Diced bacon is an excellent way of adding even more flavor to the soup. Personally, I love to fry the bacon first, so it has that lovely crispy texture. Add the bacon towards the end.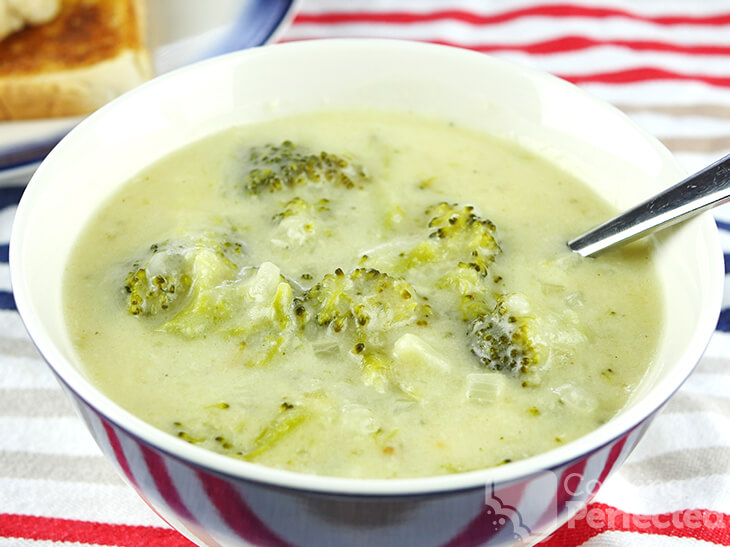 Sometimes I love to add some spices and herbs into the soup. I tend to stick to herbs such as parsley, thyme, or chives. If you want a bit of heat in this soup, you can try adding some cayenne pepper.
If you want to watch a video on how to make this easy broccoli cheese soup, then be sure to check out the one below. It is short, snappy, and straight to the point, so it won't take up too much time. Alternatively, the full written recipe is right below.
Easy Broccoli Cheese Soup Recipe
Ingredients
15 g (0.5 oz) unsalted butter
1 onion, diced
2 tsp garlic, crushed
1 kg (2.2 lb) broccoli florets, chopped
1 l (1.1 qt) chicken stock
200 g (7.1 oz) cheddar cheese, shredded
500 ml (16.9 fl oz) milk
½ cup cornstarch
Instructions
In a large pot over medium heat, add the butter.
Once melted, add the onion and garlic. Cook until the onion is translucent.
Add the broccoli and chicken stock.
Bring to a simmer and cook for 10-15 minutes or until the broccoli is tender.
In a bowl, mix the cornstarch with some of the milk.
Stir in all of the milk and the cornstarch mix. Bring back to a simmer.
Add the cheese and stir until completely melted.
Season with salt pepper.
Serve & Enjoy.
Recipe Tips
If you prefer, you can leave the cornstarch out of the recipe. However, the soup will be very runny and may not be as enjoyable.
Seasoning can make or break a dish, but this is particularly true with soup. If you are finding it a bit tasteless, try adding a bit more salt. However, be careful not to add too much as a salty soup is not a good experience.
You can swap the cheddar cheese for something else, such as mozzarella. There is a ton of different varieties of cheese that you can try out. Each will offer a different flavor that will completely change the dish.
If you like a smooth soup, then you can try blending it. Keep in mind this will change the texture and flavor but certainly a must for anyone who does not like chunky soups.
To ensure that this soup is gluten-free, make sure you use gluten-free cornstarch.
Nutrition Information
Serving Size: 517g (1.1 lb)
Servings Per Recipe: 4
Calories Per Serving: 338
Amount Per Serving
Saturated Fat: 8.9g
Trans Fat: 0.6g
Dietary Fiber: 3g
Sugars: 9g
Cholesterol: 55mg
Sodium: 1505mg
Protein: 25g
The information above is an estimate generated by an online nutrition calculator.
More Delicious Recipes
If you are craving a stew, then you may be interested in the easy beef goulash. It has amazing tender pieces of beef with succulent flavor-packed mushrooms. Certainly worth checking out if you love a good goulash.
The paleo chicken soup is surprisingly tasty and very healthy for you. I make it from complete scratch, so you know what has gone into it. It is undoubtedly worth trying if you love a good soup.
I hope this broccoli cheese soup cooks to be as tasty as it did for me. If you have some feedback, tips, or anything else, then please feel free to leave a comment below.