This cauliflower cheese soup cooks to be creamy and loaded with flavor. It is one of my favorite soups.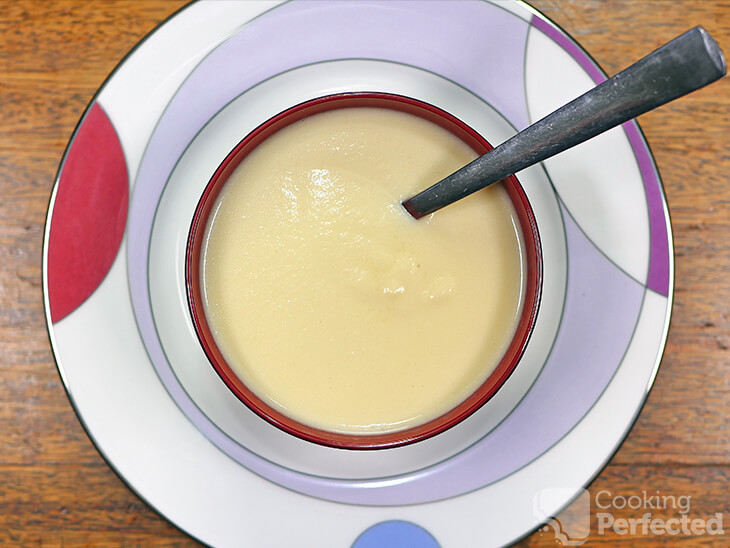 As I mentioned above, this soup will be smooth, thick, creamy, and have a ton of flavor thanks to the mustard, cauliflower, cheese, and cream. It is perfect on its own, so you do not need to make any extra side dishes.
One of the things I like most about this recipe is that we do not use any potatoes or cornstarch to thicken the soup. Without these ingredients, the cauliflower cheese soup is gluten-free and perfect for anyone who cannot eat wheat products.
I love making soups whenever I need to feed a crowd as they are super easy to make in bulk. Without any adjustments, this soup should feed about four to six people. You can easily double or triple the recipe if you need to feed more.
If you're looking for more of a side dish, then you should check out the cauliflower cheese. It's super easy and tastes absolutely delicious, I highly recommend it.
Adjusting the Flavors
I think this recipe is perfect without any adjustments, but if you want to alter it slightly, then below are a couple of suggestions.
Some fried diced bacon will add a ton of flavor to this soup. I recommend adding them after you have blended the soup. You should only need to add about half a cup of diced bacon for the best results.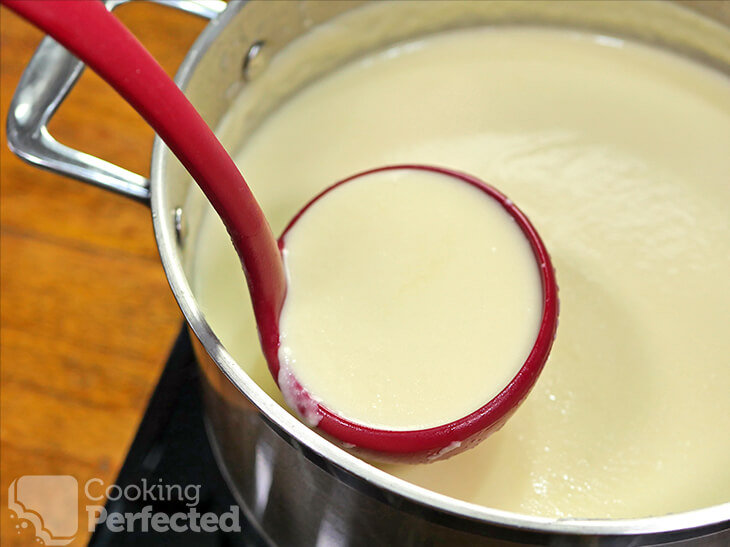 You can always play around with the types of cheese for different flavor combinations. Try replacing some of the cheddar cheese with blue cheese instead. It will add a ton of flavor and is a must-try if you are a huge fan of blue cheese.
Spices or herbs are a great way to introduce new flavors to the soup. Herbs such as thyme or chives will help add even more flavor. For something a little stronger, you can try using spices such as nutmeg or cayenne pepper.
What to Serve with Cauliflower Cheese Soup
Soups are great on their own, but there are also plenty of side dishes that go great with them. Below are a couple of my favorites.
My favorite combination is to serve the soup with some freshly baked bread that is homemade or bought from our local bakery. It is delicious dipped into the soup and helps make the soup go even further.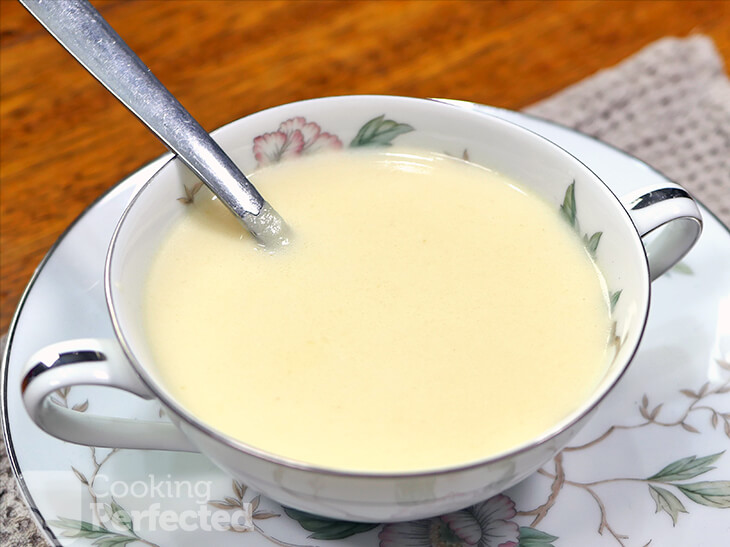 If you are feeling energetic, then a gluten-free cornbread is delicious as a side dish. It is not super easy to dip into the soup as it falls apart, but it tastes great and goes nicely with the flavors of the soup.
Lastly, some cheese sticks match very nicely with the flavors of this cauliflower soup. They require a bit of preparation but are well worth the effort. I highly recommend giving them a try if you have lots of spare time.
Below is a video that will take you through all the steps to making this delicious cauliflower cheese soup. Alternatively, there is a full written recipe underneath the video.
Cauliflower Cheese Soup Recipe
Ingredients
1 Tbsp vegetable oil
1 onion, chopped,
2 tsp garlic, crushed
2 tsp Dijon mustard
1 kg (2.2 lb) cauliflower florets
1.25 l (1.3 qt) chicken stock
500 g (1.1 lb) cheddar cheese, shredded
250 ml (8.5 fl oz) heavy cream
Instructions
In a deep pot over medium heat, add the oil.
Once the oil is hot, add the onion, garlic, and cook until the onion is translucent. Roughly 5 minutes.
Next, add the mustard, cauliflower, and chicken stock. Bring to a boil and simmer for 20 minutes or until the cauliflower is tender.
Puree the soup using a food processor or stick blender.
Once smooth, stir in the cheese.
Once the cheese has melted, stir in the cream.
Bring to a simmer while continually stirring.
Season to taste with salt and pepper.
Serve & Enjoy.
Recipe Tips
Feel free to use your preferred type of stock or broth. I like to use chicken stock as it matches the flavors of the cauliflower better.
You can make this soup chunky by simply reducing the amount you blend the soup. I recommend blending it slightly as it helps thicken the liquid.
Fresh or frozen cauliflower will work fine in this recipe. I made use of frozen as fresh was not available at our local supermarket.
After you add the cheese, you will need to continually stir the soup so that the soup doesn't burn on the bottom of the pot.
If you like your soup extra thick, then reduce the amount of cream by half. You can always add more if it is too thick.
Heavy cream is also known as thickened cream in Australia or whipping cream in the UK.
Nutrition Information
Serving Size: 526g (1.2 lb)
Servings Per Recipe: 6
Calories Per Serving: 631
Amount Per Serving
Saturated Fat: 27.1g
Trans Fat: 1g
Dietary Fiber: 4g
Sugars: 9g
Cholesterol: 149mg
Sodium: 942mg
Protein: 30g
The information above is an estimate generated by an online nutrition calculator.
More Soup Recipes
There are so many delicious soups that you can make, so if you are interested, be sure to check out the soups below.
The broccoli cheese soup is like this recipe, but instead of cauliflower, we use broccoli. If you are a fan of broccoli, then I highly recommend that you give it a try.
Another soup that I highly recommend trying is pumpkin soup. It is loaded with flavor and is extremely easy to make. It is also gluten-free, so perfect if you are on a wheat-free diet.
I hope that you enjoy this gluten-free cauliflower cheese soup as much as I did. If you have any thoughts, tips, or recommendations, then please do not hesitate to leave a comment below.