Making a paleo burger is super easy and will taste incredibly delicious without much effort.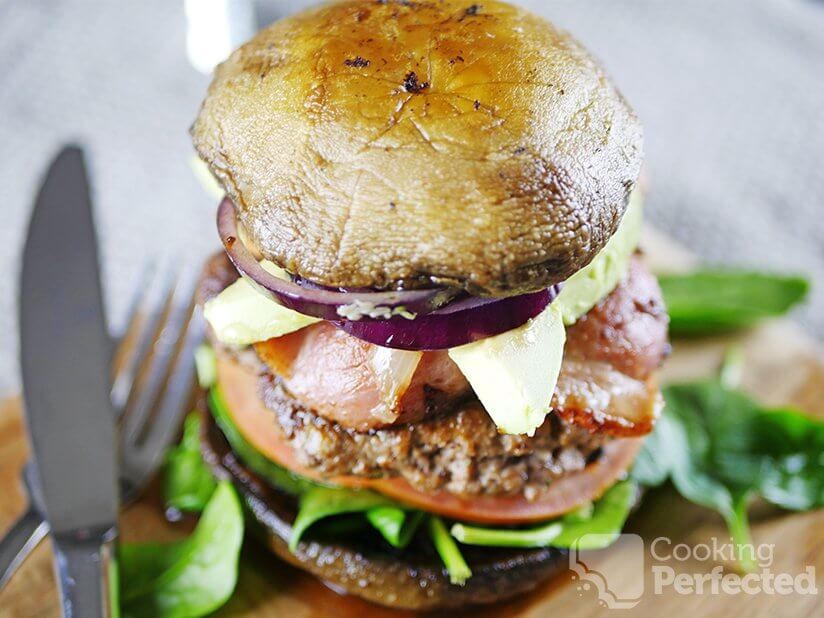 This hearty beef burger is loaded with flavor thanks to the wide range of ingredients we use. Inside the Portobello mushroom burger bun, you will be greeted with a hearty beef burger, avocado, bacon, red onion, and baby spinach. You can tweak the ingredients, so they are more to your liking.
Instead of a regular bread bun, we will be using a couple of Portobello mushrooms. These delicious mushrooms only require a light bit of grilling and are a fantastic replacement for the burger bun.
You should be able to make four beef patties from a single batch of this recipe. Four burgers should be enough for four people. If you need to feed more, then try doubling or tripling the recipe.
I highly recommend making a paleo peach cobbler to have after this delicious burger. The cobbler is filled with delicious sweet peaches and a lovely paleo cake topping. It is well worth the effort.
What to Serve with a Paleo Burger
There are lots of side dishes that you can make to go alongside this burger.
If you want a classic burger meal, you should cook some tasty sweet potato fries to go with this dish. Keep in mind that the fries will add a few carbs to your meal, but you could always make the burger smaller to compensate.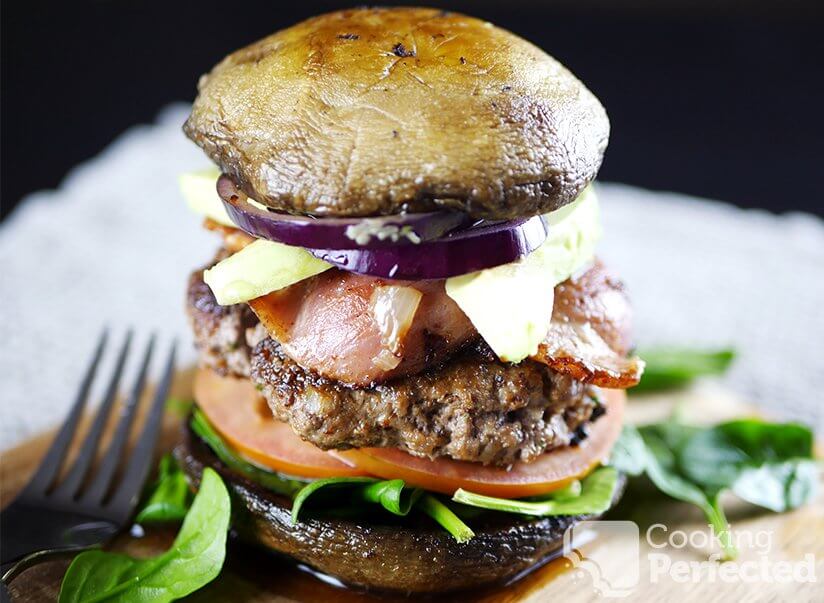 I always love a refreshing green salad with a paleo-friendly dressing as a side dish. The salad usually has lettuce, tomatoes, cucumber, avocado, and some red onion. It is simple but delicious.
Additional Ingredients
If you want a sauce to go with your burger, I highly recommend adding some delicious homemade mayo. Alternatively, some paleo-friendly ketchup will do just fine.
You can easily swap some of the extra ingredients for food that you enjoy. For example, the baby spinach can be replaced with some shredded lettuce. The bacon can be swapped for chorizo sausage.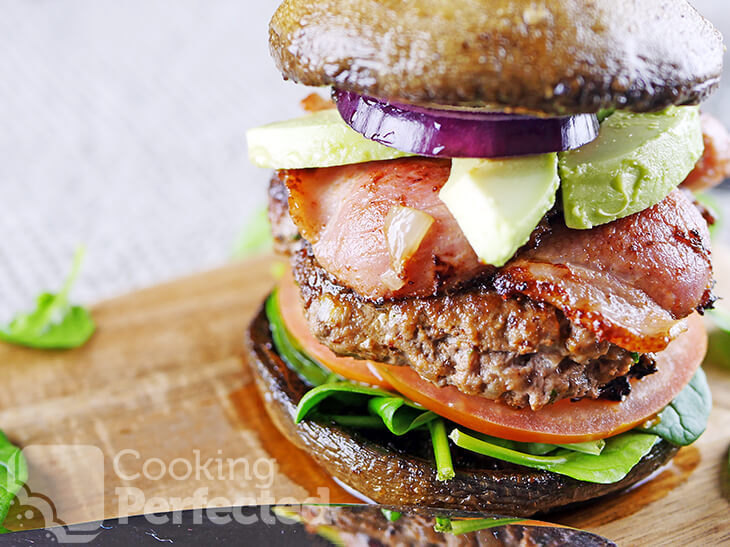 Adding more ingredients to the burger is also an option. Egg or beetroot are popular burger ingredients, but I did not include them in this recipe. Feel free to experiment a little, so you can achieve the best paleo-friendly burger.
Be sure to check out the video I have prepared below if you want to see how to make this paleo beef burger. Alternatively, you can find a full written recipe right underneath the video.
Paleo Burger Recipe
Ingredients
Burger
500 g (1.1 lb) ground beef
1 egg
1 onion, diced
1 Tbsp parsley, chopped
2 tsp garlic, crushed
Extras
Portobello Mushrooms x 2 (Per Burger)
Bacon
Red onion
Avocado
Baby spinach
Instructions
In a bowl, place the ground beef, egg, onion, parsley, and garlic. Season with salt and pepper. Mix until well combined.
Now form into beef burgers, I find 2 Tbsp is usually enough mixture to make one large burger.
In a frying pan, add about 1 Tbsp of paleo-friendly fat. Personally, I use either coconut oil or lard.
Once hot, add the burgers and bacon and cook to your liking. Meanwhile, grill the Portobello mushrooms for 5 minutes on each side.
Assemble the burgers with one Portobello mushroom facing down, then the baby spinach, avocado, the burger, bacon, and finally the other Portobello mushroom facing upwards.
Serve & Enjoy.
Recipe Tips
The avocado works well mashed or sliced. Personally, I prefer it sliced. You can also turn it into guacamole instead. If you end up doing this, you can probably leave the red onion out as well.
Something like the baby spinach can be swapped out for any leafy greens or left out completely. I prefer baby spinach in almost all my meals.
The burgers should hold together just fine. If they are starting to fall apart, then you may not have worked the mixture enough. Also, try and resist the urge to play with the food in the pan.
You should find that if you are cooking at the right temperature, you will only need to flip the burgers once or twice.
Nutrition Information
Serving Size: 330g (11.6 oz)
Servings Per Recipe: 4
Calories Per Serving: 524
Amount Per Serving
Saturated Fat: 8.8g
Trans Fat: 0g
Total Carbohydrate: 12.5g
Dietary Fiber: 5.5g
Sugars: 3.4g
Cholesterol: 180mg
Sodium: 703mg
Protein: 52.1g
The information above is an estimate generated by an online nutrition calculator.
More Paleo-Friendly Recipes
Below are some more paleo-friendly recipes that use beef as its main ingredient. I highly recommend giving them a try.
Eventually, you should try the delicious beef meatballs. They are super easy to quickly cook up, and they go fantastic with some homemade tomato sauce.
The paleo-friendly chili con carne is a hearty beef dish that is well worth the time and effort it takes to make. If you do not like beans, then it is the perfect recipe for you.
I hope you enjoy this paleo burger as much as I did. If you have any feedback, tips, variations, or anything else, then please do not hesitate to leave me a comment below.