This incredible paleo beef stroganoff is the perfect dinner dish and goes great with some vegetable pasta.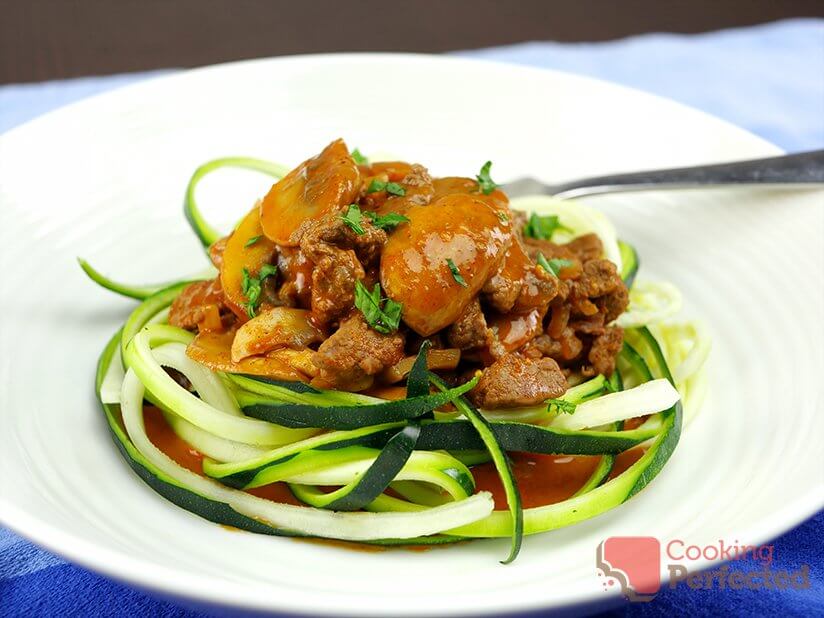 This beef stroganoff cooks to be incredibly creamy and packed full of flavor. It has a delicious blend of paprika, beef, coconut aminos (a soy sauce alternative), tomato, and of course, some coconut cream.
To make this stroganoff paleo-friendly I make use of coconut cream instead of the regular dairy cream or sour cream that's often found in more traditional recipes.
A single batch of this recipe should feed roughly four to six people, but this will heavily depend on what you serve with it. You can easily double or triple the recipe if you need to feed more.
What to Serve with Beef Stroganoff
Traditionally you would serve this dish with some noodles or pasta. Still, since both of those are not allowed on the paleo diet, you can instead replace it with vegetable pasta. You can make vegetable pasta with zucchini and a spiralizer. Best of all, there is no need to cook it.
Some cauliflower rice also works amazingly well as a side dish. Making cauliflower rice requires a bit of extra preparation time, but it is well worth it. Some supermarkets even have it available in the frozen section and it is the perfect alternative if you're always running low on time.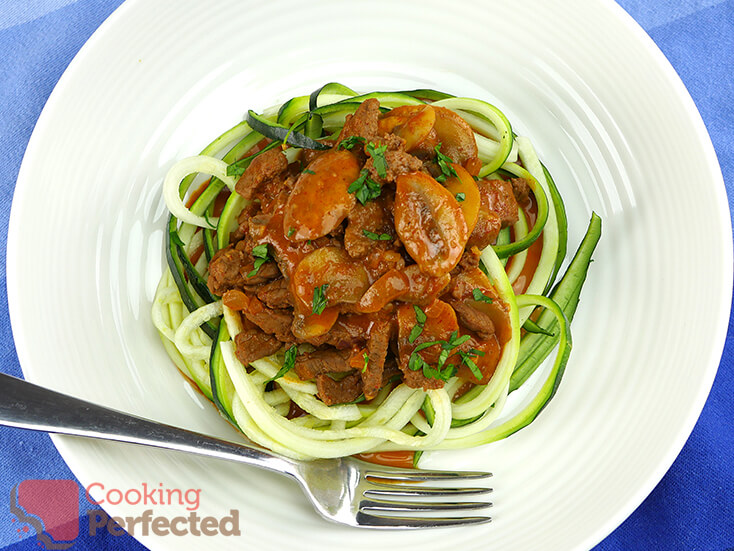 Usually I would suggest something like mashed potatoes as a side dish. Still, since we're keeping it Paleo-friendly, you should try making mashed cauliflower instead. It's surprisingly easy to make and tastes delicious.
Be sure to let us know of any suggestions on what to serve with this beef stroganoff as we will love to hear them.
Adjusting the Recipe
You can try tinkering with the quantity of paprika that we use in this recipe. For example, if you're not a massive fan of the flavors of paprika, you can replace it with cayenne or simply leave it out altogether.
The cut of beef that you use is entirely up to you. If you're slow cooking, then a tough cut of beef such as rump or chuck will work fine. If you need the dish fast, then a more tender cut of beef such as sirloin will work better.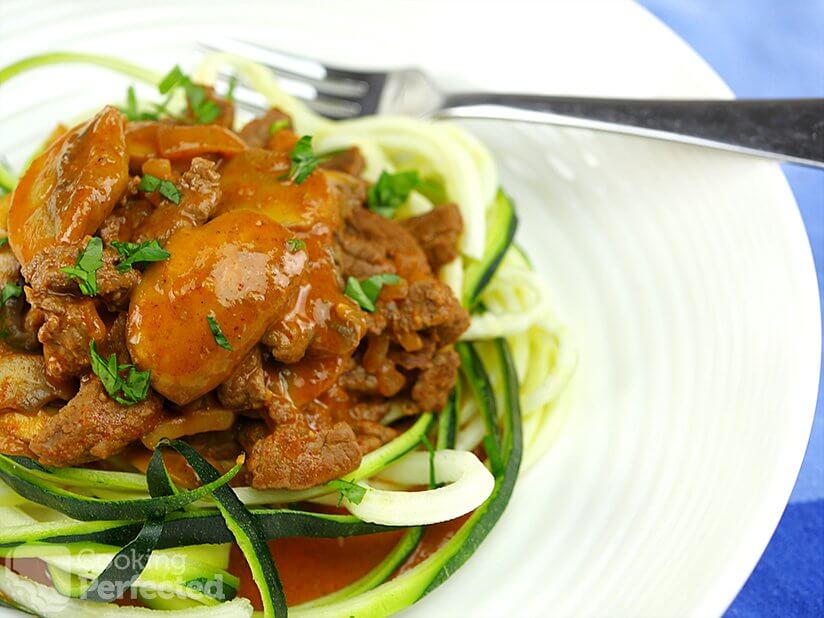 More vegetables can also be added to the stroganoff sauce. Still, if you want to keep it as traditional as possible, then I highly recommend not to add any more vegetables.
There are a few other tweaks I have made, but feel free to adjust the ingredients if you feel that I didn't get the amounts correct. Also, feel free to share any variations that you make in the comment section towards the bottom of this page.
The leftovers of this beef stroganoff will keep for a few days as long as it's covered and stored in the fridge. Reheat over the stove, in the oven, or if you're ok with it, then a microwave.
The video below will take you through all the steps to making this delicious paleo beef stroganoff dish. It's short, snappy and straight to the point. Alternatively, you can find the full written recipe right underneath the video.
Paleo Beef Stroganoff Recipe
Ingredients
500 g (1.1 lb) beef, cut into strips
1 onion, diced
2 tsp garlic, crushed
500 g (1.1 lb) mushrooms, sliced
1 Tbsp coconut Aminos
2 Tbsp tomato paste
½ Tbsp paprika
250 ml (8.5 fl oz) beef stock
250 ml (8.5 fl oz) coconut cream
Instructions
In a fry pan, brown the beef.
Once browned, add the onions, garlic, and mushrooms. Cook until the onion is translucent.
Next, add the tomato paste, coconut Aminos, paprika, coconut cream, and beef stock.
Stir and allow to simmer for 20-30 minutes or until the sauce has thickened.
Season with salt and pepper.
Serve & Enjoy.
Recipe Tips
The coconut Aminos can be left out if you don't have any around. The dish will still taste pretty good without it.
You shouldn't need to add any oil to the pan as the fat from the beef should provide enough of it.
If you're running low on money, then you can substitute the beef for ground beef instead.
You can buy some paleo-friendly pasta from specialty shops or online at places like Amazon.
Nutrition Information
Serving Size: 274g (9.7 oz)
Servings Per Recipe: 6
Calories Per Serving: 268
Amount Per Serving
Saturated Fat: 13.2g
Trans Fat: 0.1g
Dietary Fiber: 3g
Sugars: 3g
Cholesterol: 46mg
Sodium: 138mg
Protein: 25g
The information above is an estimate generated by an online nutrition calculator.
More Delicious Paleo Recipes
If you feel like something creamy with chicken that is also paleo-friendly, then the creamy paleo chicken skillet is a dish that you need to try. It's completely done in one pot, so perfect if you hate making a ton of dishes that need to be washed up.
A flavor-packed paleo-friendly beef dish that's worth making is the hearty beef goulash. It features lots of tender pieces of beef, tasty vegetables, and an even better broth. It's one of my favorite stews to make throughout winter.
I hope that you enjoy this delicious paleo beef stroganoff and that you didn't run into issues making it. If you have some feedback on the recipe, then feel free to leave a comment below.