This savory egg paleo breakfast casserole is the perfect way to start the day. It is jam-packed full of tasty vegetables and crispy bits of bacon.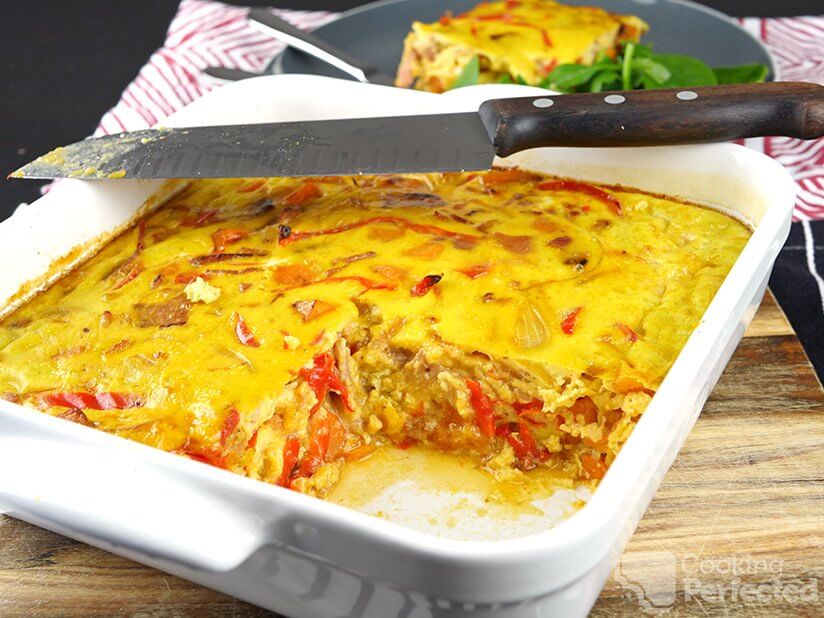 When you bite into this casserole, you will be greeted with loads of flavor thanks to the bell pepper, sweet potato, egg, and bacon. If you feel like that isn't enough, then you could always add even more flavors into the casserole mixture.
This casserole is also perfect for anyone who is on a gluten-free diet or just looking for a tasty casserole to cook up for breakfast. It goes well with something light on the side, such as a basic green salad. With that said, it's also perfect just by itself.
One thing that I love about casseroles is that you can easily feed a crowd without a huge amount of effort. The standard recipe for this dish will feed about six to eight people depending on whether you're feeding big eaters or not.
If you end up with leftovers, then they can be stored in the fridge for a few days. In my opinion, the egg doesn't reheat that great but still makes for an easy fulfilling meal later on.
Personalizing this Breakfast Casserole
The bacon can be replaced with something like ground pork, ground beef, or even sliced sausages. Most meats will work very nicely with eggs and vegetables.
If you're vegetarian or want a meatless dish, then something like chickpeas is a great replacement for bacon. You will need to use an oil such as coconut oil for frying as you won't have the fat from the bacon.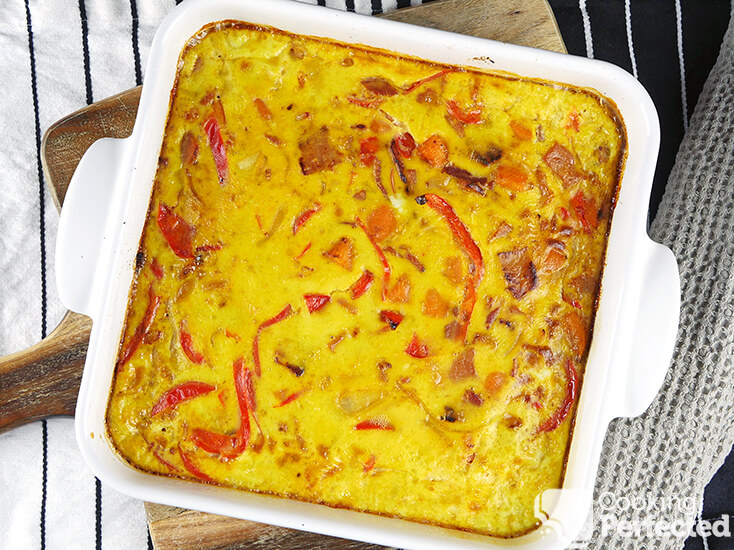 Don't be afraid to add even more vegetables to this dish. For example, sautéed mushrooms, red onion, or even baby spinach will blend in nicely with the rest of the ingredients.
Lastly, you can always add some herbs or spices into the egg mixture. Something like chopped basil or chives will add a bit more flavor. Alternatively, spices such as cumin or paprika will make this casserole even better.
What to Serve with this Casserole
This breakfast casserole is perfect on its own and won't need any additional side dishes. However, with that said, below are a couple of suggestions.
A refreshing green salad matches perfectly with this casserole as it helps to have something light on the side. I recommend a blend of baby spinach, grated carrot, cherry tomatoes, and some guacamole.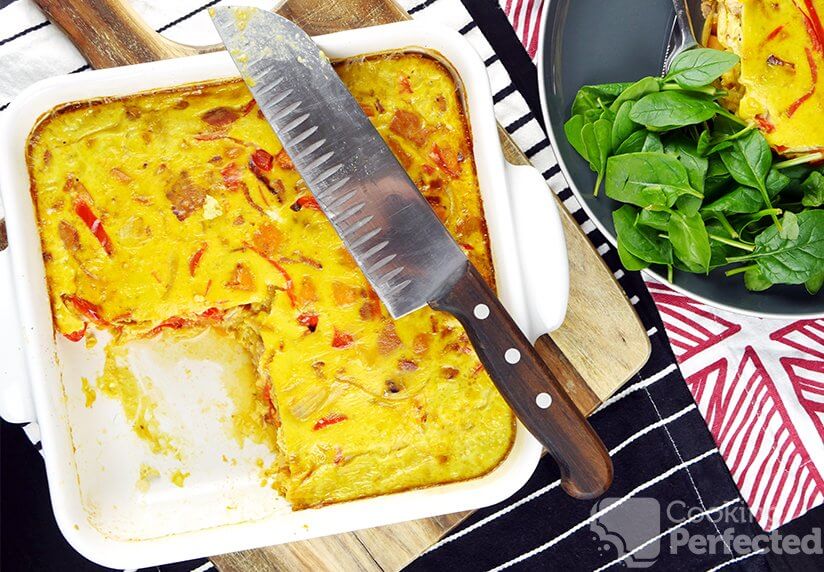 A homemade condiment such as guacamole will work very nicely with the flavors of this casserole. Guacamole is super easy to make, so it's perfect for early in the morning.
If you want to see how to make this breakfast casserole, then be sure to check out the video below. It goes through all the steps to making this delicious paleo-friendly breakfast dish.
Paleo Breakfast Casserole Recipe
Ingredients
8 eggs
330 ml (11.2 fl oz) coconut cream
500 g (1.1 lb) bacon, diced
2 sweet potatoes, diced
1 onion, sliced
1 red bell pepper, sliced
1 garlic clove, crushed
Instructions
First, preheat an oven to 180°C (350°F).
Lightly grease a deep 8×8 ovenproof dish.
In a fry-pan over medium heat, add the bacon. Cook until it starts to go crisp.
Add the sweet potatoes and cook for a further 5 minutes.
Add the onion, red bell pepper, and garlic.
Cook for a further 5-10 minutes, making sure the sweet potato is slightly cooked. A knife should easily stick into the sweet potato, but it shouldn't mash.
In the greased casserole dish, add the vegetable and bacon mix.
In a bowl, beat the eggs and coconut cream. Season with salt and pepper.
Pour the egg mix over the vegetable and bacon mix.
Place the casserole in the oven and bake for 25-30 minutes or until the egg is thoroughly cooked.
Serve & Enjoy.
Recipe Tips
You can also do this casserole in a slow cooker or crock pot rather than the oven. I would recommend cooking for about four hours on low.
Make sure you cook the sweet potato enough; otherwise, you may end up with hard sweet potato throughout your casserole.
You're able to swap the coconut cream for coconut milk if you want to be a bit healthier. However, the egg mix won't be as rich and creamy.
Nutrition Information
Serving Size: 213g (7.5 oz)
Servings Per Recipe: 8
Calories Per Serving: 548
Amount Per Serving
Saturated Fat: 18.4g
Trans Fat: 0g
Total Carbohydrate: 16.2g
Dietary Fiber: 3g
Sugars: 3.1g
Cholesterol: 232mg
Sodium: 1516mg
Protein: 30.5g
The information above is an estimate generated by an online nutrition calculator.
More Paleo Recipes
There are a ton of other paleo-friendly recipes that you should check out. Below are a couple of my favorite recipes that I highly recommend giving a try.
The paleo-friendly frittata makes for an amazing breakfast and is pretty easy to make. It features bacon, red onion, spinach, mushrooms, and some chives. It's one of my favorite breakfast recipes.
For something completely different, you could try making some delicious breakfast bars. Once made, they're the perfect quick and easy breakfast that's great for on the go.
I hope you enjoy this paleo breakfast casserole recipe and that it comes out to be just as good as it did for me. If you have a variation, feedback, or anything else that you would love to share, then please don't hesitate to leave a comment below.