These tasty paleo breakfast bars are packed full of amazing nuts and dried fruit. They're incredibly easy to make and will keep for a few weeks in an airtight container in the cupboard or fridge.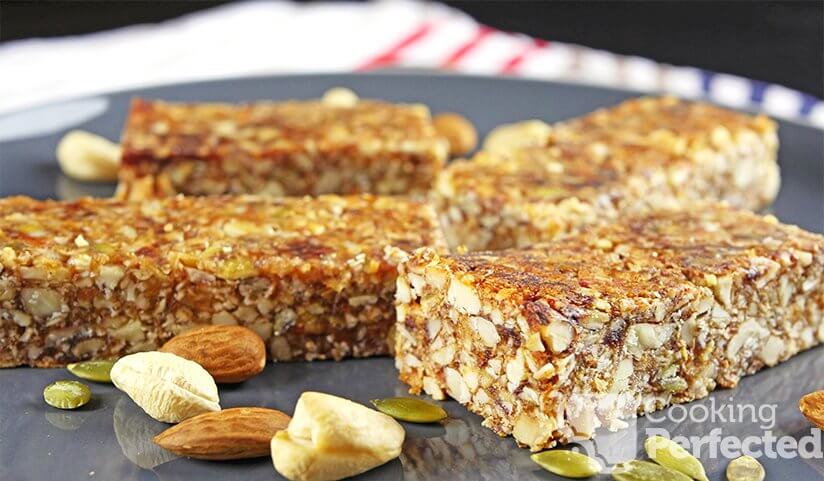 As you may know, preparing a paleo breakfast is probably one of the hardest tasks due to all the grains, cereals, and usual breakfast foods being off-limits. These bars are great as they use natural sugars and contain no gluten, so they're perfect if you're on a gluten-free diet.
These breakfast bars are the perfect "on the go breakfast" since you can just grab one or two and then head off to work, school or whatever you have going on.
Even though these are called breakfast bars they're great for any time of the day. I love having them as a snack bar in the afternoon.
This recipe is very similar to the delicious crunchy granola I have made before. However, we will instead be making delicious crunchy nutty bars that are perfect for a super fast paleo-friendly breakfast.
Altering the Ingredients
This recipe is pretty difficult to change the ingredients as you might end up with a bar that just falls apart. With that said, there are some changes you can make that might make these more appealing to you.
You can add some dried fruit into these bars for a bit of extra flavor. A quarter of a cup of dried cranberries will add a lot of flavor and a little bit of color.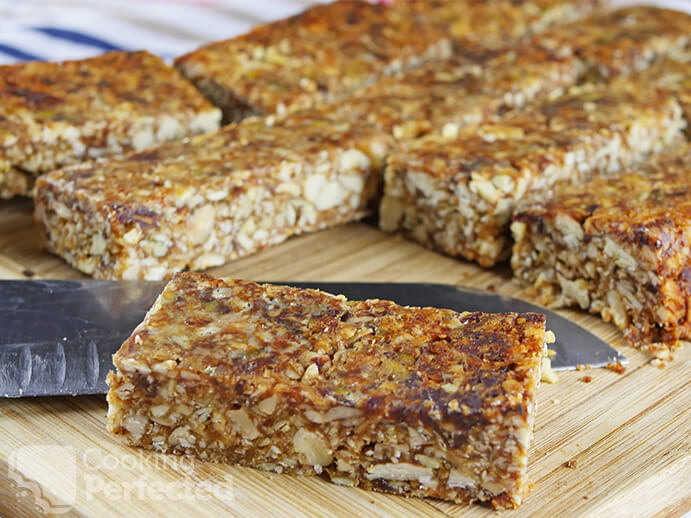 If you're not a huge fan of coconut, you can try replacing it with some almond meal instead. You may need to add a little more honey if the bars go a bit dry.
Let us know if you end up changing any of the ingredients and come out with an even better breakfast bar.
How Long will these Breakfast Bars Last
As I mentioned above, you can keep these in the fridge or cupboard, but I would recommend keeping them in the cupboard as the damp environment of the refrigerator might not be great for the bars.
If you want to see how to make these breakfast bars, then be sure to check out the video below. It goes through all the steps to getting these bars prepared, baked and ready for eating.
Paleo Breakfast Bars Recipe
Ingredients
1 cup almonds
1 cup hazelnuts
1 cup cashews
1 cup shredded coconut
¼ cup pumpkin seeds
1 cup dates
1 cup honey
½ cup coconut oil
1 tsp salt
1 tsp cinnamon, ground
Instructions
Preheat an oven to 275°F (160°C). Also grease and line a ~27×17.5 cm (10.5×7 in) slice tin.
First, add the dates to a blender and blitz until it starts become paste-like.
Place the nuts, pumpkin seeds and dates into the blender. Blend slightly until the nuts are in roughly small to medium-sized pieces.
Now in a small pot over medium heat, add the honey, coconut oil, and salt.
In a bowl, combine the nut & date mix with the honey mix. Also, add the cinnamon and shredded coconut.
Once well combined, spread into the prepared slice tin.
Bake in the preheated oven for 25-30 minutes or until lightly golden.
Allow to cool before cutting into bars.
Enjoy!
Recipe Tips
It's very important to make sure the oven is not too hot as both honey and nuts can burn quite easily. If you do notice that it is starting to burn, then immediately remove the tray from the oven.
The dates, honey, and coconut oil are hugely important in this recipe as they help the bar stick together and not fall apart. Try not to be tempted to remove these ingredients.
If you're having trouble cutting the bars, then try heating your knife up. Make sure you dry the knife before you go to cut.
Try to store these in a cool area as they will start to become sticky in hot weather.
Nutrition Information
Serving Size: 70g (2.5 oz)
Servings Per Recipe: 12
Calories Per Serving: 317
Amount Per Serving
Saturated Fat: 9.4g
Trans Fat: 0g
Dietary Fiber: 3.2g
Sugars: 27.4g
Cholesterol: 0mg
Sodium: 159mg
Protein: 4.6g
The information above is an estimate generated by an online nutrition calculator.
It's important to note the natural sugar content in these bars is quite high, so it's best to limit the number of these you eat in a day. I would only have these for breakfast and avoid having them as a snack, but this is totally up to you.
More Breakfast Recipes
There are plenty of more healthy breakfasts that you can make. I will list some of the absolute favorites that I highly recommend that you try.
A homemade frittata is a great way to start the day. Our recipe is loaded with bacon, onion, spinach, cherry tomatoes, and much more. It's certainly worth a try if you love a good cooked breakfast.
Another breakfast recipe that you need to try making is the banana pancakes. They're so easy and better for you when compared to regular pancakes. I highly recommend that you give it a try.
If you have any variations that you would love to share on these amazing paleo breakfast bars, then please don't hesitate to leave a comment below. If you also have any tips or feedback, then don't forget to mention that too.