These paleo lemon bars are absolutely delicious. They are also perfect if you are looking for a tasty paleo-friendly snack.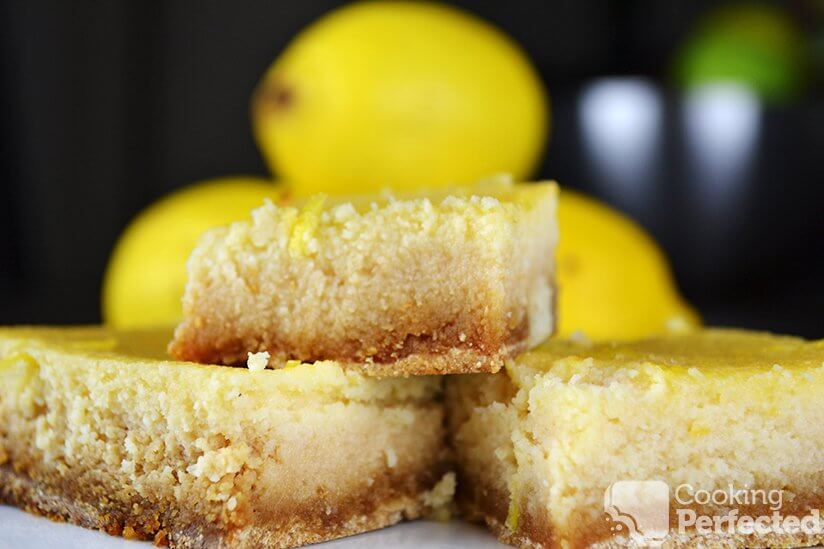 These lemon bars bake to be deliciously moist and loaded with a lovely lemon citrus flavor. They can be tricky to get perfect, but they always end up super delicious.
You do not need to be on a paleo diet to enjoy this delicious lemon snack. This recipe is excellent for anyone looking for a healthy alternative to the traditional lemon bars. Still, it is best not to overindulge as the bars do contain quite a bit of honey.
Most snacks currently on the market contain some sort of grain or processed ingredient, which can make buying a delicious paleo-friendly snack very hard. Luckily, these lemon bars are the perfect paleo-friendly homemade snack.
You will get roughly twelve bite-sized squares out of a single batch of this recipe. It should be roughly enough to feed four people. You can easily double or triple the recipe if you need to feed more.
Perfecting these Lemon Bars
The biscuit base of these lemon bars is crucial, so make sure you blind bake it for long enough. Too little and the base might be too soft, and your bars will fall apart.
For a bit of a different flavor, you can swap half of the lemon juice for lime juice. It is ideal if you love the citrus combination of lemon and lime.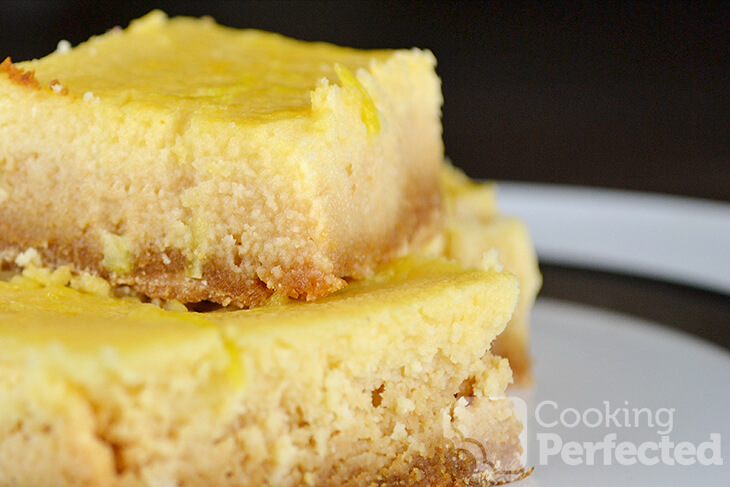 You can try swapping half the coconut flour for a different tasting biscuit base. I recommend using almond flour as the other half, but other paleo-friendly flours might work. I have not tested it, but in theory, the base should still work very nicely.
If you want to see how to make these lemon bars, then be sure to check out the video below. Alternatively, there is a full written recipe right underneath the video.
Paleo Lemon Bars Recipe
Ingredients
Base
1 cup coconut flour
½ cup of coconut oil, melted
¼ cup of honey
¼ tsp salt
Lemon Topping
2 tsp coconut flour
4 eggs
½ cup honey
2 tsp lemon zest
1 cup lemon juice
Instructions
Preheat an oven to 180°C (350°F)
Grease a ~8×8 inch pan with coconut oil.
In a bowl, combine the coconut flour, coconut oil, honey, and salt. The mixture should come together and look like a dough.
Press the dough into the prepared pan so that it is evenly spread.
Place into the preheated oven and bake for about 10 minutes or until golden brown.
Once done, allow to cool for about 30 minutes and turn the oven down to 160°C (325°F)
In a bowl, add the coconut flour, eggs, honey, lemon zest, and lemon juice. Whisk until the ingredients are well combined.
Pour the mix over the top of the biscuit base and return to the oven for about 20-30 minutes or until the mix is set.
Allow to cool before placing in the fridge for about 6-12 hours.
Cut the slab into rectangles or squares.
Serve & Enjoy.
Recipe Tips
Gluten-free and paleo baking can be tricky, so if it doesn't work out, make sure you followed each step correctly and accurately weighed your ingredients.
These lemon bars are best made using fresh ingredients, so try and use fresh lemons. If you only have one lemon, you can always do a mixture of fresh lemon juice and bottled lemon juice.
If you do not eat all of the bars in one sitting, I would recommend keeping them in a sealed container in the fridge. I would keep the lemon bars for up to a week before discarding. However, they may last a bit longer than that.
Nutrition Information
Serving Size: 87g (3.1 oz)
Servings Per Recipe: 12
Calories Per Serving: 181
Amount Per Serving
Saturated Fat: 8.8g
Trans Fat: 0g
Total Carbohydrate: 19.8g
Dietary Fiber: 1.2g
Sugars: 18.1g
Cholesterol: 54.4mg
Sodium: 80.1mg
Protein: 2.5g
The information above is an estimate generated by an online nutrition calculator.
More Paleo-Friendly Snacks
The paleo blueberry muffins recipe is great as a snack, lunch, dessert, or afternoon tea. Despite the number of ingredients required to make the muffins, they are actually super easy to whip up and get in the oven.
I also highly recommend giving the paleo apple muffins a try. They are very similar to the blueberry muffins but instead focus on a delicious apple flavor combination such as apple and cinnamon.
If you have feedback or anything else you would love to share on this paleo lemon bars recipe, then feel free to leave a comment below.