This hearty paleo shepherd's pie is a fantastic dish for a family dinner.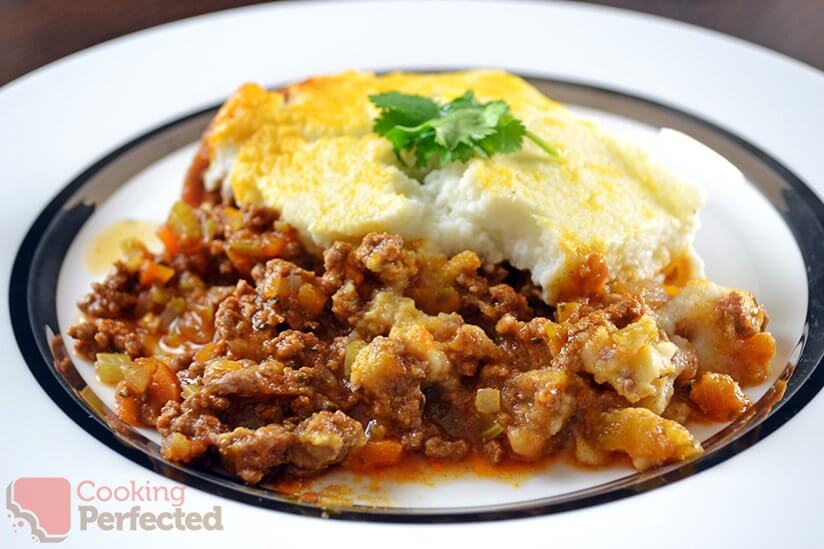 By the time this pie is ready, the cauliflower topping will be golden brown, and the filling will be loaded with flavor. It is the perfect paleo-friendly comfort food to enjoy on a cold winter's day.
Shepherd's pie is not the same as cottage pie, the only difference is that it uses lamb instead of beef. I use ground lamb as it is super easy to cook with and produces one super delicious pie.
Rather than using a potato mash like in the traditional recipe, we instead use a delicious cauliflower puree. This puree gives you a lovely creamy mash topping that tastes just as good as the potato version. In the end, you will have a fantastic low carb pie that everyone can enjoy.
This pie will feed roughly six people without the need for any additional side dishes. However, if you need to feed more, I highly recommend that you double or triple the recipe.
What to Serve with Shepherd's Pie
There are plenty of side dishes that work nicely with pie. Below are a couple of ideas on what you can do.
Pie always goes great with some delicious homemade steak fries. However, since this dish is paleo-friendly, you may want to serve it with some sweet potato fries.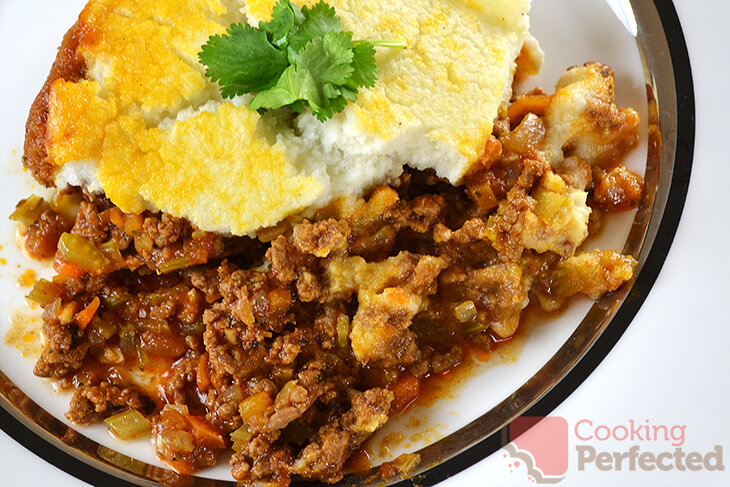 A simple salad is an excellent side dish to a heavy pie such as this one. I love making a garden salad that consists of lettuce, tomatoes, cucumber, celery, carrot, and some avocado. It is delicious, I highly recommend trying it.
Some steamed vegetables also work very nicely as a side dish. I usually steam broccoli and cauliflower and serve it on the side. If you want to cheat a little, then the cauliflower cheese is a must-try.
Adjusting the Pie Recipe
If you prefer a particular type of ground meat, you can easily replace the ground lamb with your preferred meat. I often use ground beef instead of the lamb.
You can add some additional ingredients into the pie filling mixture. For example, mushrooms or diced sweet potato will be delicious additions. Feel free to get a little creative.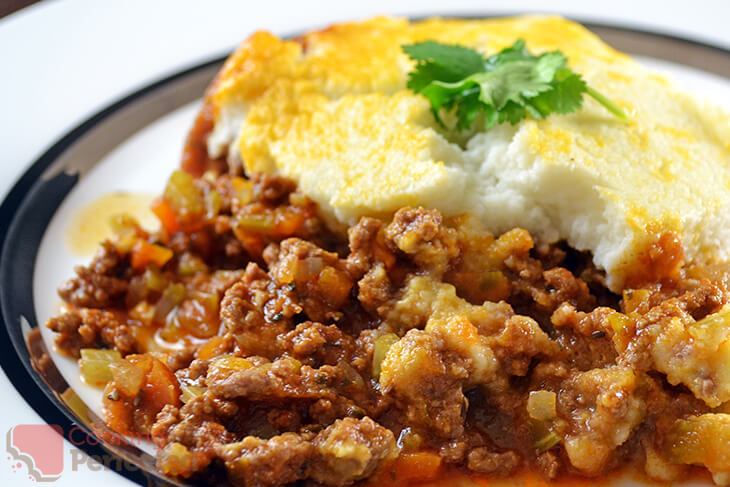 The pie filling makes for a fantastic meal even without the topping. So, if you are low on time, simply cook the filling and serve it over some delicious cauliflower rice.
If you want to see how to make this paleo shepherd's pie, check out the video I have prepared below. There is also a full written recipe right below the video.
Paleo Shepherd's Pie Recipe
Ingredients
Lamb Filling
1 Tbsp coconut oil
1 onion, diced
2 tsp garlic, crushed
2 celery stalks, diced
1 carrot, diced
500 g (1.1 lb) ground lamb
2 ½ Tbsp tomato paste
2 tsp thyme, chopped
2 tsp parsley, chopped
1 tsp cumin
375 ml (12.7 fl oz) beef stock
Cauliflower Puree
1 large head of cauliflower chopped into florets
1 Tbsp coconut oil
Instructions
Firstly, preheat the oven to 180°C (350°F).
Cauliflower Puree
Steam or boil the cauliflower until it is tender.
Drain the cauliflower in a colander and set aside to cool slightly.
Place the cooled cauliflower into a food processor.
Add the coconut oil and blend until smooth.
Season with salt, pepper, and set aside.
Lamb Filling
In a pan over medium heat, heat the coconut oil.
Add the onion, garlic, celery, carrot, and cook for about 5 minutes or until the onion is translucent.
Add the ground lamb and cook until browned.
Add the tomato paste, thyme, parsley, cumin, and beef stock.
Cook for about 10 minutes, stirring occasionally.
Season with salt, pepper, and set aside.
Bringing it all together
In an ovenproof dish, place the beef filling.
Top with cauliflower purée.
Place in the oven, cook for about 30 minutes, or until golden brown.
Serve & Enjoy
Recipe Tips
If you do not like ground lamb, you can substitute it with other ground meat like chicken or beef.
Assuming you prefer the more classic shepherd's pie, you can add stuff like lamb brains or liver into this dish.
If you want single serving's of the pie, I recommend using some ovenproof ramekins. You can easily freeze these down so that you can have a quick single-serve meal that you can heat in either the oven or microwave.
Nutrition Information
Serving Size: 327g (11.5 oz)
Servings Per Recipe: 6
Calories Per Serving: 214
Amount Per Serving
Saturated Fat: 2g
Trans Fat: 0g
Total Carbohydrate: 12.4g
Dietary Fiber: 4.7g
Sugars: 5.7g
Cholesterol: 74mg
Sodium: 308mg
Protein: 29g
The information above is an estimate generated by an online nutrition calculator.
More Paleo Recipes
Assuming you like this recipe, then you may be interested in the paleo-friendly beef stew. This stew is great for those nights where you want something easy and hearty.
I highly recommend trying the paleo-friendly chili for a hearty dish that has a little heat to it. Much like this dish, it is excellent on its own but also goes great with a wide range of paleo-friendly side dishes.
If you have your own variation, have feedback, or anything else about this paleo shepherd's pie, then feel free to leave a comment below.