This paleo beef stew is perfect on a cold winter's day. It's ideal when you need a meal that will fill you up and keep you warm.
You will find that this stew is packed with deliciously tender pieces of beef and vegetables. The broth is loaded with flavor thanks to the herbs, tomato, and vegetables. It's a hearty dish that's great to have on a cold winter's day.
You can cook this recipe ahead of time and simply refrigerate it. It will reheat nicely, making it great for those dinners where you don't have a lot of time. It's also perfect as a quick paleo-friendly lunch.
Another great thing I love about stews is that they're great if you're cooking for a crowd. This stew should feed at least four people and possibly even more if you have a paleo-friendly side dish to go with it.
Since this stew is paleo-friendly, it is also gluten-free and also likely fine for the keto diet. I highly recommend making the stew when you feel like a healthy, hearty meal.
What to Serve with this Stew
Some cauliflower rice is not only easy but works great with this stew. I typically add some rice into a bowl and scoop some of the delicious beef stew over the top. It's a fantastic combination that I highly recommend that you try.
For something a little more hearty, you can bake some sweet potato fries in the oven. I would serve the fries as a side dish that you can eat alongside the stew.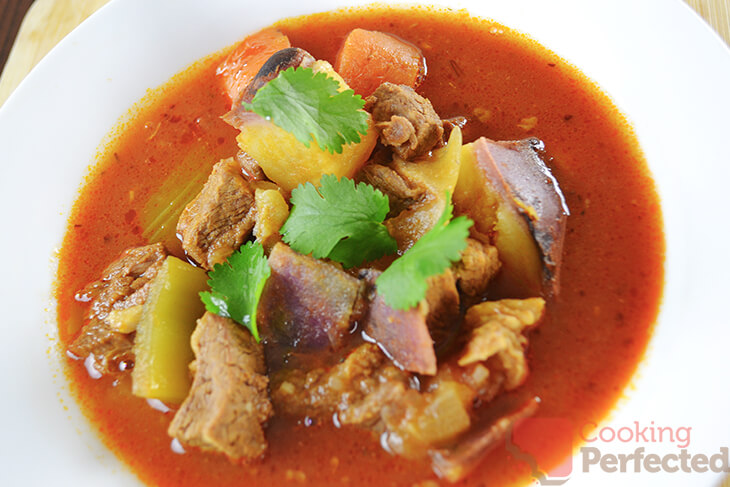 You could also make a healthier side dish, such as a light green salad. Other options include some blanched broccoli or roasted cauliflower. There is a lot of choice on what you can have.
I love to have this beef stew without any extra side dishes as it's fulfilling enough. With that said, any of the side dishes I have mentioned above are really worth making.
Perfecting this Beef Stew
As with any stew, don't be afraid to be lazy when it comes to cutting up ingredients. Just cut into edible sized chunks, and they're ready for whenever you need them. I wash the vegetables leaving the skin on, except for the onions.
Feel free to tweak with some of the ingredients or add some new ones. For example, sliced mushrooms will go perfectly in this beef stew as they will add more flavor.
For the best results, I highly recommend that you use a cheap cut of beef. Something like round, chuck, or brisket will work best in a stew like this one.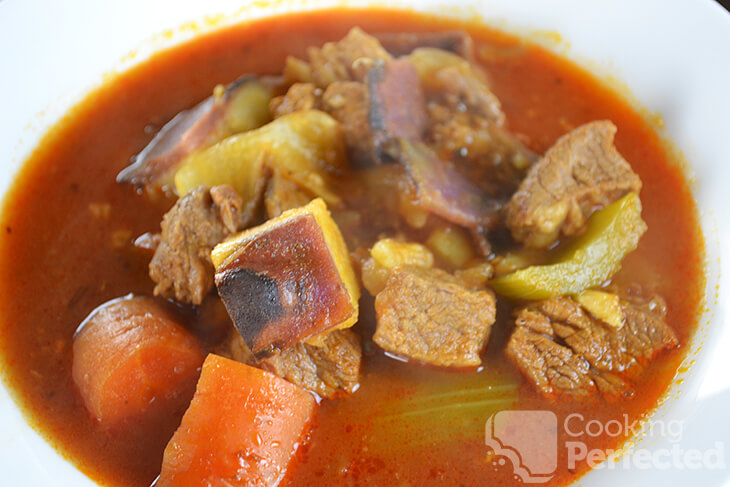 More herbs and spices are an excellent way of introducing more flavors to the stew. Popular additions include adding some paprika or increasing the quantity of rosemary and thyme.
To get the most flavors out of the beef and vegetables, you can do this recipe in a slow cooker. You will need to cook it for about eight hours to get the best results. I highly recommend doing it this way if you have the time.
If you want to see how to make this delicious Paleo beef stew, then please check out the video I have prepared below. If you like what you see, then please make sure you subscribe, so you stay up to date with all the latest and greatest paleo recipes, guides, and much more.
Paleo Beef Stew Recipe
Ingredients
500 g (1.1 lb) chuck beef, cubed
1 onion, roughly chopped
3 stalks of celery, roughly chopped
2 carrots, roughly chopped
2 sweet potatoes, roughly chopped
3 Tbsp tomato paste
½ tsp rosemary
½ tsp thyme
1 l (1.1 qt) beef stock
Instructions
In a large deep saucepan over medium heat, add the beef to the pan and cook until browned.
Add the onion, celery, carrots, and sweet potato. Cook for 3-5 minutes, making sure you stir constantly.
Add the tomato paste, stock, rosemary, and thyme.
Bring to the simmer then cover and cook for about 1 hour.
Remove the lid and cook for a further 45 minutes.
The beef should now be tender, and the broth should be slightly thickened.
Season with salt and pepper.
Serve & Enjoy.
Recipe Tips
I recommend using a low-cost cut of beef such as chuck since we will be cooking the stew for quite some time, which means the beef should become nice and tender.
If the paleo beef stew is a bit too thick, then just add a bit of water. If you're finding it to be too runny, then you will need to cook it for longer. Make sure you don't have a lid on it when you're trying to thicken it up.
You can adjust the ingredients in this recipe so that they're similar to something you prefer. For example, if you like eating lots of beef, feel free to add more. It won't affect the overall outcome of the stew too much. However, keep in mind the nutritional information will change if you add or remove ingredients.
The beef stock can be substituted with either chicken stock or vegetable stock. You can use water, but I highly recommend using something with a bit more flavor.
Nutrition Information
Serving Size: 340g (12 oz)
Servings Per Recipe: 6
Calories Per Serving: 230
Amount Per Serving
Saturated Fat: 2g
Trans Fat: 0g
Total Carbohydrate: 17.7g
Dietary Fiber: 3.2g
Sugars: 3.1g
Cholesterol: 74mg
Sodium: 93mg
Protein: 26.7g
The information above is an estimate generated by an online nutrition calculator.
More Paleo-Friendly Recipes
There are lots more Paleo beef recipes that you need to try. Below are just a couple of paleo-friendly meals that I highly recommend making.
Delicious hearty beef goulash is another great stew that is the perfect winters dish. It's also great in the summer if you feel like an easy meal that's loaded with flavor.
One of my favorite recipes that I highly recommend that you try is the Paleo-friendly beef stroganoff. It's a creamy beef dish that goes great with some zucchini pasta.
If you have your variation, thoughts, or want to leave feedback about this paleo beef stew recipe, then feel free to leave us a comment below.