This paleo scrambled eggs recipe is delicious and incredibly easy to cook up.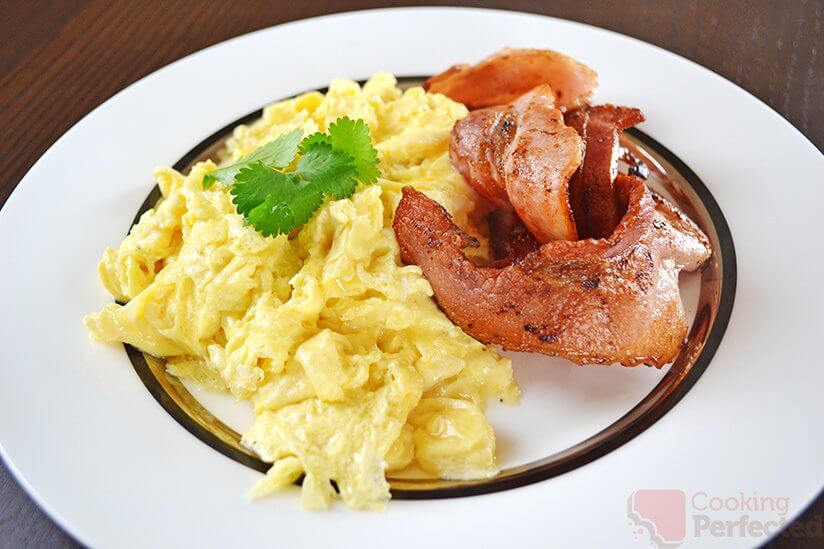 These scrambled eggs cook to be deliciously creamy and are everything you expect with this delicious breakfast dish.
If you're used to regular scrambled eggs, then you will find this recipe a bit different since we use coconut cream instead of regular dairy cream.
The coconut cream in this recipe helps make these scrambled eggs be the creamiest and tastiest you will probably ever taste. Best of all, this dish is lactose-free, so it's perfect if you're lactose intolerant.
If you know you're going to be short on time, then you can prepare the scramble mix the night before. This way, when you wake up, you can quickly get the egg mixture out of the fridge and cook your breakfast.
What to Serve with Scrambled Eggs
If you want something to go along with these eggs, then I recommend frying up some delicious bacon. If you have plenty of time, I would also cook some fried mushrooms and maybe even a tomato.
For something a little healthier, some blanched greens such as broccoli, asparagus, or Brussels sprouts will work very nicely on the side. My favorite is some wilted baby spinach with a bit of garlic.
If you want to see how to make this scrambled eggs recipe, then be sure to check out my video below. Alternatively, the full written recipe is immediately below the video.
Paleo Scrambled Eggs Recipe
Ingredients
4 eggs
2 Tbsp coconut cream
1 tsp Coconut oil, ghee or another paleo-friendly fat
Instructions
In a mixing jug, beat together the eggs and coconut cream.
Next, in a small frying pan over low-medium heat, melt the coconut oil.
Once melted, pour in the egg mixture.
Once the egg starts to firm around the edges, fold the mixture back using a spatula. Repeat until the egg mixture is scrambled.
Depending on how hot the pan is, it will take a few minutes for the egg to cook. You will need to be careful not to overcook the egg.
Season with salt & pepper.
Serve and enjoy.
Recipe Tips
It is really easy to overcook scrambled eggs! I find the best way to make sure it doesn't overcook is to leave it a little runny at the end. The residual heat will cook the eggs perfectly by the time you go to eat.
You can swap the coconut cream for coconut milk if you're looking for a healthier alternative. Keep in mind it may not come out as creamy and delicious.
If you want to add a bit more flavor to this paleo scrambled eggs recipe, you can try adding some herbs such as parsley, chives, and others.
These eggs go fantastic with some perfectly cooked bacon. This is perfect if you're feeling like eating more than just scrambled eggs for breakfast.
If you want another egg breakfast, then be sure to check out the tasty paleo omelette recipe. The omelette is also super easy to cook and tastes delicious.
Nutrition Information
Serving Size: 103g (3.6 oz)
Servings Per Recipe: 2
Calories Per Serving: 160
Amount Per Serving
Saturated Fat: 5.9g
Trans Fat: 0g
Dietary Fiber: 0g
Sugars: 1.2g
Cholesterol: 327mg
Sodium: 125mg
Protein: 11.4g
The information above is an estimate generated by an online nutrition calculator.
More Paleo Breakfast Recipes
There is a ton of other tasty paleo breakfast dishes that you're able to make using eggs. For example, something like the frittata is perfect for feeding a crowd and is super easy to make.
Another paleo-friendly breakfast that is worth making is the delicious breakfast casserole. It's loaded with flavor thanks to all the vegetables, bacon, and the seasoned egg mixture.
If you have made this paleo scrambled eggs recipe and would love to share your thoughts on it, then please don't hesitate to leave a comment below! I would love to hear what you think.