The Paleo omelette is the perfect way to start the day if you're feeling like eating a nice cooked breakfast.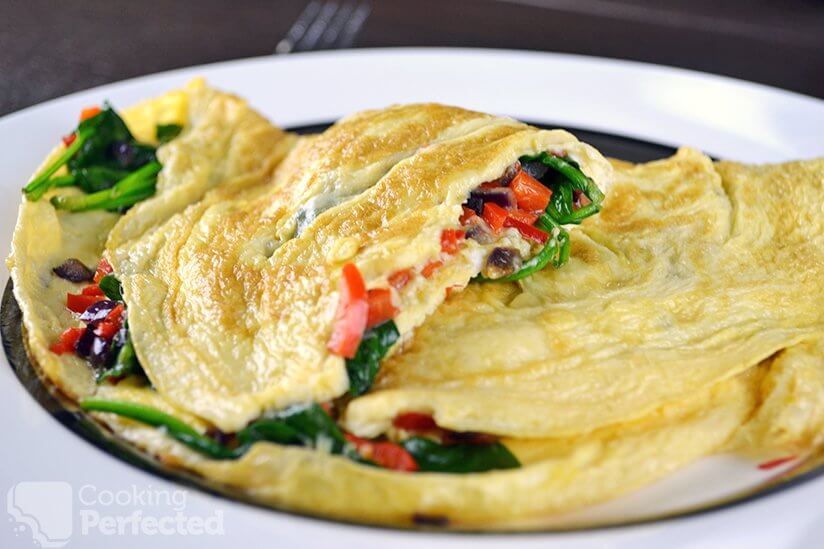 One of the best things about this recipe is how easy it is to prepare and cook quickly. It also tastes pretty amazing and can be easily altered to suit your tastes.
In this recipe, I use coconut oil. Still, you can use any other Paleo-approved oils such as avocado oil, olive oil, and the many others out there. Just remember some oils have a low burning point, so make sure you avoid these for frying.
Ideas of What to Add to This Omelette
You're able to add your own combination of Paleo-friendly toppings to this omelette. In this recipe, I use one variation of toppings, but there are so many choices out there.
Some fried mushrooms will work very nicely in this omelette. You can add it with the current range of toppings, or by themselves. It depends on what you feel like eating.
Asparagus and smoked salmon is an incredible combination that works very well with this omelette. You will want to first blanch the asparagus before adding it to your omelette.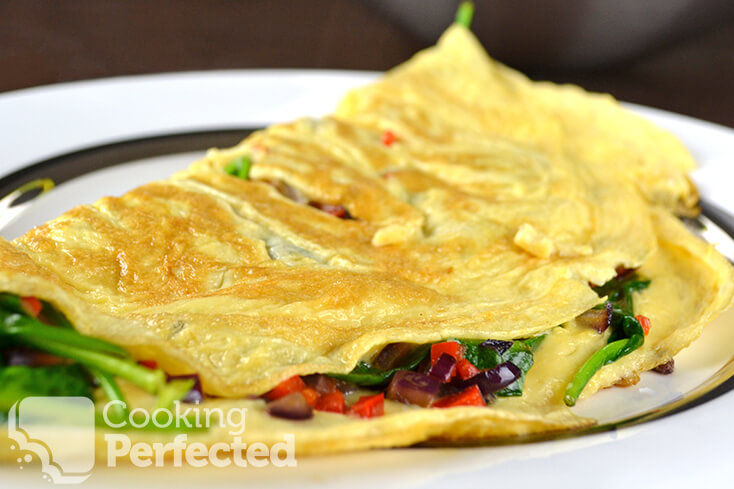 The last topping combination that I want to recommend trying is bacon, tomatoes, and mushrooms. You will want to fry the bacon and cook the tomatoes and mushrooms slightly before adding it to the omelette.
If you have a topping that you absolutely love and would love to share, then feel free to let us know by dropping a comment at the bottom of this page.
Assuming you want to see how to make this awesome Paleo omelette recipe in a video, then be sure to check out the one I have prepared below. If you enjoy it, please subscribe so you stay up to date with all the latest recipes.
Paleo Omelette Recipe
Ingredients
4 eggs
2 Tbsp water
2 Tbsp coconut oil
Topping
1/2 red onion, diced
1/2 red bell pepper, diced
1 handful of baby spinach
Instructions
Cook the red onion and red bell pepper in a pan over medium heat, until the onion is translucent.
Add spinach and wilt slightly, set aside.
Whisk together the water and the eggs.
Heat a pan over high heat and add the coconut oil.
Slowly pour in the egg mixture.
Allow the egg to cook slightly.
If you have toppings, add them to the top now.
Once the egg is starting to set, you can either finish it in in the oven, under the grill, or attempt at flipping it.
Lastly, once the egg is completely set, remove from the pan.
Serve & Enjoy.
Recipe Tips
It is best to do an omelette in a non-stick frying pan, as this will help prevent it from sticking and tearing.
To help cook the egg, don't be afraid to pull back some of the cooked egg to allow the raw egg to run onto the surface of the pan.
Heat control is extremely important when it comes to cooking an omelette. For example, if you have the pan too high, the egg will burn and be raw on one side. If the heat is too low, you increase the chance of it sticking and taking forever to cook.
Nutrition Information
Serving Size: 370g (13.1 oz)
Servings Per Recipe: 1
Calories Per Serving: 304
Amount Per Serving
Saturated Fat: 5.5g
Trans Fat: 0g
Total Carbohydrate: 11.9g
Dietary Fiber: 3.5g
Sugars: 6.4g
Cholesterol: 655mg
Sodium: 291mg
Protein: 24.8g
The information above is an estimate generated by an online nutrition calculator.
More Paleo Recipes
If you're not feeling in the mood for an omelette, then something like some paleo-friendly scrambled eggs might interest you. The scrambled eggs go amazing with some lovely crispy bacon.
Another delicious breakfast dish that uses egg is the paleo-friendly breakfast casserole. It's loaded with a ton of vegetables, eggs, and bacon. I highly recommend giving it a try, especially if you need to feed a crowd.
If you have any variations, feedback, or anything else on this paleo omelette recipe, then please feel free to leave a comment below.