An easy omelette in a mug is the perfect breakfast if you don't want to make much mess and only need to cook for one or two.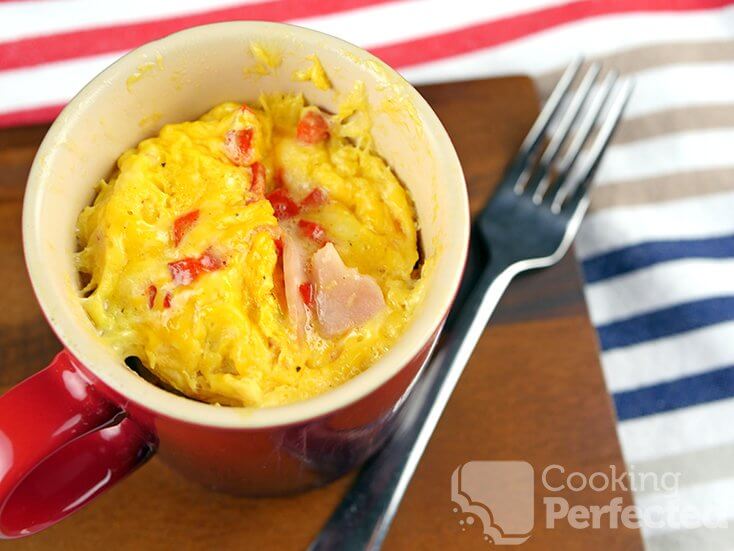 One of the best things about making an omelette with just a mug and microwave is how easy it is to get right. The egg should be cooked just right and taste absolutely amazing once you dig in.
Unlike a skillet frittata, this can be cooked in just a matter of minutes using a few ingredients, a microwave, and a regular microwavable coffee mug.
I love being able to have a quick and easy cooked breakfast, so I cook this recipe quite a bit. You can also make tons of changes to this recipe to make it more to your liking.
Personalizing this Omelette
There are so many variations that you're able to do with this recipe, so feel free to change or add a few extra ingredients. I will quickly go through some of the different combinations I have tried.
Shredded chicken, feta, spinach, and cherry tomatoes is a combination that I love using in this recipe. This classic combination has an amazing flavor that makes it hard not to make a second batch.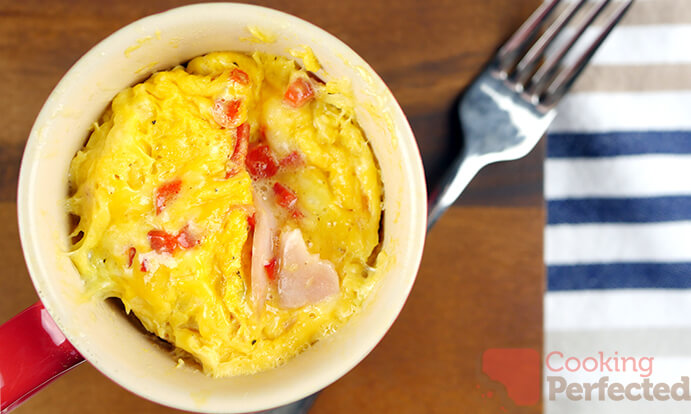 Just cheese and some chives are a simple yet very tasty combination that's worth a try. I love having this variation whenever I am short on time and just want to be able to throw something together quickly.
Replacing the ham for some salami is a quick and easy change that will radically change the flavors of this omelette. It is yet another change that I highly recommend trying.
Make sure whatever you add into the omelette that it is already cooked. We won't be microwaving the omelette long enough for it to cook the ingredients if they're raw.
If you come across a combination that is absolutely amazing and you would love to share it, then please feel free to leave a comment at the bottom of this page.
A Couple of Extra Tips
While this dish is best at being a breakfast dish, you can also eat it for dinner or even as a snack. It just comes down to what you're feeling like eating.
Make sure you use a largish mug and that you don't overfill it as the omelette does tend to start rising out of the mug once it starts to cook. It's also a good idea to keep an eye on it while it's cooking to avoid any messy incidents.
If you want to see how to make this incredibly good omelette in a mug, then be sure to check out the video below. Alternatively, you can find the full-text recipe right below the video.
Omelette in a Mug Recipe
Ingredients
2 eggs
2 Tbsp cheddar cheese, shredded
2 Tbsp ham, diced
2 Tbsp red bell pepper, diced
Instructions
Lightly spray or grease a microwavable coffee mug.
Crack the eggs into the mug and beat together.
Mix in the ham, red bell pepper, and season with salt & pepper.
Microwave for 1-2 minutes. Keep an eye on it just in case it overflows.
Serve & Enjoy.
Recipe Tips
The egg mix will rise, so keep an eye on it to make sure it doesn't overflow and cause a mess.
If you find your omelette has tons of water around it, then this means the egg was overcooked. To avoid this, try cooking it for less time.
The extras such as ham and the red bell pepper can easily be swapped out for other ingredients. For example, you could swap the ham for salmon, the bell pepper for spinach, and add a bit of dill.
Microwaves can vary by quite a bit on how fast they can cook. You may find you will need to adjust the cooking time slightly. Doing in 30-second bursts should help prevent overcooking.
The mug is likely to be hot when you go to grab it out of the microwave. It's important to use caution so that you can avoid any nasty burns.
Nutrition Information
Serving Size: 167g (5.9 oz)
Servings Per Recipe: 1
Calories Per Serving: 367
Amount Per Serving
Saturated Fat: 12g
Trans Fat: 0.5g
Dietary Fiber: 0g
Sugars: 1g
Cholesterol: 390mg
Sodium: 846mg
Protein: 25g
The information above is an estimate generated by an online nutrition calculator.
More Awesome Mug Recipes
If you enjoyed this recipe, then you should certainly check out some of the other yummy mug recipes that I have.
Another personal favorite of mine is the delicious French toast cooked in a mug. It is incredibly simple and goes fantastic with a drizzle of honey and a scoop of vanilla ice cream.
There are plenty of other breakfast mug recipes that you're able to do. For example, something like the scrumptious scrambled eggs in a mug is incredibly tasty and well worth checking out.
I hope that you're able to make this delicious omelette in a mug with no problems at all and that it comes out to be amazingly tasty.
If you have any feedback, tips, or anything else, then please don't hesitate to leave a comment below.