Scrambled Eggs in a mug is one of the easiest and tastiest ways to cook your eggs in the morning.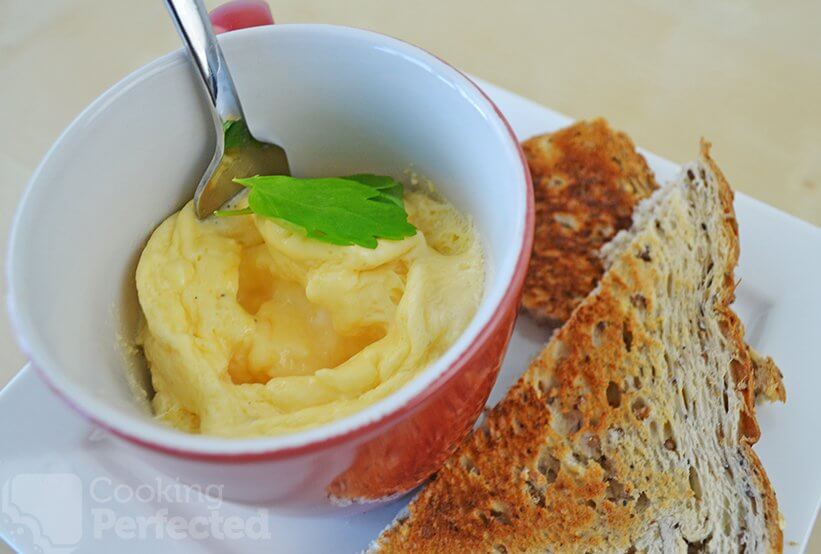 By the time you take the mug out of the microwave, you will have deliciously creamy scrambled eggs that go great with some toast. The eggs are great without any extras, so do not feel like you have to make side dishes.
This recipe is only for one person, so you may need to adjust it if you need to feed more people. Pretty much all mug recipes are like this because you are confined to using a regular mug.
If you need to make scrambled eggs for a crowd, you can increase the number of ingredients, but you will need to do it in a jug. Follow the same instructions but increase the cooking times and the intervals of when you stir the eggs.
Tweaking the Recipe
The suggestions below will help add a bit of a twist to a pretty standard recipe. Feel free to share your own combination of ingredients in the comments section at the bottom of this page.
Shredded cheese is an excellent addition to these scrambled eggs. I prefer to use something like cheddar or mozzarella. If you want to ensure that it melts properly, add it before you cook it for the last thirty seconds.
Additional herbs will add lots more flavor into these eggs. For example, herbs such as dill, chives, and parsley all work very nicely in scrambled eggs. Feel free to experiment a little for the best flavors.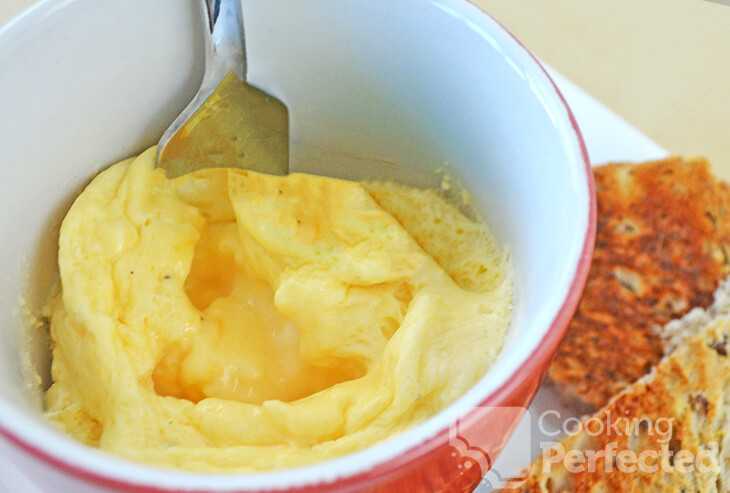 Shredded meats can be added into the eggs for even more flavor. I love to add deli meats such as ham, salami, chicken loaf, or even smoked sausage.
The cream can be swapped for sour cream or milk. Sour cream will change the flavor slightly but be the same level of creaminess as regular cream. The milk will produce much lighter scrambled eggs.
The video below will take you through the steps on how to make scrambled eggs in a mug. If you prefer a written recipe, then you can find it immediately beneath the video.
Scrambled Eggs in a Mug Recipe
Ingredients
2 eggs
1/3 cup heavy cream
Instructions
Crack the eggs and add the cream into a mug.
Season with salt and pepper. Use a fork to mix vigorously.
Place in the microwave and cook for 45 seconds.
Remove from the microwave and mix.
Place back in the microwave and cook for a further 30 seconds.
Serve & Enjoy.
Recipe Tips
If you do not have cream, you can replace it with two tablespoons of milk. This change will give you a less creamy mix, but it will be slightly healthier.
You must keep an eye on the mug while it is in the microwave. The scramble mix may boil up and spill over the sides of the mug, making a mess. To help avoid this, just stop the microwave if it looks like it is just about to boil over.
Heavy cream is also known as thickened cream in Australia or whipping cream in the United Kingdom.
Nutrition Information
Serving Size: 167g (5.9 oz)
Servings Per Recipe: 1
Calories Per Serving: 177
Amount Per Serving
Saturated Fat: 5.5g
Trans Fat: 0g
Dietary Fiber: 0g
Sugars: 2.3g
Cholesterol: 343mg
Sodium: 149mg
Protein: 11.7g
The information above is an estimate generated by an online nutrition calculator.
More Breakfast Recipes
For a more fulfilling breakfast, the ham and cheese egg bowl is a great option. You get a cheesy egg inside a crunchy bread bowl. It is perfect if you are feeling lazy and do not want to make any mess. It does, however, take a bit longer than this recipe.
Poached eggs are an excellent alternative to scrambled eggs but can be tricky to get right. Be sure to check out my guide on how to poach eggs perfectly.
I also suggest taking a look at our paleo-friendly scrambled eggs for something a little healthier. You make it in a frypan, and it is so easy to get perfect.
If you have any suggestions on improving these scrambled eggs in a mug, please feel free to drop me a comment below.