A ham cheese egg bread bowl is the perfect easy meal as it tastes great and leaves little to no cleaning to do.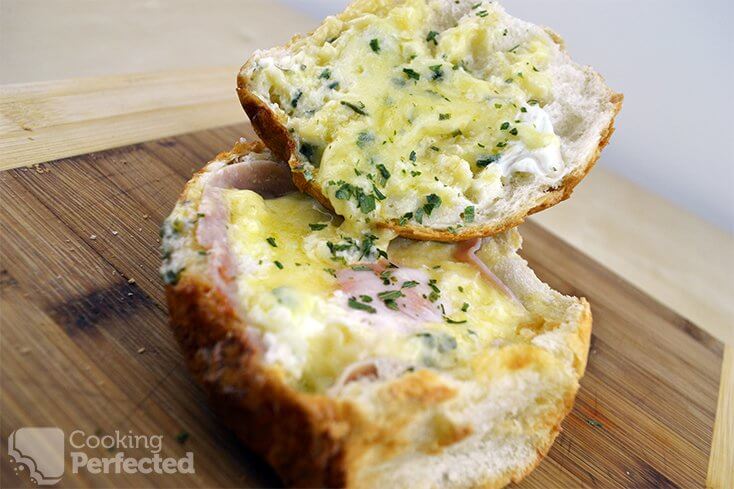 By the time this bread roll is ready, the cheese will be melted, and the egg will be slightly runny. When you bite into the bread roll, you're greeted with a fantastic range of flavors, lots of cheese, and that slightly runny egg. It tastes amazingly good.
These bread rolls are very simple to do and can be thrown together at the very last minute. They also make for a great meal if you need to feed quite a few people as you can easily make them in bulk.
Personalizing the Bread Bowl Fillings
If you're not a fan of ham, then you can always try swapping it out for something else. Something such as chicken loaf, shredded chicken, pulled pork, or even salami will work great. There are a lot of different meats that you can use in this delicious meal.
You can try using another type of cheese for a different flavor combination. For example, you can try using something like Swiss cheese, mozzarella, or even a combination of cheeses.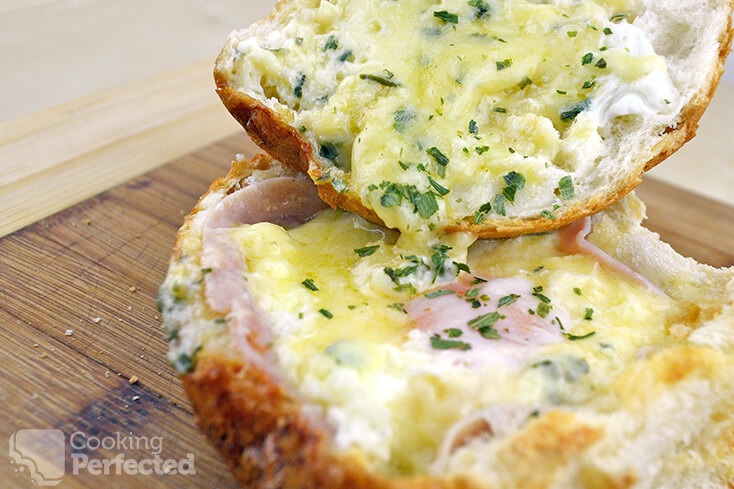 Condiments are an excellent way of adding even more flavor to this delicious bread bowl. Something like dijon mustard or ketchup is a great way to add lots more flavor. Personally, I love it without any extras, but feel free to tinker.
There are some great cooking tips right underneath the recipe that should help you perfect this delicious breakfast. If you have any feedback that you would like to share, then please leave us a comment at the bottom of this page.
Side Dishes Worth Making
There are so many side dishes that go great with this easy bread bowl, below are a couple of my favorites.
If you have some room in the oven, then some oven-baked sweet potato fries are worth making. They're super easy, tasty, and are healthier than some other options.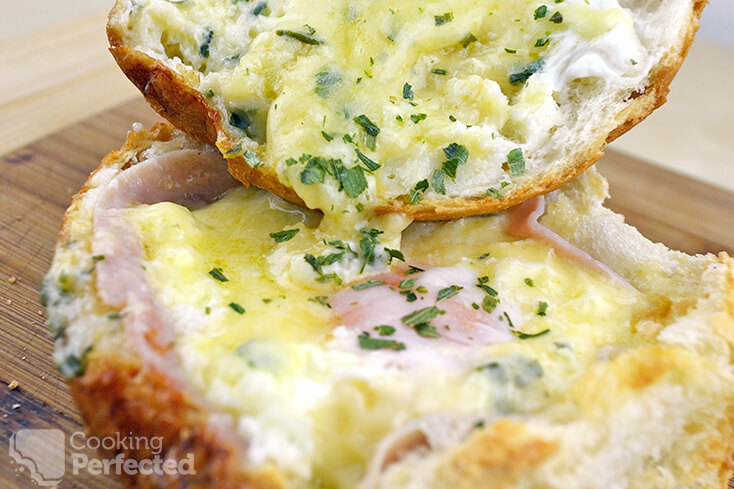 One of my favorite side dishes is cheesy potatoes loaded with crispy bacon. You can make these in the slow cooker or in the oven. They're super easy to make and will please even the fussiest of eaters.
The video below will take you through all the steps on how to make this ham, cheese, egg bread bowl. If you prefer a written recipe, then you can find it underneath the video.
Ham Cheese Egg Bread Bowl Recipe
Ingredients
1 round bread roll
2 slices of ham
50 g (1.8 oz) cheddar cheese slices
1 egg
Foil
Optional
Instructions
Preheat your oven to 180°C (350°F).
Cut off the top of the bread roll.
Using a spoon or your fingers, scoop out the center of the bread roll.
Using the ham, layer inside the scooped out hole in the bread roll. Try to make sure it covers the bread entirely. If you don't adequately cover the bread, it's not the end of the world, but the mix will start to seep into the bread.
Crack an egg into the hole and then top with some cheese. Sprinkle with your chosen herb.
Put the top back on the bread roll and then wrap in foil.
Bake for ~10-15 minutes or until cooked to your liking. The longer you cook, the harder the egg will become.
Remove from the oven and unwrap.
Serve and Enjoy.
Recipe Tips
You can also use salami or even smoked salmon, but make sure you get them thinly sliced, so you're able to layer correctly.
Keep in mind the oven you're using may cook faster than others. I am using a fan-forced, so it cooks a little bit quicker than other sorts of ovens.
The thickness of the outer wall of the bread will impact cooking times, the thicker, the longer it will take to cook the egg.
For a creamier and different filling, you could use a creamy scrambled egg mix instead of just an egg.
You can add more fillings, but keep in mind every ingredient may cause it to take longer to cook.
If you're running low on time, then you can cook this in the microwave instead. Just make sure you don't wrap it in foil. The downside to doing this is that it will come out a bit soft instead of crunchy.
Nutrition Information
Serving Size: 238g (8.4 oz)
Servings Per Recipe: 1
Calories Per Serving: 476
Amount Per Serving
Saturated Fat: 13.6g
Trans Fat: 0g
Total Carbohydrate: 26.1g
Dietary Fiber: 1.2g
Sugars: 0.6g
Cholesterol: 248mg
Sodium: 1102mg
Protein: 31.3g
The information above is an estimate generated by an online nutrition calculator.
More Easy Recipes Worth Trying
There are so many delicious easy recipes that you need to try. Below are a couple of suggestions that I highly recommend giving a try.
The fried cheese sticks are one of the easiest and tastiest meals that you can make. They feature a rolled piece of bread loaded with some delicious cheese. Certainly, one of my favorite easy recipes.
A breakfast dish that I love to make is an egg in a hole. Essentially it's an egg cooked in the middle of a piece of bread. It's super simple and surprisingly good.
I hope you end up loving this cheesy egg and ham bread bowl. If you have any variations, comments, or changes to the recipe, feel free to drop us a comment below.