These fried cheese sticks are possibly the easiest, cheapest, and tastiest things that you can cook.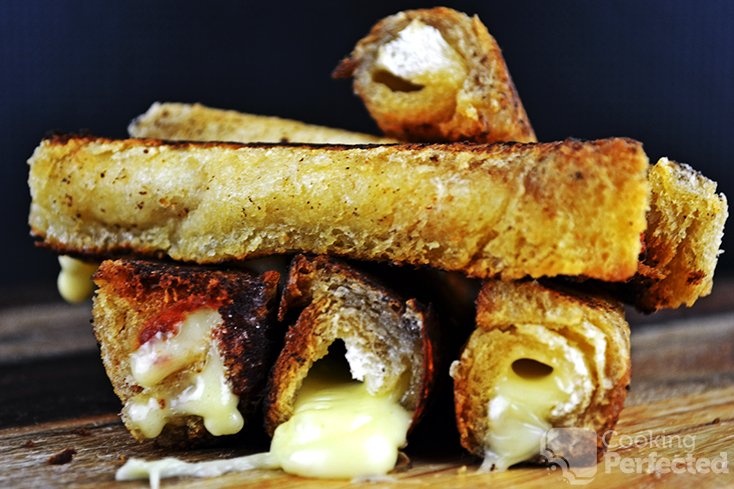 The cheesy sticks cook to be deliciously gooey on the inside and crispy on the outside. They are loaded with cheesy flavors, but you can easily add more flavor by dipping them into some tomato sauce.
One great thing about these sticks is how cheap they are to make. You only need some bread, cheese, and butter. Of course, you can always add some additional ingredients in with the cheese. They are a fantastic alternative to toasted cheese sandwiches.
I love to dip these sticks into a homemade tomato soup as the flavor combination is incredible. There are plenty of other meals that will match nicely with these sticks, so feel free to experiment.
A single batch of these cheese sticks will feed roughly two people, so if you need to feed more, you will need to double or triple the recipe.
Personalizing the Filling
You can add extra ingredients to the rolls for a bit more flavor. Below are a couple of suggestions on what you can do. Just make sure you do not go overboard as you may end up with soggy grilled cheese sticks.
One of my favorite combinations is a little bit of tomato paste, ham, and cheese. You can easily replace the ham for a different type of meat such as pepperoni or shaved chicken loaf.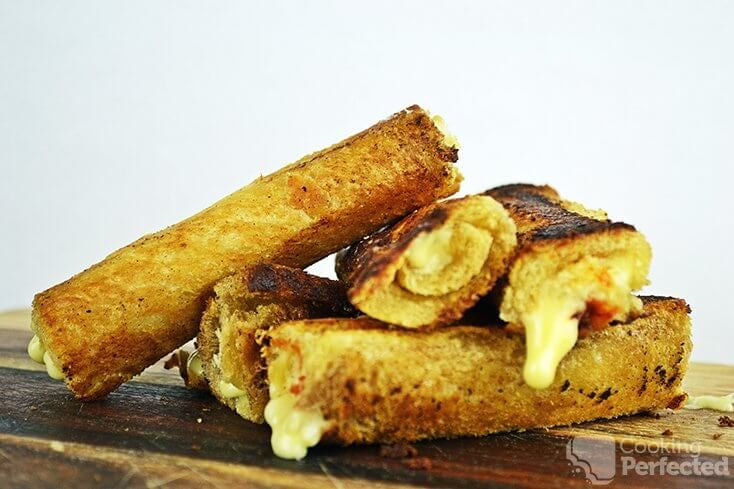 I find processed cheese slices work best in these sticks, but you can use any type of cheese that you want. For example, brie, camembert, swiss, cheddar, or even mozzarella will work nicely.
Feel free to use a different fat other than butter for cooking these cheese sticks. Something such as bacon fat, coconut oil, vegetable oil, or even lard will fry these nicely. I prefer something like bacon fat or butter as they add a little bit more flavor.
If you are more of a visual person, check out my video on how to make these fried cheese sticks. It is a quick and easy way to learn how to throw this great recipe together.
Fried Cheese Sticks Recipe
Ingredients
8 slices of bread
8 cheese slices
4 Tbsp spreadable butter
Instructions
Remove the crusts from all the slices of bread.
Roll out the bread using a rolling pin.
Place a cheese slice on the bread.
Roll the bread up.
Heat a frying pan over medium heat. Add some butter.
When the butter is hot, add the cheese sticks with the edge facing down.
Once golden brown, turn over to a new side. Repeat until the cheese sticks are golden brown all over.
Serve & Enjoy.
Recipe Tips
You can cook these in the oven, simply preheat an oven to 180°C (350 °F) and bake for about 10-15 minutes. You might want to add some butter or oil to the outside, so they crisp up nicely.
When you are cooking these in a pan, try to keep them in a close group. This method will help prevent the rolls from opening and becoming ruined.
These fried cheese sticks are great with some soup, condiments, a stew, and much more.
I used processed cheese slices for this recipe, but you can easily swap these out for a different type of cheese. For example, pieces of camembert are pretty amazing fried.
You will need to be careful as the cheese can get hot, so make sure you let the rolls cool first.
Nutrition Information
Serving Size: 262g (9.2 oz)
Servings Per Recipe: 2
Calories Per Serving: 649
Amount Per Serving
Saturated Fat: 31.2g
Trans Fat: 0g
Total Carbohydrate: 19.7g
Dietary Fiber: 0.9g
Sugars: 2.1g
Cholesterol: 54mg
Sodium: 41mg
Protein: 30.8g
The information above is an estimate generated by an online nutrition calculator.
More Cheesy Recipes
One thing I love is dishes with a primary focus on cheese. Below are a couple of my favorite recipes.
If you are looking for something slightly healthier, be sure to check out the easy cheesy cauliflower cheese. It is steamed cauliflower topped with an amazing cheese sauce.
Another cheesy dish that I highly recommend making is broccoli cheese soup. It is a delicious soup that has an abundance of broccoli and a generous amount of cheese.
If you have your own thoughts, variation, or anything else you would like to share regarding our fried cheese sticks recipe, then please leave us a comment below.