This deep-fried camembert is so delicious you will find yourself going back for seconds, thirds, or more. The best thing about these cheese wedges is that they're easy to cook up quickly.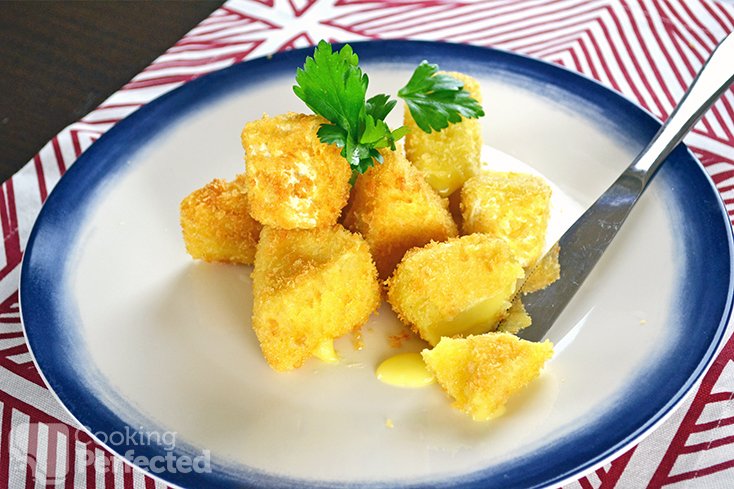 Once you pull the pieces of cheese out of the fryer, they will be crunchy on the outside and incredibly gooey on the inside. They're great on their own but even better with some condiments or as part of a meal.
A wheel of camembert will feed roughly two people, but this heavily depends on how hungry people are. You can easily double, triple, or quadruple the recipe if you need to feed more people.
If you love cheesy recipes, then be sure to check out the delicious baked brie. It is a lot easier than this recipe, as you can just chuck it in the oven and wait.
Personalizing this Recipe
There are some slight tweaks that you can make to the recipe to make it more to your liking.
You can add some extra herbs and spices into the crumbing mixture. For example, something like paprika or rosemary will help add a little bit more flavor to the crumb. It all just comes down to personal preference.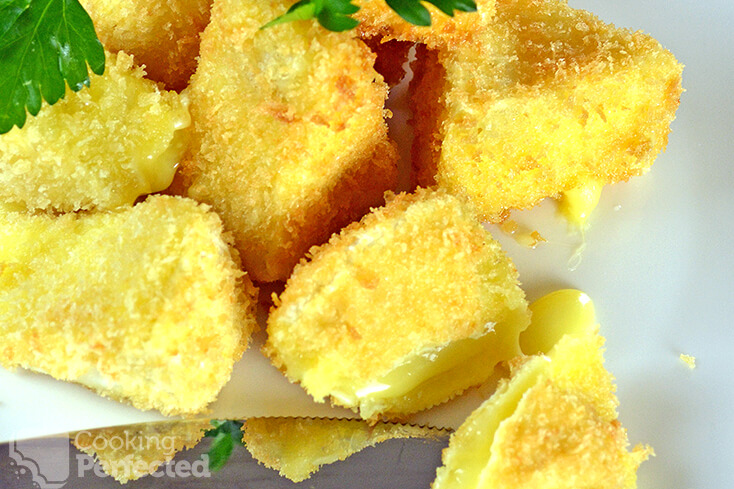 If for some reason you're not a huge fan of camembert, then you can easily swap it for brie. The cheeses are similar enough that they will both work fine in this recipe. You could also try using mozzarella instead.
Be sure to let us know of any changes that you have made to the recipe. We love to hear what you have tried and whether it came out to be a success.
Serving Fried Camembert
These little-fried cheese blocks are great by themselves, or you can serve them with other foods. Below are a couple of ideas on what you can do.
The cheese goes great as part of a different meal, such as in a salad, wrap, sandwich, and much more. My personal favorite is to include it in a green salad that's loaded with chicken nuggets, cucumber, tomatoes, lettuce, red onion, and sliced bell peppers.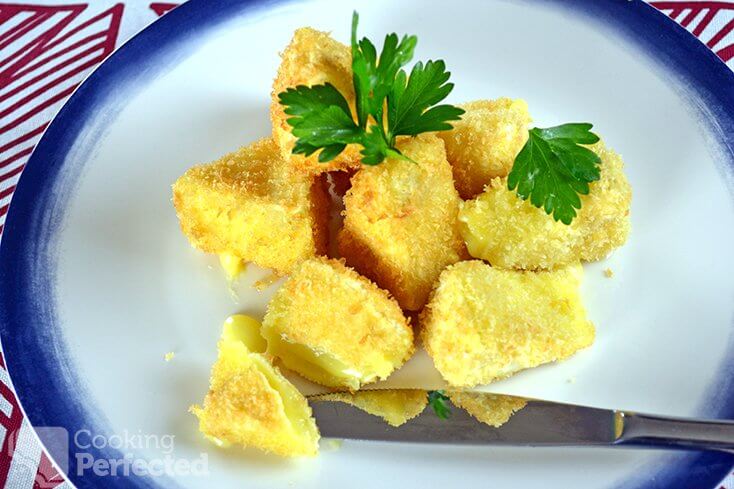 You can serve these crispy bits of cheese with a range of other snack foods. For example, I love to make a platter that has other cheeses, crackers, dips, fruits, and more. Speaking of dips, you should definitely try the smoked salmon dip.
Of course, there are lots more ways you can serve this camembert, so be sure to let us know of any ideas that you have.
We have a video that goes through all the steps to making delicious deep-fried camembert below. If you prefer a written recipe, then you can find one immediately below the video.
Deep-Fried Camembert Recipe
Ingredients
115 g (4.1 oz) wheel of camembert
¼ cup plain flour
2 eggs
1 cup breadcrumbs
Enough oil to fill a deep fryer
Instructions
Cut the camembert into 1/8ths (If it is a wheel) or 2cm (0.8 in) chunks.
In a bowl, mix the plain flour with a pinch of salt and pepper. Toss the camembert through the flour.
In another bowl, beat the two eggs together.
Finally, in a different bowl, add the breadcrumbs.
Now, one by one, add camembert to the egg and then coat with the breadcrumbs. Place to the side.
In a deep fryer heat the oil to 180°C (350°F).
Place the camembert into the oil and allow to cook for 30-45 seconds or until golden brown.
Place on some paper to any drain excess oil.
Serve & Enjoy,
Recipe Tips
Deep-fried camembert goes amazing with some cranberry sauce. Also, it goes well in a salad, perfect if you're looking to have something a bit healthier with these gooey cheese bits.
It's essential not to use olive oils in a deep fryer as they impart a lot of their flavor to the food and they have a very low burning point.
Don't drop the camembert into the deep fryer as this will cause a splash, possibly burning yourself and also making your kitchen dirty. Simply place into the oil, and it should start cooking.
It is important to have the oil at the right temperature when using a deep fryer or even if you're shallow frying. If you put food in when the oil is not hot enough, your food will absorb the oil and become a soggy and a unenjoyable mess.
You can add chopped herbs such as chives to the breadcrumb mixture to help add a bit more flavor.
Nutrition Information
Serving Size: 161g (5.7 oz)
Servings Per Recipe: 2
Calories Per Serving: 525
Amount Per Serving
Saturated Fat: 11.6g
Trans Fat: 0.6g
Dietary Fiber: 2.9g
Sugars: 3.7g
Cholesterol: 221mg
Sodium: 745mg
Protein: 24g
The information above is an estimate generated by an online nutrition calculator.
More Delicious Deep-Fried Food
If you're a fan of all things deep-fried, then you should take a look at our gooey deep-fried mars bar recipe. They cook to be crunchy on the outside but deliciously gooey on the inside. It's one of the tastiest and unhealthiest desserts I have ever tried.
Another recipe that you might love is the delicious homemade corn dogs. They're essentially hot dogs coated in a delicious batter, then deep-fried. You usually buy them from food trucks at festivals.
I hope this recipe has shown you how to make deep-fried camembert. If you have any thoughts, variations, or anything else you would like to share with me, please leave a comment below.