This easy smoked salmon dip uses five simple ingredients and is perfect for when you need to make a tasty dip fast.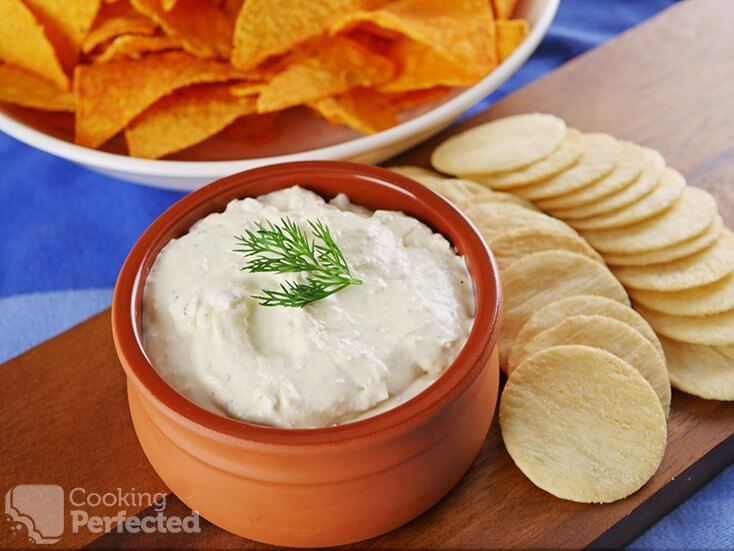 Be prepared to be hit with a delicious range of flavors when you eat this dip. It is creamy thanks to the cream cheese and loaded with flavor thanks to the smoked salmon, dill, and lemon juice.
This dip is best enjoyed with some crackers, carrot sticks, or some celery sticks. Alternatively, you can use this as a spread on some bread or use it as an ingredient in a meal.
You will get about twelve servings out of this recipe. I find it is enough to feed about four to six people, but it depends on whether you have any other foods and dips.
If you are looking for more dips, there are quite a few easy ones you can quickly make. For example, the French onion dip requires just three ingredients and tastes absolutely incredible.
Adjusting the Dip Ingredients
Dips are so easy to make at home, and you can sometimes save a bit of money by doing so. Best of all, you can change the ingredients to match the flavors you enjoy the most. Love dill? Then simply add more dill, the possibilities are endless.
Adding more sour cream will make this dip runnier and add a bit more of that tangy sour cream flavor. Keep in mind that when this dip is refrigerated, the cream cheese will harden slightly but the sour cream will remain runny.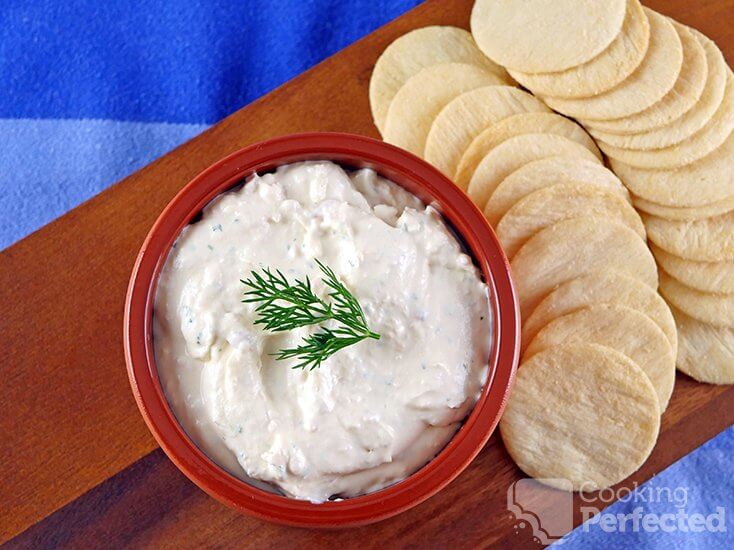 For a bit of extra flavor, you can add some capers and diced red onion. It is best not to go overboard with the capers as they can quickly make your dip too salty.
Chives are also another excellent addition to this dip. However, do not add any red onion if you decide to add chives. Too much onion may start to overpower the rest of the ingredients, including the smoked salmon.
What to Serve with Dip
There are quite a few things that go great with a dip. Below are a couple of my favorite options.
I love to serve this dip on a platter with a range of other foods. The platter usually consists of a beautiful baked brie, crackers, corn chips, fruits, and a range of other dips.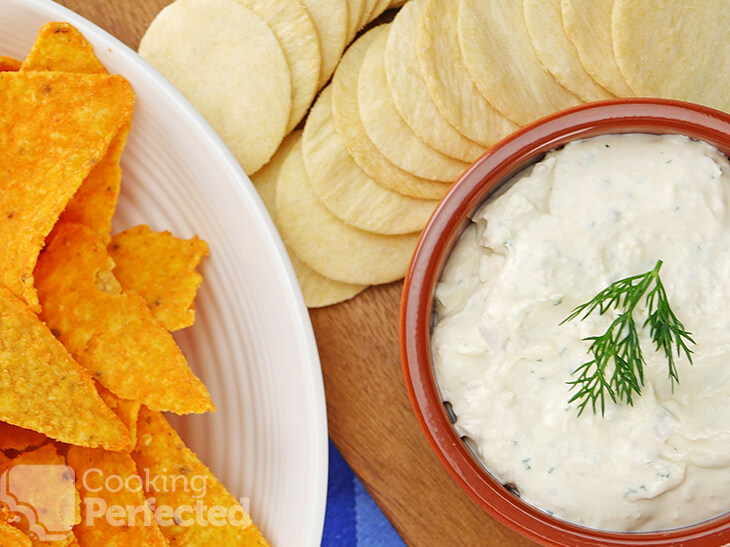 You can make celery sticks or carrot sticks if you want to be a bit healthier. They are the perfect replacement for crackers or corn chips.
If you have the time, then you can cook up some crunchy homemade tortilla chips to go with this smoked salmon dip. They are incredibly easy to make and are perfect for dipping.
Lots more foods go great with dip, so if you have any suggestions, we will love to hear them.
Storing the Dip
This dip will last for about a week if stored correctly in the fridge. If it starts to smell or look weird, then I highly recommend throwing it out.
If you place this smoked salmon dip into the fridge, it will start to harden due to the cream cheese. The more sour cream you add, the less it will harden. Alternatively, you can remove it from the fridge to soften it.
I recommend removing the dip from the fridge thirty minutes before eating. I should mention that even when the dip has hardened, it is still dippable and incredibly tasty.
The short video below will take you through all the steps on how to make a smoked salmon dip. It is super short, so it will not take up too much of your time.
Easy Smoked Salmon Dip Recipe
Ingredients
250 g (8.8 oz) cream cheese, softened
150 g (5.3 oz) smoked salmon
2 tsp dill, chopped
2 tsp lemon juice
½ cup sour cream
Instructions
In a food processor, add the cream cheese and blend until softened.
Add the smoked salmon, dill, lemon juice, sour cream, and blend until combined.
Serve & Enjoy.
Recipe Tips
Adjust the lemon juice and the dill to your liking. If you prefer the dip to be stronger tasting in dill, you might want to add some more.
Nutrition Information
Serving Size: 44g (1.6 oz)
Servings Per Recipe: 12
Calories Per Serving: 108
Amount Per Serving
Saturated Fat: 6g
Trans Fat: 0g
Dietary Fiber: 0g
Sugars: 0.1g
Cholesterol: 30mg
Sodium: 317mg
Protein: 4.2g
The information above is an estimate generated by an online nutrition calculator.
More Delicious Dips
If you are a huge fan of dips and love making them, you should also check out the delicious corn relish dip. Like most dips on this website, it only requires a few ingredients and is incredibly simple to quickly make.
One of my favorite dips is the caramelized onion dip. It is extremely easy to make and will go nicely alongside this dip. I highly recommend giving it a try.
I hope that you enjoy this easy smoked salmon dip and that you did not run into trouble making it. If you have a variation, tip, or anything else that you would like to share, then please do not hesitate to leave a comment below.