I LOVE cookie dough, but sometimes I get a craving for it and don't want to make a huge batch of it. Cookie dough in a mug is a great solution as you can quickly make it in a regular-sized mug.
This cookie recipe turns out to be incredibly flavorsome and has gooey bits of chocolate throughout it. It's perfect by itself or you can make it even better with a scoop or two of vanilla bean ice cream.
All you need is a microwave, mug, a few basic baking ingredients, and you're ready to go. It's an incredibly easy recipe to whip up, making it perfect for a tasty snack.
Like most mug cakes, this is the perfect dessert or snack for one person. If you want to feed more people, you can easily double or triple the recipe; however, you may need a larger mug or multiple mugs.
Personalizing the Recipe
If you're looking to mix things up a bit, then you can add half dark chocolate chips and half white chocolate chips into the cookie batter.
There is also the option of adding chopped walnuts or almonds for a bit of crunch. There are just so many variations that you can do to this tasty recipe.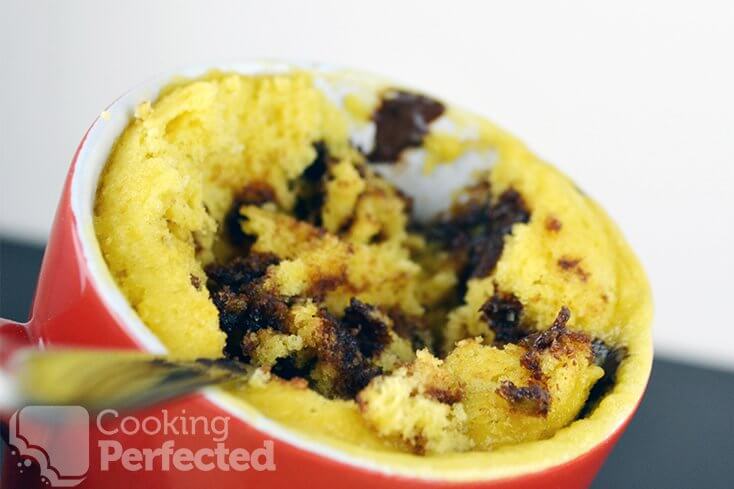 You could easily swap the chocolate chips for something else such as chopped KitKats, crushed snickers, small marshmallows, M&Ms, and so much more. You can easily create a pretty amazing flavor combination with a simple substitution.
Be sure to let us know of any combinations that you try as we will love to hear them. You can leave your suggestions in the comments section at the bottom of this page.
Perfecting the Cookie
The cooking time for this cookie dough can vary quite a bit. This is mainly due to the different types of microwaves. You will need to cook this a little longer if the middle is still very wet.
You shouldn't eat this cookie dough raw as there are health risks to doing so, especially if you're elderly, immune-compromised, or pregnant. I recommend cooking the dough in the microwave as it will help ensure it is safe to eat.
If you want to see how to make this chocolate chip cookie dough in a mug, then check out the video I have prepared below. It takes you through all the steps you will need to do.
Cookie Dough in a Mug Recipe
Ingredients
1 Tbsp softened butter
1 Tbsp brown sugar
1 egg
1 Tbsp plain sugar
1/3 cup self-rising flour
1/4 tsp vanilla essence
4 Tbsp chocolate chips
Instructions
Soften the butter in the microwave, 10-15 seconds should be enough.
Add sugar, vanilla, and mix.
Add the egg into the mug and mix.
Now add the flour and gently stir it in.
Lastly, add the chocolate chips and mix until combined.
Microwave for about 1 & 1/2 minutes.
Serve and Enjoy.
Recipe Tips
You can replace the egg with applesauce or a different egg replacement.
A scoop of ice cream or a drizzle of cream completes this delicious mug cake.
Chocolate chip cookie dough is only one combination that you can do. There are plenty more types of dough, you can do such as peanut butter cookies, plain cookies, and much more.
All microwaves are slightly different, so it might take longer to cook than the time specified in this recipe.
Being so easy can make this very addictive, so try to only make it once in a while. Otherwise, you could find yourself eating this yummy cookie dough a lot.
Nutrition Information
Serving Size: 288g (10.2 oz)
Servings Per Recipe: 1
Calories Per Serving: 567
Amount Per Serving
Saturated Fat: 15.3g
Trans Fat: 0g
Total Carbohydrate: 71.8g
Dietary Fiber: 2.2g
Sugars: 37.5g
Cholesterol: 201mg
Sodium: 172mg
Protein: 12.4g
The information above is an estimate generated by an online nutrition calculator.
More Mug Recipes
There is so many other "cakes" that you're able to do in a mug. Below are a couple that I highly recommend giving a try.
One of my favorites is the mug brownie that you can also add some chocolate chips to for an extra double chip brownie.
The Nutella mug cake is a must-try if you're a huge fan of Nutella. It's gooey, rich in flavor, and the perfect comfort food for when you need something to cheer you up.
I hope that you enjoy this delicious cookie dough in a mug recipe. If you have any feedback, tips, variations, or anything else that you would like to say, then please don't hesitate to leave a comment below.