This amazing easy banana bread won't take you long before you can have it in the oven. After thirty minutes in the oven, it's ready for eating and is totally worth the wait.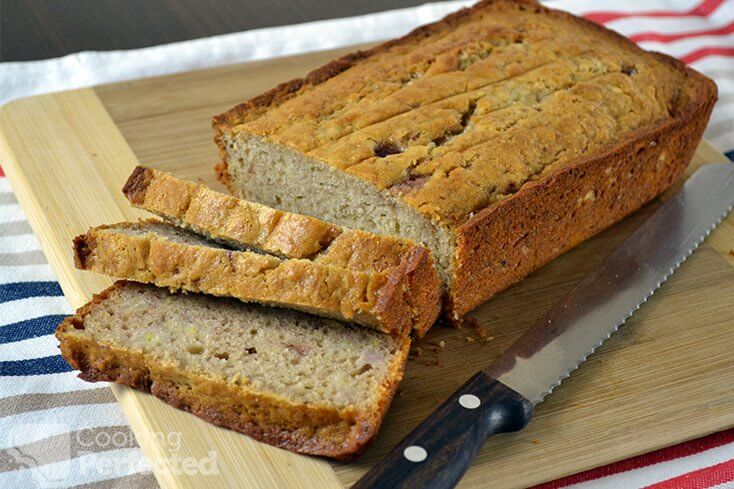 By the time you pull this banana bread out of the oven, it will be a lovely golden color. On the inside, the bread is deliciously moist and is rich in flavor, thanks to the bananas and raspberry jam.
I make use of some raspberry jam to help sweeten and add a bit more flavor to the bread. It also reduces the amount of sugar we need and helps keeps everything moist.
Serving the Banana Bread
This bread is fantastic for morning tea, lunch, afternoon tea, or breakfast. You can heat it, toast it, or have it fresh. It tastes pretty damn good no matter how you serve it.
For something slightly different, you can caramelize some bananas and serve them with this banana bread. It's an epic combination that I highly recommend giving a try if you feel like being a little experimental.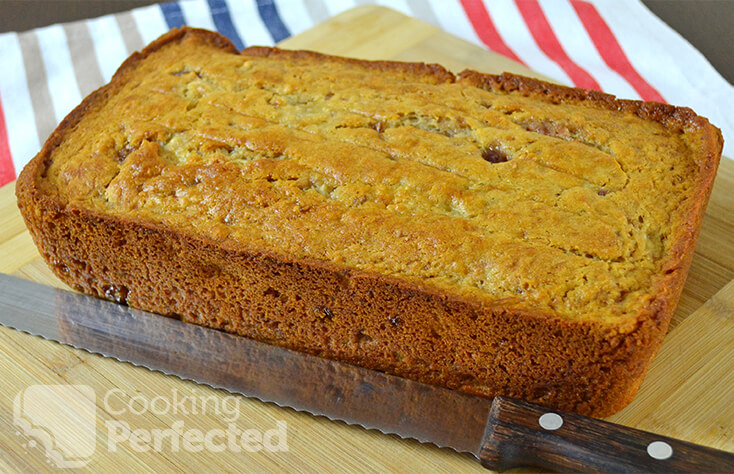 You will find that when fresh, this banana bread is so perfectly moist, you won't need to add any extra spreads to it. With that said, margarine, jam, or honey are all great spread onto the bread.
The cinnamon latte is a pretty good sidekick to a couple of slices of this bread. Personally, I prefer to have this bread with plain black coffee.
Personalizing The Recipe
There are lots of little changes that you can make to this recipe so that it is perfect for your taste buds. Below are a couple of my favorite tweaks.
Chopped nuts will add new flavors and textures to the bread. Most nuts will work nicely in the banana bread, but my favorite is some chopped walnuts or slivered almonds.
An absolute classic to add to the banana bread batter is some chocolate chips. If you eat the bread warm, you will be greeted with lots of delicious melted pieces of chocolate. It's incredibly delicious.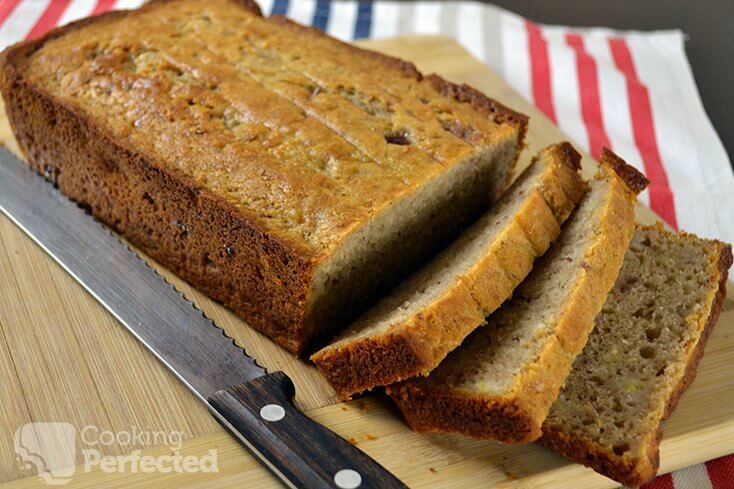 Feel free to use a different jam than the one specified in the recipe. For example, apricot jam, applesauce, or blueberry jam are perfect replacements to the raspberry jam. Just remember, each will bring a unique set of flavors.
It's not the same as this recipe, but the gluten-free banana bread is certainly a must-try. It's the perfect recipe if you need to cater for anyone who is on a gluten-free diet.
If you want to see how to make this deliciously moist banana bread, then be sure to check out the video below. It will take you through all the steps you need to take to make this amazing recipe.
Easy Banana Bread Recipe
Ingredients
125 g (4.4 oz) unsalted butter
½ cup caster sugar
1 tsp vanilla essence
1 egg, beaten
2 cups self-rising flour
½ cup milk
2 very ripe bananas, mashed
½ cup raspberry jam
Instructions
Preheat an oven to 170°C (340°F).
Grease and line a 1kg (2 lb) loaf tin.
In a bowl, add the butter, sugar, vanilla, and beat until light and fluffy.
Add the egg and beat until combined.
Stir in the self-rising flour and the milk.
Now add the mashed bananas and raspberry jam, gently stir in.
Pour into the prepared loaf tin.
Bake for about 35 minutes, or until a skewer comes out clean.
Leave in the tin for about 5 minutes.
Remove from tin and allow to cool.
Serve & Enjoy.
Recipe Tips
If you find that the top is starting to burn, but the bread is not cooked in the middle yet, then simply cover it with some foil. This method will help it continue to cook and reduce the risk of the outside becoming burnt.
You can leave the sugar out of the recipe if you prefer your banana bread to not be sweet. The sugars in the raspberry jam and the mashed banana should be sufficient enough to keep it tasty.
If you want to add more flavor to this recipe, then I recommend adding some allspice and cinnamon. A teaspoon of each should be the perfect amount.
Caster sugar is also known as baker's sugar or superfine sugar. It's the ideal sugar for any type of baking, but if you don't have any, then you can use regular granulated sugar.
You can also make banana bread in the slow cooker, which is perfect if you find yourself without an oven.
Nutrition Information
Serving Size: 290g (10.2 oz)
Servings Per Recipe: 4
Calories Per Serving: 732
Amount Per Serving
Saturated Fat: 16.9g
Trans Fat: 0g
Total Carbohydrate: 113.9g
Dietary Fiber: 3.2g
Sugars: 52g
Cholesterol: 111mg
Sodium: 212mg
Protein: 10g
The information above is an estimate generated by an online nutrition calculator.
More Delicious Recipes
If you have a craving for more delicious banana recipes, then be sure to check out the baked oatmeal in a mug. This delicious recipe combines oats, banana, and fruits for an easy breakfast that will leave you feeling pretty satisfied.
For something that can be made a little faster, you should try making the banana mug cake. It's simple but incredibly flavorsome. I highly recommend making it if you're a massive fan of banana-flavored cakes.
The easy pancakes are incredibly delicious and go great with some sliced bananas. It's the perfect easy breakfast that the entire family can enjoy. I highly recommend giving them a try.
If you have any feedback on this easy banana bread recipe, then be sure to leave us a comment below.