Waking up to a delicious cinnamon latte is one of the best things you can start the day with. I love starting my day with a flavor-packed hot coffee.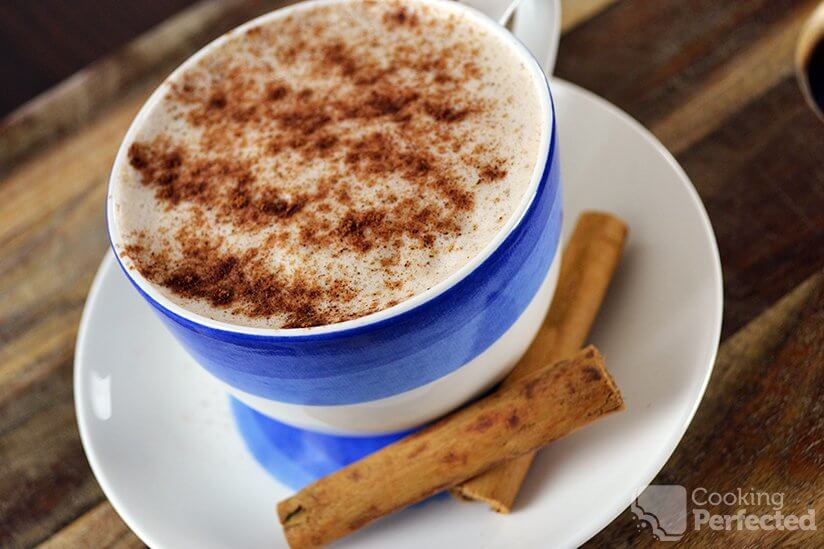 You will find that this delicious coffee is straightforward to make and will change your coffee into something that is both sweet and delicious. Best of all, it's the perfect beverage to wake you up.
This homemade latte is super easy to whip up quickly and, in my opinion, tastes so much better than what you would find at Starbucks. It is probably a lot cheaper in the long run if you decide to make this recipe in replacement of your usual Starbucks cinnamon latte.
You're able to make the cinnamon milk mixture the night before so that all you need to do in the morning is heat it up to your desired temperature. It really helps when it comes to making the coffee as quickly as possible.
Tweaking the Cinnamon Latte Recipe
There are a few different things that you can do to this recipe to make it more to your liking. I go through a couple of ideas below.
You're able to swap the ground cinnamon with a cinnamon stick. If you do this, I recommend gently heating the milk for fifteen minutes so that the cinnamon flavors fully infuse.
The white sugar can be replaced with an alternative sweetener, such as maple syrup or brown sugar. Each sweetener will impart a unique flavor to the milk mixture.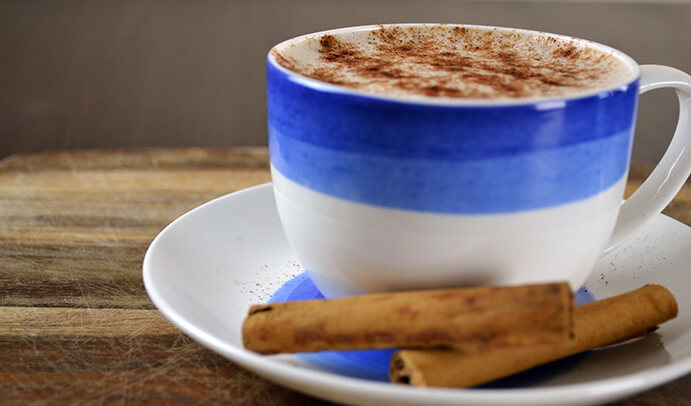 You can try adding more spices into the milk mixture. For example, something like cardamom and cloves will work pretty nicely. Be careful adding too much as it will likely overpower the cinnamon.
The milk mixture will keep in the fridge for a few days. Alternatively, you can adjust the quantities of the ingredients, so you only make the amount that you need.
What to Serve with this Coffee
There are a lot of different foods that go great with coffee, and below are just a couple of my favorites.
Some blueberry muffins go down a treat alongside this homemade cinnamon latte. It's an ideal combination for either afternoon tea or morning tea.
Other baked goods, such as some gluten-free banana bread, will also go down a treat alongside this delicious coffee. I love having a slice of the banana bread and the latte for breakfast before I go to work.
If you want to see how to make this delicious latte recipe, then check out the video below. If you like what you see, then please be sure to follow us on social media, so you can stay up to date with all the latest recipes, guides, and much more.
Cinnamon Latte Recipe
Ingredients
~400 ml (13.5 fl oz) brewed black coffee
1 tsp cinnamon, ground
2 Tbsp sugar
1 liter milk
Instructions
In a pot, add the cinnamon, sugar, and milk.
Place the pot over medium heat.
Stir the milk until it just starts to boil, then remove from the stove.
Split the brewed black coffee among four mugs.
Top each of the mugs with the cinnamon milk mixture.
Serve & Enjoy.
Recipe Tips
Make sure you keep stirring the milk. Otherwise, it may burn to the bottom of your pot and ruin the flavor of the milk.
There are many variations on this cinnamon latte recipe. My favorite is to put a cinnamon stick instead of the ground cinnamon into the milk. Allow to sit for roughly ten minutes after the milk has boil as this will allow the flavor to infuse.
Adding some cardamom pods to the milk will create a unique flavor. You will need to let the extra ingredients infuse for longer. Simply do this by lowering the heat on the milk and simmering it for about ten minutes.
You can also use different sweeteners other than just white sugar. I have seen recipes use maple syrup, brown sugar, and a few others. Again this will change the overall flavor of the cinnamon milk mixture.
There are many ways you can brew the black coffee, such as using any of the typical brewing techniques. You can brew the coffee with a coffee press, a vacuum coffee maker, and the many other methods of making coffee.
As I mentioned above, you can make the milk mixture in advance and merely reheat whenever you wish to make a delicious cinnamon latte. It should keep for a few days, but if it starts to smell a bit off, then discard it.
Nutrition Information
Serving Size: 364g (12.8 oz)
Servings Per Recipe: 4
Calories Per Serving: 176
Amount Per Serving
Saturated Fat: 4.8g
Trans Fat: 0g
Dietary Fiber: 0g
Sugars: 17g
Cholesterol: 26mg
Sodium: 114mg
Protein: 8g
The information above is an estimate generated by an online nutrition calculator.
More Drink Recipes
If you're looking for another great coffee recipe, then be sure to check out the Vietnamese iced coffee. It is a super sweet but delicious coffee that is really easy to make.
For something a little different, you should make some homemade chai tea as it's super delicious. You can also easily make it in bulk, so it's perfect if you're catering for a crowd.
I hope you enjoy this cinnamon latte recipe. If you have any tips, feedback, or anything else you like to share, then please leave us a comment below. Also, if you like our recipes, then be sure to give us a follow on any of the major social networks.