Vietnamese iced coffee is a strong coffee that has been sweetened with condensed milk and chilled on ice.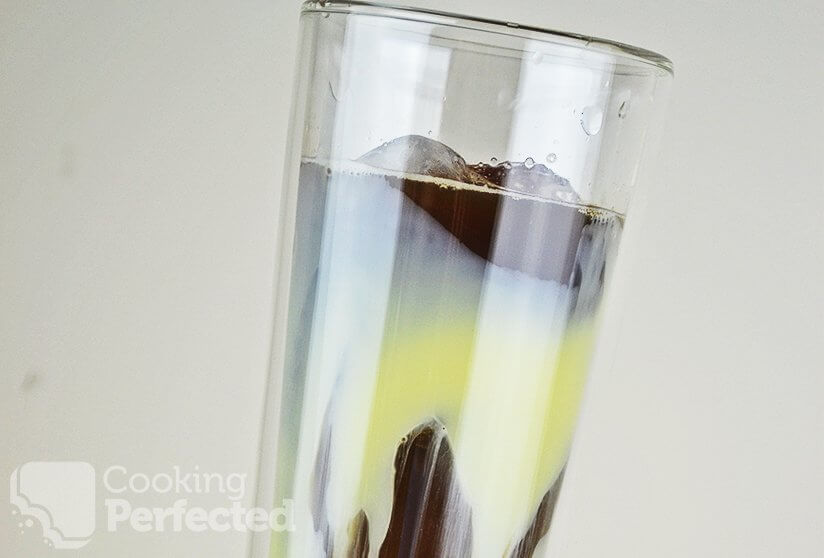 This coffee is also known as Café Sua Da or Ca Phe Sua Da and is hugely popular in Vietnam. You can also find this delicious coffee in some cafes in other parts of the world. It's a delightful sweet drink that I highly recommend that you try.
You will get one serving out of this recipe, but you can easily change it to make more. I highly recommend getting multiple Vietnamese coffee presses if you plan on making this drink for lots of people.
If you haven't had this type of coffee before, then you should definitely give it a go. It is straightforward to make and tastes fantastic. You should be careful tho as it is very easy to get addicted to the Vietnamese iced Coffee.
Some baked goods such as banana bread or a delicious orange cake will go great alongside this delicious coffee.
The Best way to Brew the Coffee
The traditional way of making this coffee is to use a device called a Vietnamese coffee press. However, you don't need one to make a delicious coffee.
For the best results, you will need to buy course ground coffee; otherwise, the coffee grounds might fall through the filter in the Vietnamese coffee press.
You can use any traditional method of making coffee, but keep in mind some brewing methods might produce a weaker coffee. It would be best if you aimed for espresso strength coffee for the best result.
Tweaking the Vietnamese Coffee
There are a couple ways that you can tweak this delicious coffee, and I mention a couple of ideas right below.
If you find your coffees are coming out to be too sweet, then you can reduce the amount of condensed milk. The amount of coffee to sweetened condensed milk just comes down to preference.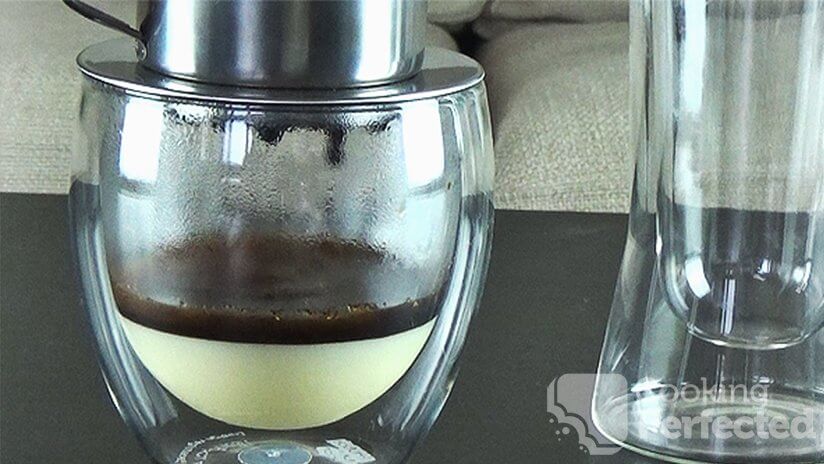 You can also make this coffee hot rather than cold. Heat the condensed milk slightly and stir in with the coffee. Allow to cool slightly and enjoy.
If you're more of a visual person like I am, then you should check out the video I have prepared below on how to make a Vietnamese iced coffee. It is well worth a watch if you prefer to learn by watching.
Vietnamese Iced Coffee Recipe
Ingredients
1 Tbsp medium-coarse ground coffee
1/4 cup sweetened condensed milk
Ice
Instructions
Add the sweetened condensed milk to a glass.
Next, add the ground coffee to the coffee press. Add the top filter onto the coffee, don't tighten it too much.
Place the press on top of the glass.
Now, pour boiling water into the press, and it should start to drip slowly.
While it is dripping, fill a different glass with some ice.
Once the press has finished dripping, remove the press and mix the coffee with the condensed milk.
Pour the coffee mixture into the glass with ice.
Serve & Enjoy.
Recipe Tips
If the coffee press is dripping too slowly, you can loosen the screw. Alternatively, tighten the screw if it is dripping too fast. Not all presses use the screw method so this may not be possible.
As I mentioned above, if you're unable to find a Vietnamese coffee press, then you can use an alternative method for brewing coffee. Just make sure it makes espresso strength coffee; otherwise, you might find this recipe won't taste as good.
If you find your coffee is too sweet, then you can reduce the amount of condensed milk. The amount of coffee to sweetened condensed milk just comes down to preference.
Any brand of coffee will work just fine, but if you want to be as traditional as possible, I would recommend a Vietnamese dark roast coffee.
Sweetened condensed milk is sweet, thick, sticky, and delicious. Also an essential ingredient for our Vietnamese iced coffee recipe. You should be able to find it at your local supermarket or online at shops like Amazon.
Nutrition Information
Serving Size: 328g (11.6 oz)
Servings Per Recipe: 1
Calories Per Serving: 38
Amount Per Serving
Saturated Fat: 1.1g
Trans Fat: 0g
Dietary Fiber: 0g
Sugars: 3g
Cholesterol: 6mg
Sodium: 32mg
Protein: 2g
The information above is an estimate generated by an online nutrition calculator.
More Tasty Drinks Worth Trying
There are lots more delicious drinks that you should try. Below are a couple of recipes I highly recommend that you make.
A slightly sweet coffee that you should also try is the cinnamon latte. It has a delicious hint of cinnamon combined with the lovely flavors of milk and coffee. It's perfect if you like your coffee with more flavor.
Again, if you like your drinks slightly sweet, then you should try making some chai tea. It's an incredible tea that has lots of flavor from cloves, cardamom pods, cinnamon, and ginger.
If you have any variations on this Vietnamese iced coffee recipe, then leave us a comment below, we will love to hear your feedback.