This simple yet amazing ginger tea recipe is the perfect remedy if you're suffering from a cold, sore stomach, or feeling a little unwell.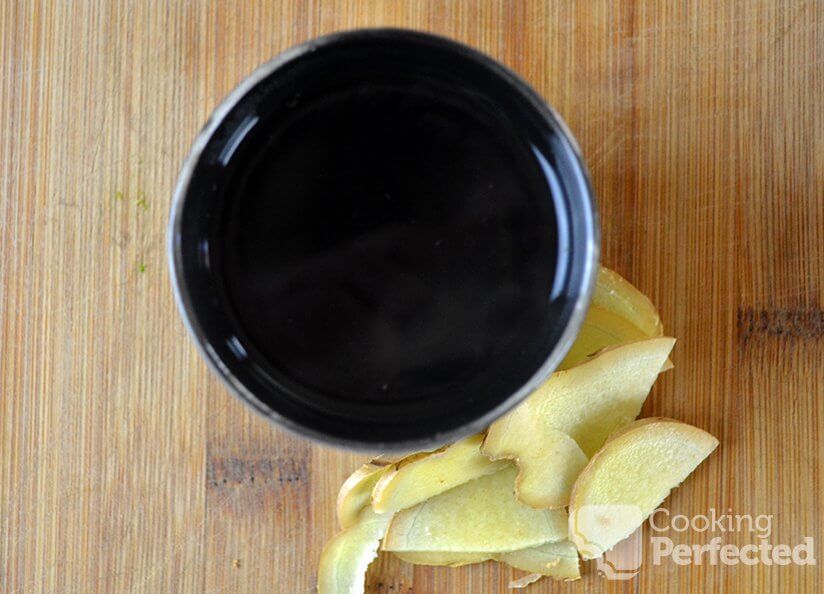 This tea is probably one of the easiest to make, but many people still buy it in tea bag form. The quality of the ingredients in tea bags is not nearly as good as the stuff found in loose leaf tea packages or just outright fresh ingredients.
Luckily all you need in this recipe is one small knob of fresh ginger root, and you can usually buy it at your local supermarket.
Health Benefits of Ginger Tea
There are many benefits to drinking this delicious tea. If you're after just some of the top benefits, then you can find them right below.
Helps with weight loss
Relieves Nausea
Packed full of nutrients such as high levels of vitamin C, magnesium, and more.
Relieves Stress
Improves Blood Circulation
There are many more health benefits of ginger tea that I haven't mentioned.
Depending on your current health status, you may see little to no improvements right through to considerable improvements in your general well-being. You will want to drink a few cups of this fantastic tea every day.
Personalizing your Tea
There is obviously a lot of variations that you're able to do with this tea, so don't be afraid of trying something new.
A popular tweak people often make to this tea is that they add a little bit of honey. The honey will not only sweeten the tea but also help provide a soothing effect, which is perfect if you have a sore throat.
Some lemon rind or a dash of lemon juice will add a little more flavor to the tea and provide a few more health benefits. It's delicious when used in combination with both the ginger and honey.
You never know what amazing combination that you will come up with. If you would like to share it with us, then be sure to drop us a comment at the bottom of this page.
If you want to see how to make ginger tea, then be sure to check out our video below. It takes you through the few small steps to getting an amazingly yummy tea prepared.
Ginger Tea Recipe
Ingredients
1-2 in (2.5-5 cm) piece of fresh ginger root, peeled
4 cups of water
Optional
Instructions
Slice the ginger into thin pieces.
In a pot over high heat, add the water and ginger root. Bring to the boil.
Once boiling, reduce to a simmer for 15 to 20 minutes.
Strain the tea and mix in any extras. (See brewing tips below)
Serve & Enjoy.
Recipe Tips
If you like your ginger tea sweet, then I recommend adding some honey or sugar to it. I prefer honey over white sugar as it has a bit more of a unique flavor to it. It's also unrefined, unlike most sugars.
Another great thing I love adding to this recipe is a slice of lemon or lime. I would only add this just before you're about to drink the tea.
If you want to change the flavor a bit, then you can try adding some other ingredients such as mint, chamomile tea, cinnamon, and so on. I would only add these within the last 5 minutes of the steeping process. Any longer may result in a funky tasting tea.
Nutrition Information
Serving Size: 476g (1.1 lb)
Servings Per Recipe: 2
Calories Per Serving: 1
Amount Per Serving
Saturated Fat: 0g
Trans Fat: 0g
Dietary Fiber: 0g
Sugars: 0g
Cholesterol: 0mg
Sodium: 10mg
Protein: 0g
The information above is an estimate generated by an online nutrition calculator.
More Delicious Tea Recipes
Another couple of amazing refreshing teas you should try out is both the super-easy rosemary tea and also the refreshing hibiscus tea. These both have lots of fantastic health benefits, making them perfect if you're a feeling a little run down.
You can also buy this tea in either tea bag form or loose-leaf, and you can find it over at Amazon. They have some pretty good ginger tea bags, or if you prefer it, then ginger tea in loose-leaf form.
If you have your variation, thoughts, or anything else you would love to share with us on this ginger tea recipe, then please drop us a comment below.
Also, be sure to follow us on any of the major social networks to stay up to date on all our recipes.