This hibiscus tea recipe is amazing on one of those hot days where you need something to quench your thirst. This tea not only tastes great, but it also looks fantastic.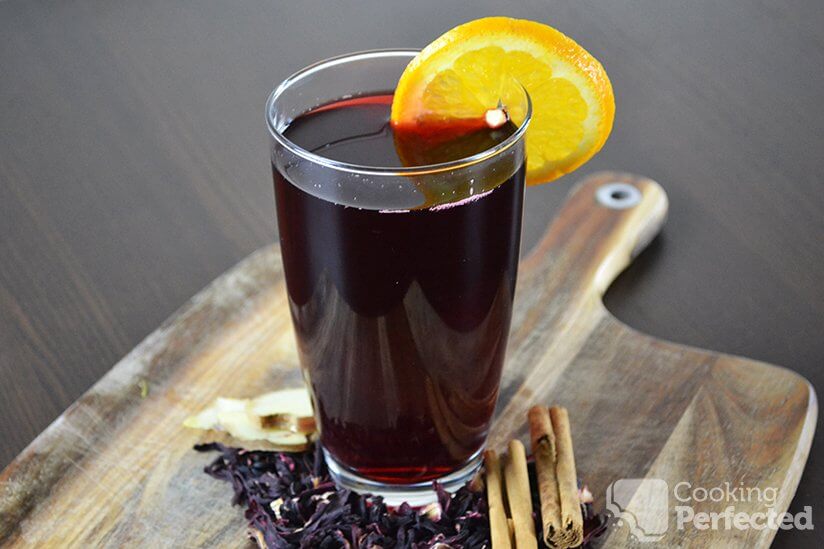 The Hibiscus flower originated in Southeast Asia and North Africa. It is now grown in many different tropical regions and heavily used around the world as part of food, drink, and medicines.
This delicious tea combines the flavor of hibiscus with cinnamon and ginger. The sugar helps take away the bitterness of the drink.
While you can make hibiscus tea from scratch, you can also buy in tea bag form. I recommend making it from scratch as it's fresher and more delicious.
I love serving this tea with some delicious paleo-friendly apple muffins. They're moist, packed with flavor, and are the perfect accompaniment to go alongside this tea.
Personalizing this Recipe
There are a few tweaks that you can make to this recipe. I think the recipe is fine as it is, but there is always room for improvement.
Adding some more ingredients into the drink is a great way to introduce even more flavor. A couple of cardamom pods and some orange peel will add some very delicious flavors.
It's important that you add a sweetener into this drink; otherwise, you may find it a bit bitter. You can replace the sugar with some honey or stevia instead. To get the best tasting drink, you might need to tinker with the quantity of sweetener.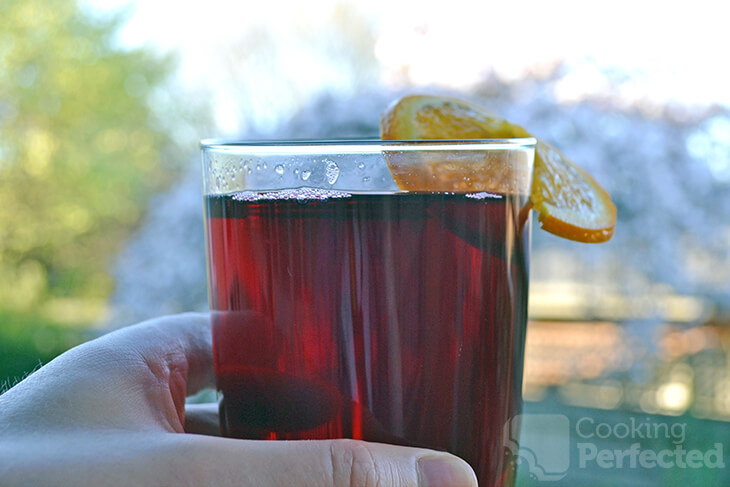 You're able to really simplify this hibiscus tea by removing all the ingredients except for the sugar, water, and the dried hibiscus flowers. It's an ideal way of just getting a delicious drink ready as fast as possible.
I know there are likely dozens more tweaks that you can do to this recipe, so if you have one that you would like to share, then please don't hesitate to share it with us.
Hibiscus Tea is Best Served Chilled
You will find this recipe is very easy to quickly cook up and have ready for a lunch or dinner party. If you need it chilled fast, I would reduce the amount of water and add lots of ice cubes when you are done with cooking.
This tea chilled is undoubtedly a must if you live somewhere that is warm in the evenings. In colder climates, the drink can be served chilled, warm, or hot.
If you want to see how to make hibiscus tea, then be sure to check out the video below. I go through all the steps to getting this tea brewed, cooled, and ready to drink. Immediately beneath the video is the full written recipe.
Hibiscus Tea Recipe
Ingredients
Instructions
Add the water and sugar to a pot and bring to a light boil.
Stir until the sugar is dissolved and then turn off the heat.
Add the hibiscus flowers, ginger, and cinnamon stick. Cover and steep for 10 minutes.
Strain into a large jug.
Allow to cool.
Enjoy with ice and either some slices of orange or lime.
Recipe Tips
Adding some fresh lime juice will add a bit more flavor to this delicious Agua de Jamaica drink.
You can substitute the sugar with a different sweetener. For example, you might prefer putting honey in rather than sugar.
If you're making this drink and don't have time to cool it down in the refrigerator, then you can reduce the amount of water by about half a cup. Next, use some ice to cool it right down. This method will produce a drinkable chilled tea in no time at all.
You can add other aromatics into the steeping process, for example, star anise, cardamom pods, orange peel, or even lemongrass. Keep in mind these ingredients can change the outcome of the hibiscus tea by quite a bit.
If you don't like ginger, just leave it out. You can also leave the sugar out if you don't mind it not being sweet.
Nutrition Information
Serving Size: 254g (9 oz)
Servings Per Recipe: 1
Calories Per Serving: 15
Amount Per Serving
Saturated Fat: 0g
Trans Fat: 0g
Dietary Fiber: 0g
Sugars: 3g
Cholesterol: 0mg
Sodium: 5mg
Protein: 0g
The information above is an estimate generated by an online nutrition calculator.
More Tea Recipes Worth Making
There are lots of different homemade teas that you can make with very little effort. Below are just a couple I highly recommend checking out.
If you're interested in a warm tea recipe, then you should check out the chai tea latte recipe. It is full of spices and will give you that warm fuzzy feeling when you drink a nice tasting hot beverage.
Another tea that's worth making is ginger tea. It's super easy, and I find it very refreshing, especially when I have a cold.
If you have any thoughts or variations you would like to share on this fresh hibiscus tea recipe, then be sure to drop us a comment below.