This basic strawberry yogurt smoothie will please anyone who absolutely loves strawberries.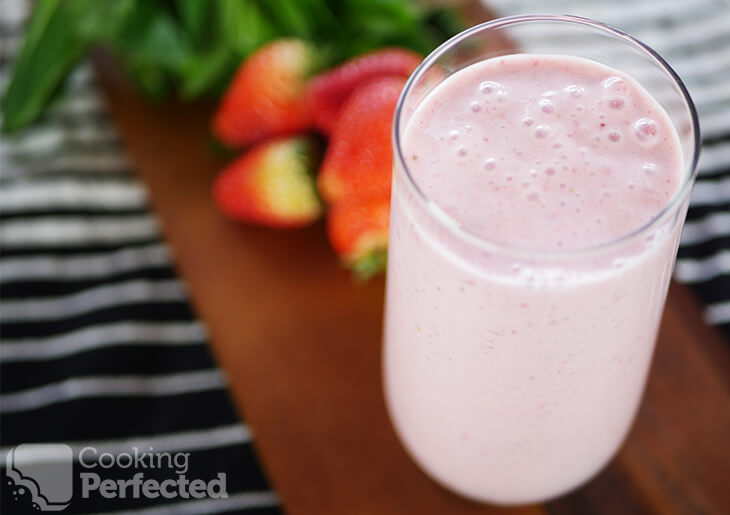 By the time you're finished blending, you will have a lovely pink smoothie that looks as good as it is going to taste. It's the perfect strawberry hit on a warm summer's day.
This recipe will make enough for one large smoothie or two small smoothies, so if you want more, then you will need to adjust the ingredients slightly.
The best thing about this recipe is that as long as you have a blender, it is super easy to mix up quickly.
Tweaking the Smoothie
There are lots of ways that you can tweak this smoothie to be more to your liking. I will just quickly go through a couple of suggestions on what you can do.
Additional ingredients such as protein powder, chia seeds, or flax seeds can be added to the smoothie. These ingredients will alter both the flavor and texture, so be sure you want to add them.
Some herbs might work well in this smoothie, but be very careful about what herbs you want to add. A little bit of mint or peppermint will match nicely with strawberries. Other herbs might not work nearly as well.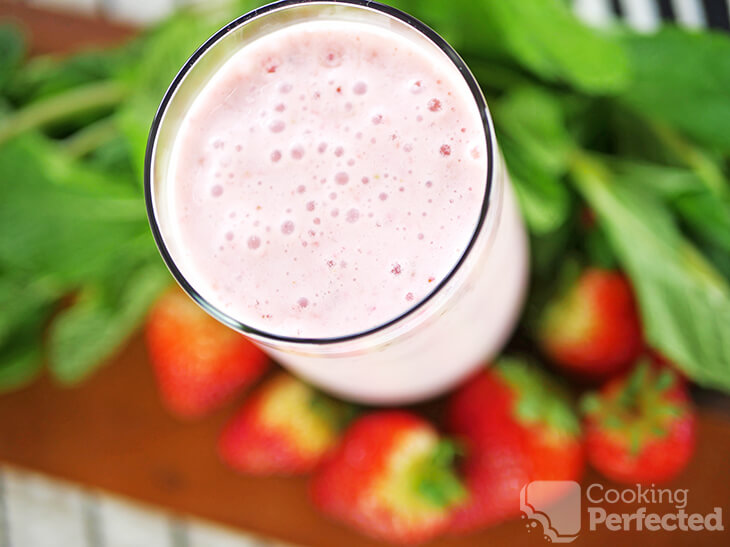 You're able to add even more fruit to the smoothie for a fantastic combination of flavors. Some of the fruits that will match nicely with strawberries include raspberries, blueberries, and so much more.
The honey is entirely optional, so you can leave it out if you're not a fan of sweet drinks or don't like the taste of honey.
There is a lot more you can alter with this recipe, so if you have any suggestions, be sure to let us know.
Smoothies are Best made Fresh
Like most smoothies, this drink is best blended and consumed fresh.
The smoothie will keep in your fridge for a day or two, but I would suggest making it fresh every time, especially with it being so easy to whip up quickly. It's also a great way to use up fresh strawberries if they're looking like they're on their way out.
You can freeze the smoothie in some ice cube trays for later. Whenever you're ready to make the smoothie, simply blend the ice cubes with some milk and yogurt.
If you want to see how to make this strawberry smoothie, then check out the video below. It's short, snappy and straight to the point. Alternatively, you can find the full recipe right underneath the video.
Strawberry Yogurt Smoothie Recipe
Ingredients
10 strawberries
1 cup milk
½ cup strawberry yogurt
1 Tbsp honey
Instructions
Add the strawberries, milk, yogurt and the honey to a blender.
Blitz until smooth and well combined.
Serve & Enjoy.
Recipe Tips
Depending on what you prefer to use, you can use fresh or frozen strawberries. You may find it can be pretty hard getting fresh strawberries cheap; however, if you can, it's well worth it.
If you find the smoothie too thick or too runny, then try adjusting the amount of milk. Also, adding some ice cubes will both cool it down and help it to be a little thicker.
One thing I love to do on a hot day is to replace the yogurt with frozen yogurt. This adjustment will give you an icy cold drink that will quench that thirst on a hot summer's day.
Chia seeds are always a great addition to the recipe. If you feel like adding chia seeds, then one tablespoon should be more than enough.
You can use a low-fat variation of strawberry yogurt rather than the full-fat varieties. However, Keep in mind that some low-fat varieties have more sugar than the full fat, so you might not need the honey.
Nutrition Information
Serving Size: 254g (9 oz)
Servings Per Recipe: 2
Calories Per Serving: 173
Amount Per Serving
Saturated Fat: 1.9g
Trans Fat: 0g
Total Carbohydrate: 30.7g
Dietary Fiber: 1.2g
Sugars: 28.5g
Cholesterol: 13mg
Sodium: 91mg
Protein: 6.9g
The information above is an estimate generated by an online nutrition calculator.
More Smoothie Recipes
There are so many variations that you can do that use strawberries as the main ingredient.
A few variations that I love and highly recommend include smoothies such as a banana strawberry smoothie, strawberry blueberry, and of course, a smoothie with some raspberries. These are just a few examples out of the many combinations that you can try.
For something a little different, you should give the banana pear smoothie a try. It's fruity, refreshing, and everything you want in a good tasting drink.
I hope this strawberry yogurt smoothie turns out as great as it did for me. If you have any feedback that you would love to share, then please feel free to leave a comment below.