This simple yet amazing strawberry blueberry smoothie is a perfect way to start your day. You can use either fresh or frozen fruit depending on what's readily available to you.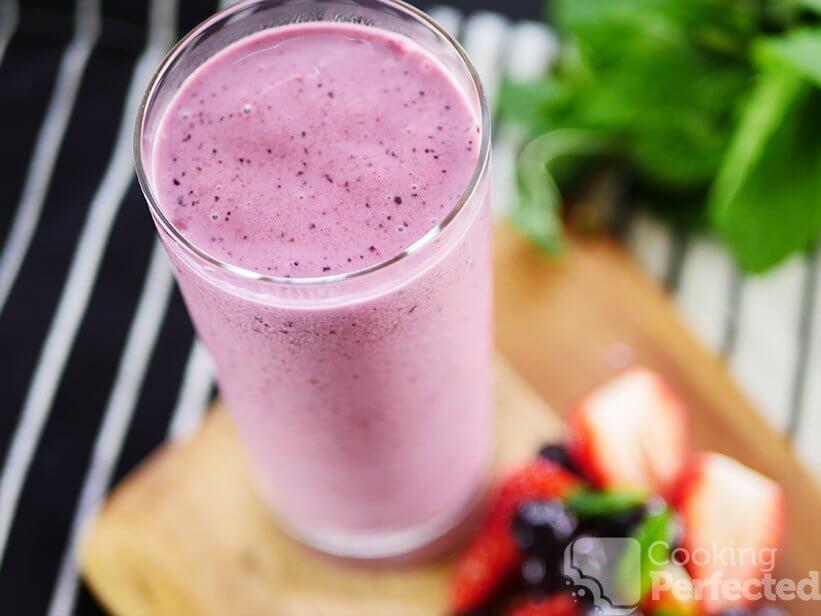 The vibrant inviting colors of this smoothie really just top off with how delicious it is. It's smooth, creamy, and has the delicious flavors of strawberries and blueberries.
This recipe is enough for two people, so make sure you adjust it if you need more or less. It will last a maximum of a day, but I personally always try to drink it as fresh as possible.
Personalize this Smoothie
One great thing about this smoothie is that it will fill you up just by itself. However, if you're looking for something to eat that goes well with it, then something like granola compliments it quite well.
As with any smoothie, you can add extras such as flax seeds, chia seeds, or even protein powder. It just depends on what you're looking to get out of your strawberry and blueberry smoothie.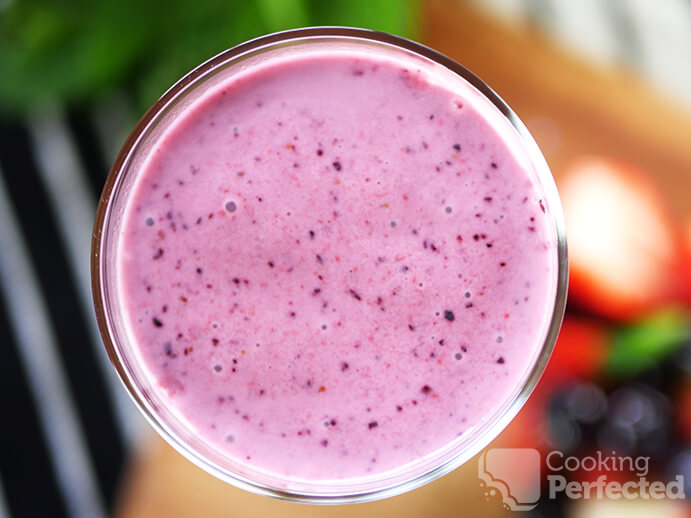 For me, I prefer it without any of these additions. However, if you do want to add an extra ingredient to the recipe, then one tablespoon should be more than enough.
Make it Fresh
I highly recommend that you make this smoothie fresh and drink it as soon as possible. It will not keep for very long in the fridge before starting to discolor and not look as delicious.
If you can't drink it all at once, then it should last for roughly a day in the fridge. Alternatively, you can freeze the smoothie in an ice cube tray. Whenever you need a refreshing drink, simply blitz the cubes with a bit of milk or yogurt.
Assuming you want to see the entire process of making this smoothie, then be sure to check out the video below. It goes through all the steps to getting this prepared, blended, and ready for drinking.
Strawberry Blueberry Smoothie Recipe
Ingredients
10 (1 cup) strawberries
½ cup blueberries
½ cup milk
½ cup plain yogurt
1 tsp vanilla bean
1 Tbsp honey
Instructions
In a blender add the strawberries, blueberries, milk, vanilla yogurt and the honey.
Blitz until well combined.
Serve & Enjoy
Recipe Tips
You can use regular or low fat yogurt, depending on what you prefer. There is very little difference regarding texture, but you should keep in mind that some low-fat varieties have a lot of sugar in them.
I find the yogurt and fruit has enough sweetness in them that the honey can be left out of the smoothie. However, if you love things to be a bit sweeter than I recommended keeping it in.
Honey can be replaced with other sweeteners such as maple syrup, white sugar, and brown sugar. Keep in mind that almost every type of sugar has a different taste to it.
As with any smoothie, if you're able to get some cheap fresh fruit then use this over frozen as I find fresh fruit works better. However, frozen will come out to be just as good if you're unable to source cheap fruit.
A neat little trick you can do if you find yourself having this smoothie a lot is to weigh the berries ahead of time and store them in serving size packs in the freezer. This way, you only need to grab one pack per serving you need.
Nutrition Information
Serving Size: 243g (8.6 oz)
Servings Per Recipe: 2
Calories Per Serving: 156
Amount Per Serving
Saturated Fat: 1.4g
Trans Fat: 0g
Dietary Fiber: 2.3g
Sugars: 23.1g
Cholesterol: 9mg
Sodium: 73mg
Protein: 6.3g
The information above is an estimate generated by an online nutrition calculator.
Other Smoothie Recipes to Try
There is such a vast range of strawberry smoothies that you're able to do. It's a very versatile fruit making it work with tons of other different types of fruit and dairy. If you like this smoothie, then you should certainly check out the tasty strawberry & yogurt smoothie.
Another smoothie that I highly recommend trying is the strawberry and raspberry smoothie. It's the perfect blend of two fruits and tastes absolutely delicious.
I hope that you enjoy this delicious, simple strawberry blueberry smoothie recipe. If you have a variation, tips, or anything else that you would love to share, then please feel free to leave a comment below.