This delicious raspberry banana smoothie is the perfect drink to start your day. It combines two delicious fruits, yogurt, milk, honey, and vanilla, in a thick, delicious drink.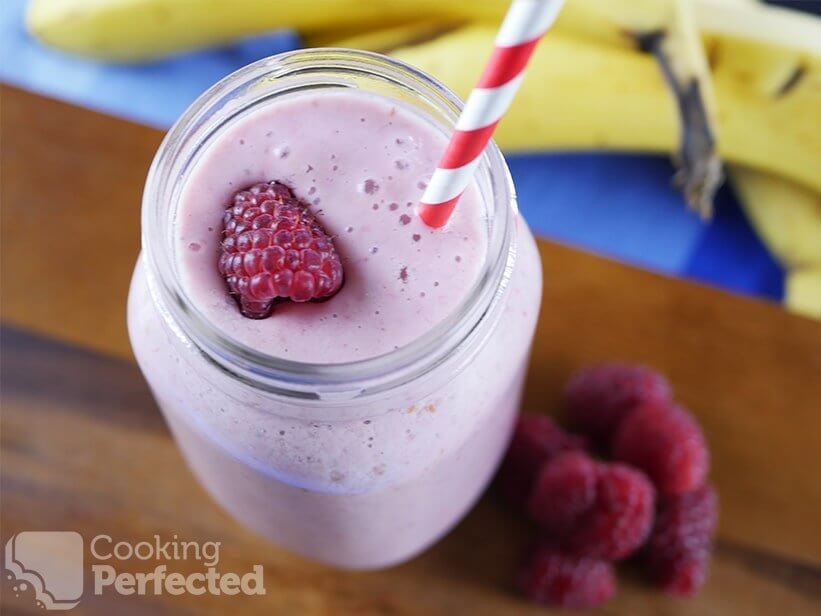 If you love raspberries and bananas, then you're going to love this smoothie as both of these flavors are the star. It's a very simple smoothie, but I am sure you will be impressed by the results.
You're able to use fresh or frozen raspberries in this recipe and still have it be delicious. I recommend using fresh if possible, but that's often very hard to do depending on where you live.
A great thing I love to do is replace the milk in my breakfast with this smoothie mixture. This way, you get your cereal with a thick creamy fruit mix. I love doing this whenever I get sick of just having plain milk.
Tweaking the Smoothie Recipe
There quite a few tweaks that you can make to the recipe to make it more to your liking. I will go through just a couple of ideas on what you can do.
You can add extras to this recipe, such as protein powder, chia seeds, and much more. I would add roughly one tablespoon to the standard recipe. It might alter it slightly but should still taste just as great as the original recipe.
If you can't drink dairy or prefer not to, then you can replace the milk with something like almond milk instead. This smoothie can also be made without the yogurt, so feel free to simply not add it. You may find the smoothie will be slightly runnier.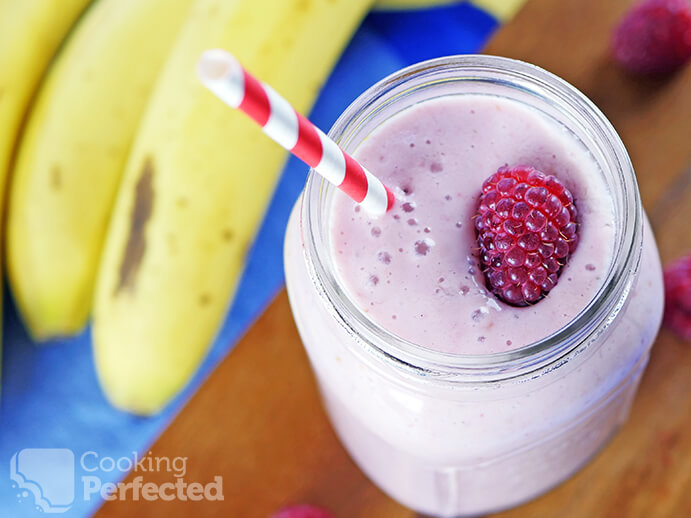 You will have enough smoothie for about two people unless you have small glasses, then you might get enough for three people. If you need to make enough for more than two people, then simply double the ingredients. Of course, if you just need enough for a single person, then simply just half the smoothie recipe.
Depending on what's available, you can use either fresh or frozen fruit. If you live in a country or area where fresh fruit is hard to come by, then frozen is certainly the way to go. Your smoothie will be just as good then if you were to use fresh.
If you have any suggestions, then please be sure to leave us a comment at the bottom of this page.
Drink it Fresh
As with most fruity drinks, this smoothie is best consumed as soon as you are finished with making it.
You can store the smoothie in a fridge for up to a day, but it will start to lose that lovely vibrant color.
You're also able to freeze the smoothie for later and simply blend the mixture with a bit of milk whenever you need a refreshing drink. I recommend freezing in an ice cube tray as it makes blending the frozen smoothie so much easier.
If you want to see how to make this raspberry and banana smoothie, then be sure to check out the video below. Alternatively, you can find the full recipe right underneath the video.
Raspberry Banana Smoothie Recipe
Ingredients
1 cup raspberries
2 bananas
½ cup plain yogurt
1 cup milk
1 tsp vanilla essence
1 Tbsp honey
Instructions
Add the raspberries, bananas, yogurt, milk, vanilla essence, and honey into a blender.
Blitz until well combined and thickened.
Serve & Enjoy.
Recipe Tips
Using frozen bananas will help make the smoothie a little thicker. If you have fresh bananas but want a thicker smoothie, then half a cup of ice should do the same thing.
The honey can be left out if you prefer things to be not as sweet. The sugars from the raspberries and bananas should be more than enough to keep this smoothie just sweet enough.
You should drink this straight away as it will not keep for very long in the fridge. I found that within a day of making the smoothie, the banana had started to brown, and it didn't look that appealing.
Nutrition Information
Serving Size: 250g (8.8 oz)
Servings Per Recipe: 2
Calories Per Serving: 186
Amount Per Serving
Saturated Fat: 1.5g
Trans Fat: 0g
Total Carbohydrate: 35.7g
Dietary Fiber: 4.7g
Sugars: 23.9g
Cholesterol: 9mg
Sodium: 69mg
Protein: 6.4g
The information above is an estimate generated by an online nutrition calculator.
More Smoothies Worth Trying
There are a ton of variations you can do with either raspberries or bananas in a smoothie.
One of my absolute favorite smoothies is the banana smoothie. It's smooth, creamy, and rich in that fresh banana flavor that we all know and love.
There are so many more smoothies that you can make, such as raspberry yogurt, chocolate raspberry, or even a banana strawberry smoothie. They're pretty good, so just pick the one that catches your fancy.
I hope this raspberry banana smoothie recipe works out for you and tastes as good as it did for me.
If you have a variation that you would love to share, then please don't hesitate to leave a comment below. Also, any other feedback is always greatly appreciated.