A delicious strawberry raspberry smoothie is the perfect drink to wake up to in the morning. It has a delightful blend of two berries, some creamy dairy, and a touch of honey.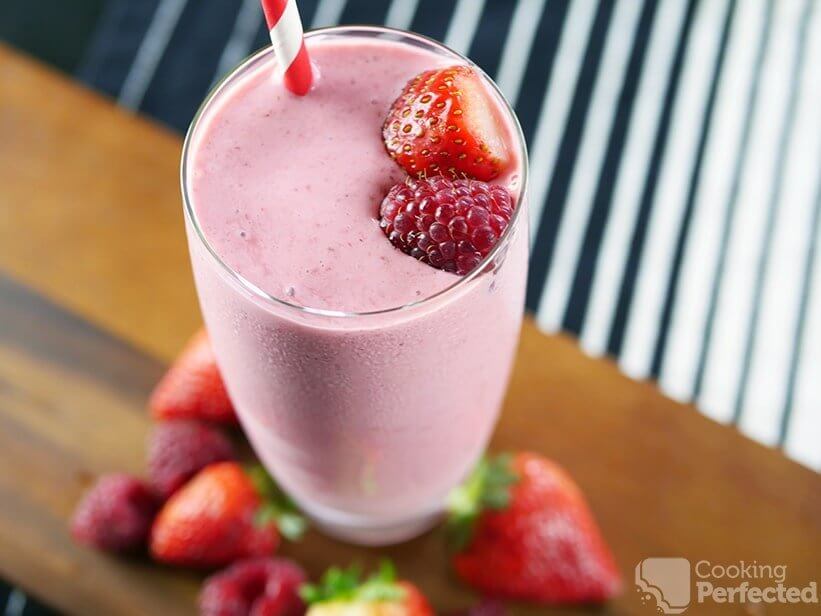 Once you have blended this smoothie, you will have a drink that has an amazing color and even better flavors. You will get hints of strawberries, raspberries, honey, and a touch of vanilla. It's an amazing combination that you have got to try.
I love to start my days with a smoothie. They are also great as a post-workout drink or simply as a refreshing afternoon fruity drink.
Adjusting the Smoothie Ingredients
As with any smoothie, you may want to add some protein powder or other extras such as wheat germ or LSA. I find roughly one tablespoon is more than enough for the standard recipe, but you may find you need more.
Ingredients such as the honey and vanilla can be omitted from the recipe if you don't like them. You will lose a touch of flavor, but it will still be a great tasting drink.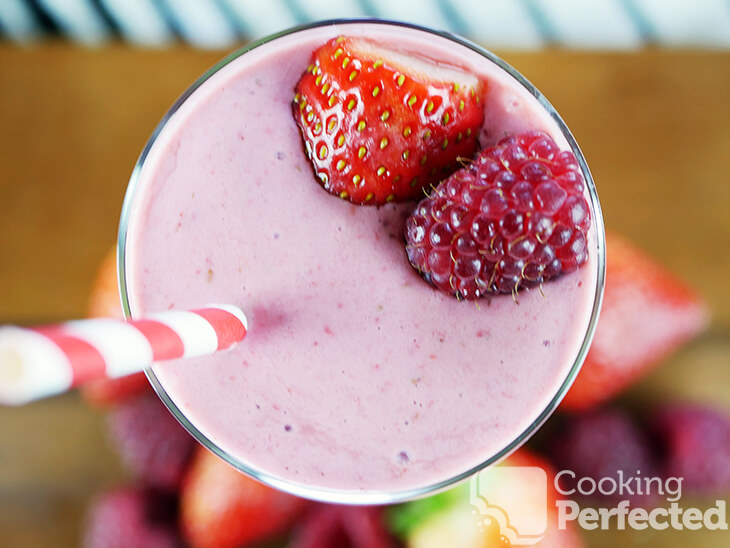 Adding ice is a great way to chill the drink even further and thicken it up slightly. Make sure your blender is capable of breaking through the ice, as this will produce the best results.
Make as Fresh as Possible
This recipe will make enough for two people, so keep that in mind when you go to make it. Like any smoothie, this won't last for very long in the fridge, roughly only two to three days. I personally always try to make it fresh or make sure I drink it all on the same day.
It doesn't matter if you use fresh or frozen fruit in this recipe as the result will be roughly the same. You may find that when you use frozen fruit, your smoothie will be a bit thicker and colder. Personally, I prefer to use fresh fruit.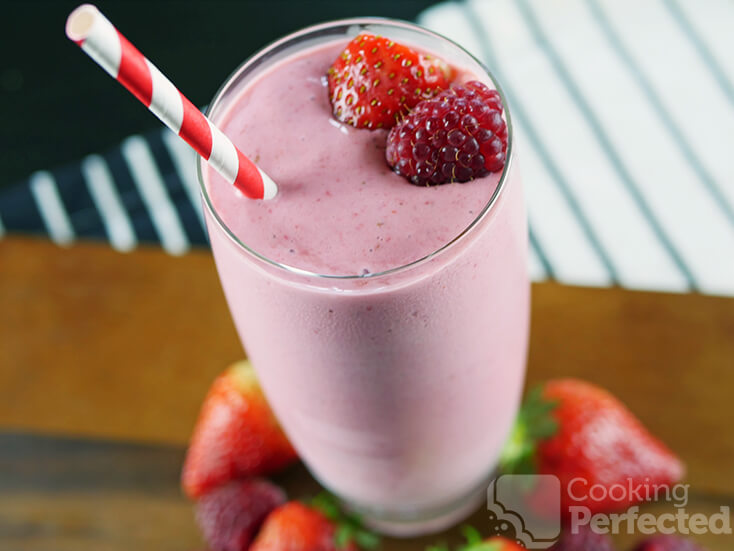 One thing that you will love about this strawberry and raspberry smoothie is how easy it is to make quickly. If you want to make the smoothie even faster, then you can measure the fruit and store it in serving-sized bags in the freezer. This way, you can just pull one serving out and blend with the dairy.
You can freeze a leftover smoothie and blend it later. I recommend pouring it into an ice cube tray, so it is easier to blend. You may also need to add a bit more dairy to help assist with the blending process.
If you want to see a video on how to make this strawberry and raspberry smoothie, then be sure to check out the one below. It's short, snappy and straight to the point.
Strawberry Raspberry Smoothie Recipe
Ingredients
1 cup strawberries
½ cup raspberries
½ cup milk
½ cup plain yogurt
1 tsp vanilla essence
1 Tbsp honey
Instructions
Add the strawberries, raspberries, milk, yogurt, vanilla, and honey into a blender.
Blend until combined and smooth.
Serve & Enjoy.
Recipe Tips
Adding about a half cup of ice to this recipe will help thicken it up even more. However, I should note that this particular smoothie will already come out pretty thick, even with the absence of ice.
As I mention in most of the recipes, you can replace the dairy with low-fat varieties. If you do, then you may not need the honey as low-fat dairy often has added sugar.
You do not have to use honey, other sweeteners such as plain sugar will work just fine. I prefer to use a natural sweetener such as honey or maple syrup.
Frozen fruit is often easier to get your hands on all year round, unlike fresh, which can be hugely expensive or poor quality in the off-season.
Nutrition Information
Serving Size: 238g (8.4 oz)
Servings Per Recipe: 2
Calories Per Serving: 151
Amount Per Serving
Saturated Fat: 1.4g
Trans Fat: 0g
Total Carbohydrate: 25.4g
Dietary Fiber: 3.5g
Sugars: 20.8g
Cholesterol: 9mg
Sodium: 73mg
Protein: 6.4g
The information above is an estimate generated by an online nutrition calculator.
More Delicious Smoothies
If you enjoyed this smoothie, then you might want to check out some of our other smoothies.
You will find the raspberry banana smoothie is incredibly smooth and thirst-quenching. Indeed, one you should give a go.
Another smoothie that I highly recommend giving a try is the pear and banana smoothie. It is a bit different, but it's one of the tastiest blends you will have ever tried. I highly recommend making it if you have some spare pears.
Please be sure to let us know your thoughts on this delicious strawberry and raspberry smoothie by leaving a comment below.