It's not surprising how good a blueberry raspberry smoothie tastes since it's packed with two fantastic summer fruits that are packed with flavor.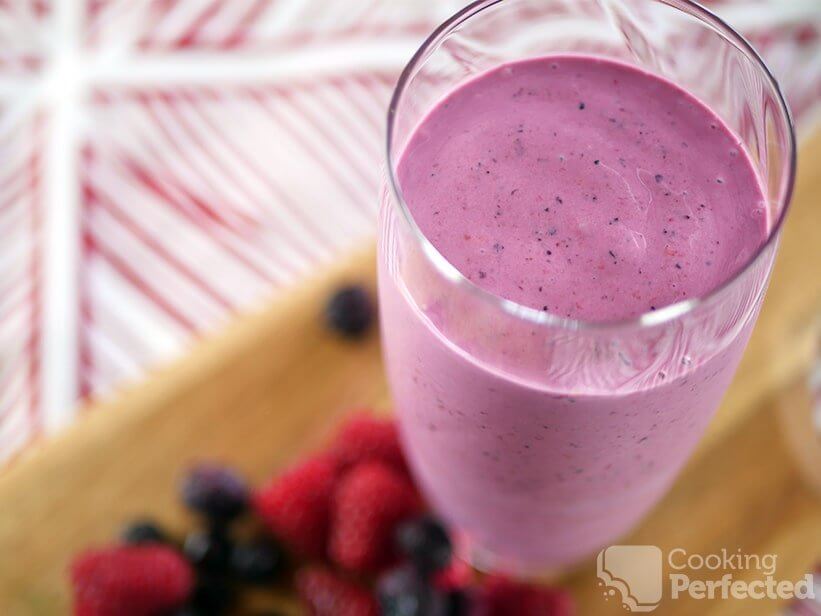 The blueberries and raspberries give this smoothie a great pinkish glow that makes it look super appetizing. The flavor will not let you down as it is as good as it looks. I can easily drink two batches of this tasty drink.
This smoothie is an excellent post-workout drink as it's cold and incredibly refreshing. It's also a great fruity drink to start the day with.
Personalize the Blueberry & Raspberry Smoothie
If you're looking for a protein hit, then be sure to add your favorite protein powder just before you go to blend it. I find about one tablespoon more than enough.
One thing I love to do with smoothies is to mix it in with some homemade granola. It's absolutely delicious, and I highly recommend that you give it a try.
If you do have some leftovers, you can freeze it down in an ice-cube tray. Next time, you can blend the frozen smoothie cubes whenever you feel like a sweet cold smoothie.
There are many other changes that you can make to the recipe, so feel free to tinker. If you find a superb combination be sure to let us know in the comments at the bottom of this page.
Fresh or Frozen Fruit
As with most smoothies, you can use fresh or frozen fruit depending on what's affordable and available to you. Obviously fresh raspberries & blueberries are easier to get your hands on in the summer.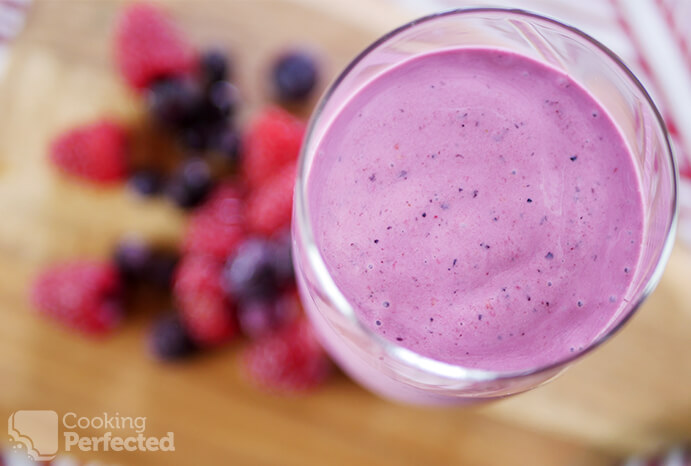 I find that the frozen fruits still work just as good as fresh fruit and they're usually available all year round. They should be available at your local supermarket.
Make the Recipe Healthier
There are a ton of health benefits to both blueberries and raspberries that make this smoothie surprisingly healthy for you.
If you leave the honey out and opt for healthier variations of dairy, then this would be a super healthy smoothie.
Ready to watch how to make this delicious blueberry & raspberry smoothie, then be sure to check out the video below. It goes through everything you need to know for getting this recipe blended and ready for drinking.
If you just want the text version of the smoothie recipe, then you can find it underneath the video.
Blueberry Raspberry Smoothie Recipe
Ingredients
½ cup raspberries
½ cup blueberries
½ cup plain yogurt
½ cup milk
1 tsp vanilla essence
1 Tbsp honey
Instructions
In a blender add the raspberries, blueberries, yogurt, milk, vanilla, and the honey.
Blitz until well combined. It should be smooth and thick.
Serve & Enjoy.
Recipe Tips
As I mention in all the smoothie recipes, you can add ice if you would like to. You will find that half a cup should be more than enough to thicken this smoothie up. It will also become extra chilled, so it's perfect for anyone who loves an icy drink.
The honey can be left out if you prefer your smoothie to be a bit less sweet. It's also important to note that if you use low-fat milk and yogurt, these may have added sugar.
As with basically any smoothie you make it's best to make it as fresh as possible. If you keep it in the fridge, you will find that it will only last a few days.
You can make this slightly healthier by using some greek yogurt, almond milk, or even coconut milk. You can also skip adding the honey.
Nutrition Information
Serving Size: 202g (7.1 oz)
Servings Per Recipe: 2
Calories Per Serving: 149
Amount Per Serving
Saturated Fat: 1.4g
Trans Fat: 0g
Total Carbohydrate: 25.1g
Dietary Fiber: 2.9g
Sugars: 20.9g
Cholesterol: 9mg
Sodium: 73mg
Protein: 6.2g
The information above is an estimate generated by an online nutrition calculator.
More Smoothies to Try
If you love this recipe, then you're going to love a ton of other recipes that use either blueberries or raspberries.
Another delicious combination that you should check out is a smoothie that uses strawberries & blueberries as the main ingredients. There are just so many combinations that you can try out.
I also highly recommend trying the banana yogurt smoothie. It's one of my favorites as it's got the perfect amount of banana and is so thick and creamy.
If you have anything you want to share on this blueberry raspberry smoothie recipe, then be sure to leave a comment below. I always enjoy reading your opinion, thoughts, variations, and whatever else you may have to share.