The chocolate raspberry smoothie is an exciting blend of chocolate and fruit. It is a must-try for any chocolate lover.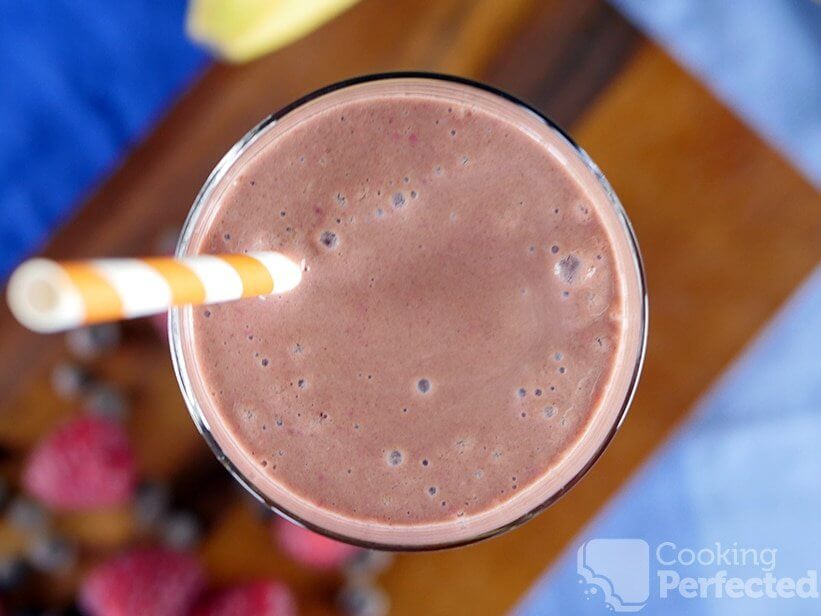 This smoothie is loaded with fruity flavors thanks to the raspberry and banana. You will also get a noticeable amount of chocolate flavor from the cocoa powder. It is a delicious blend of flavors that I reckon you will love.
I love this smoothie as it is incredibly easy to prepare quickly, and you only need a few ingredients.
You will find one batch of this recipe should make enough for two people. However, it depends on how big your drinking glasses are.
Much like most smoothie recipes, you can use either fresh or frozen fruit. I have some more information further down the page if you are wondering if there are any benefits to using one over the other.
Tweaking the Smoothie Ingredients
As I say with all the smoothie recipes, don't be afraid to add some extras such as wheat germ, protein powder, LSA, and much more. I always find adding about one to two tablespoons is more than enough for the standard recipe.
If you want to make this smoothie vegan friendly, you can replace the milk with almond milk and completely abandon the yogurt. However, leaving the yogurt out will mean the smoothie may be a bit runnier than usual.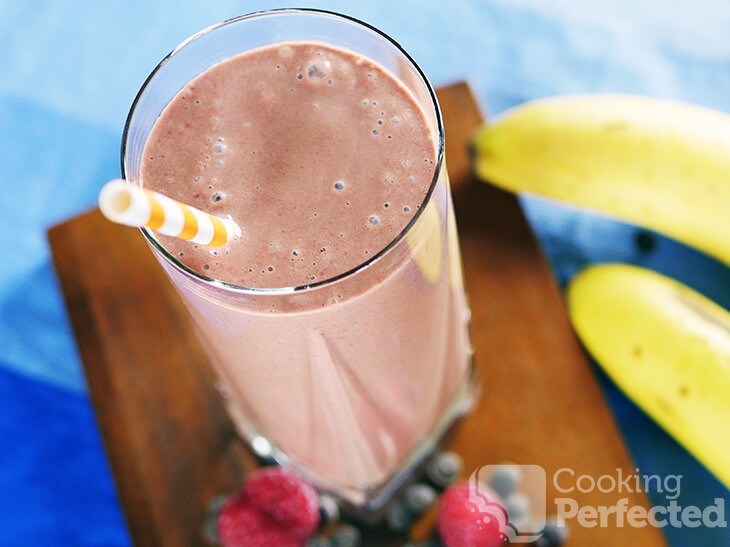 Try replacing the cocoa powder with chocolate topping for some different flavors. I have not tried this variation, but it will likely work just as well. One thing to remember is that it may make your smoothie super sweet.
You can use either fresh or frozen fruit in this smoothie. You will find adding frozen fruit will leave you with a much colder and thicker smoothie. Freezing bananas is a great way to save your fruit before it goes bad.
If you want to see how to make this delicious recipe, then be sure to check out the video below.
Chocolate Raspberry Smoothie Recipe
Ingredients
1 cup raspberries
1 banana
2 Tbsp unsweetened cocoa powder
½ cup milk
½ cup plain yogurt
1 Tbsp honey
Instructions
Add the raspberries, banana, cocoa powder, milk, plain yogurt, and honey into a blender.
Blend until well combined, smooth, and thick.
Serve & Enjoy.
Recipe Tips
Honey is pretty vital in this recipe as you will find the cocoa powder is quite bitter. Without the sweetener, you will end up with a very strange tasting smoothie.
If you do not like honey, you can use other alternative sweeteners, such as white sugar, maple syrup, and much more.
You can use regular unsweetened cocoa powder or Dutch-processed cocoa powder for this smoothie. Both have their pros and cons but will equally work just as well. Dutch cocoa will leave you with a much darker smoothie.
This smoothie will only keep for a few days in the fridge, so with that said, I recommend making it as fresh as possible.
Nutrition Information
Serving Size: 259g (9.1 oz)
Servings Per Recipe: 2
Calories Per Serving: 202
Amount Per Serving
Saturated Fat: 1.9g
Trans Fat: 0g
Total Carbohydrate: 39.7g
Dietary Fiber: 7.2g
Sugars: 25.7g
Cholesterol: 9mg
Sodium: 74mg
Protein: 7.9g
The information above is an estimate generated by an online nutrition calculator.
More Smoothies
There are a vast amount of smoothies that you can make using raspberries or chocolate as the main ingredient. Below are a couple of my favorite raspberry smoothies.
One smoothie that you should check out is the banana and raspberry smoothie. This smoothie is similar to the one mentioned on this page but without the chocolate. Instead, you are left with a delicious combination of raspberry and banana.
I also highly recommend trying the strawberry and raspberry smoothie. It is an excellent combination of flavors and amazingly refreshing. I love to start the day with this smoothie as it gives me an excellent fruity energy kick.
If you have any feedback, tips, variations, or anything else related to this delicious chocolate raspberry smoothie, then be sure to leave a comment below.