If you love bananas, then this banana yogurt smoothie is the perfect drink for you. You only need a few ingredients, and it's super easy to whip up in a blender quickly.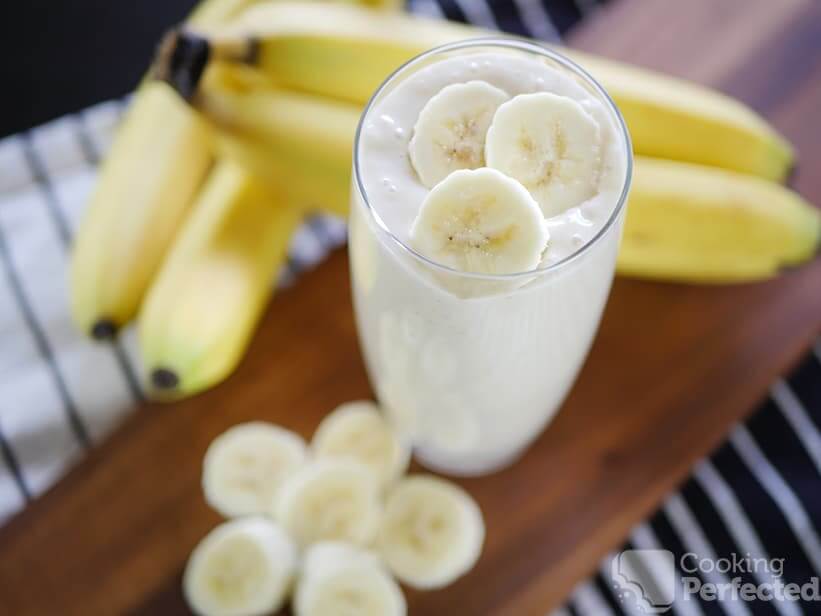 I love this smoothie as it blends to be nice and thick without needing any ice cream. The bananas add a ton of flavor, and the honey sweetens it slightly. Overall it's a fruity drink that's hard to stop drinking.
A single batch of this recipe will make enough for roughly two people, but this depends on how thirsty you are. Alternatively, you can easily double or triple the recipe to cater for more people.
Personalizing the Smoothie Recipe
A banana smoothie with yogurt is the perfect base if you're someone who loves a protein shake in the morning. Add the required amount of protein powder to this smoothie recipe, and it should work out pretty well. You may need to alter the amount of milk if it is too thick or too runny.
You can always add more fruits into this smoothie for more flavor. It's also a great way to add a bit of color to the drink. Personally, I love this drink without any changes.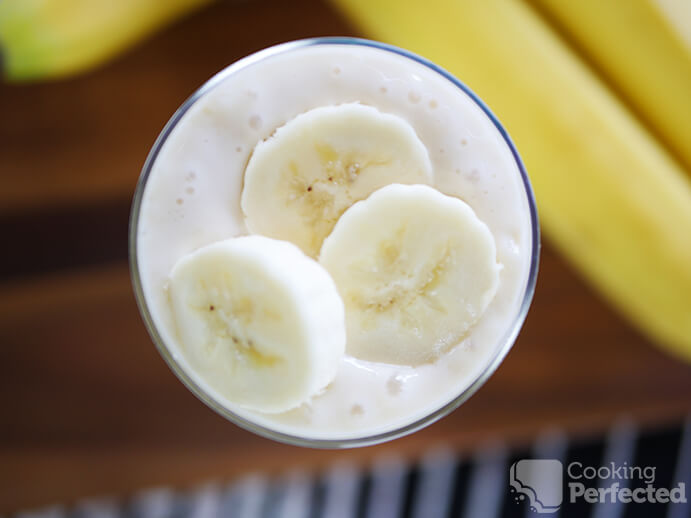 Another option is to add something like flaxseeds or chia seeds for a bit more flavor and help increase the nutrition of the smoothie. If you want to add either one of these, I would recommend adding about two teaspoons of whichever you decide to use.
I have a few more suggestions on what you can do with this smoothie further down the page that I highly recommend that you check out.
Make this Smoothie Fresh
Drinks made with lots of fresh ingredients such as this smoothie is always best consumed as soon as possible.
You should be able to keep this smoothie in the fridge for roughly a day or two. I highly recommend making it as fresh as possible for the best results.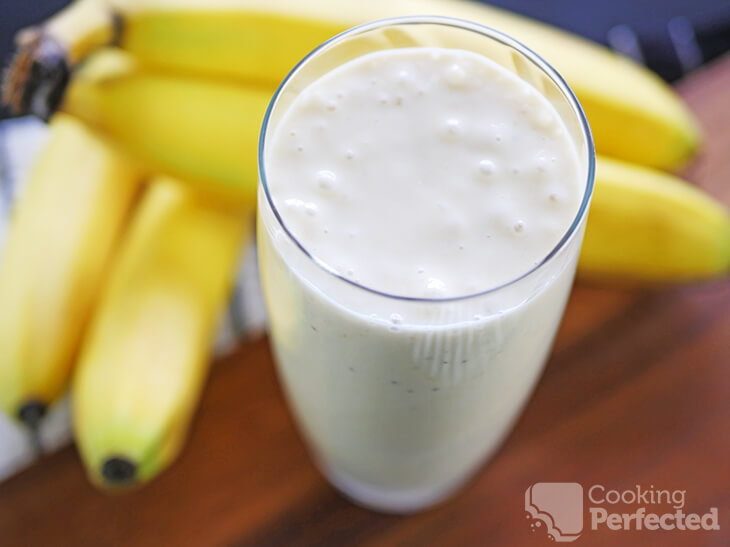 An excellent trick that you can do to make the smoothie last longer is to freeze it in ice cube trays. All you need to do is blend the ice cubes with some milk, and you will have a delicious drink ready in no time at all.
Health Benefits of bananas
There are a ton of health benefits of eating bananas, making it a great fruit to include in your diet. They contain a ton of nutrients such as vitamin B, vitamin C, magnesium, and much more.
If you want to see how to make this banana yogurt smoothie, then be sure to check out the video below. It is super short and straight to the point. Alternatively, there is a written recipe that you can print out.
Banana Yogurt Smoothie Recipe
Ingredients
2 bananas
1 cup milk
½ cup plain yogurt
1 Tbsp honey
1 tsp vanilla essence
Instructions
Add the bananas, milk, yogurt, vanilla, and honey into a blender.
Blitz until smooth and well combined.
Serve & Enjoy.
Recipe Tips
If you want your smoothie extra chilled, then I recommend adding some ice cubes. You should find about four ice cubes, or roughly half a cup will be enough.
You can also freeze bananas for smoothies if you find yourself with way too many of them. The process is super simple and is excellent for preserving bananas for a later date. They also help when it comes to making super thick banana smoothies.
If you want your smoothie to be not as sweet, then you can remove the honey from the recipe. The sugars in the bananas should be more than enough to give you a tasty smoothie.
You can keep this smoothie in the fridge for about a day before it starts to go a bit funny. The banana will likely begin to go brown and won't be very appealing to drink. It's best to whip up smoothies fresh as this is when they taste and look the best.
Ripe bananas are best as they blitz to be nice and smooth. If they're too hard, then it may end up a bit chunky.
You can replace the yogurt with whatever flavor or type you prefer, such as Greek yogurt. For example, if you like low-fat yogurt, then use that instead. Another good combination is mixing it with some banana yogurt. This way, you get a double hit of banana.
Nutrition Information
Serving Size: 241g (8.5 oz)
Servings Per Recipe: 2
Calories Per Serving: 198
Amount Per Serving
Saturated Fat: 1.8g
Trans Fat: 0g
Total Carbohydrate: 36.9g
Dietary Fiber: 2.5g
Sugars: 26.5g
Cholesterol: 11mg
Sodium: 82mg
Protein: 7.1g
The information above is an estimate generated by an online nutrition calculator.
More Smoothies
There are lots more smoothies that you need to give a try. You can even use this banana smoothie as a base and make lots of different variations by simply adding a couple of ingredients.
As I mentioned above, bananas are a fantastic base ingredient when it comes to making smoothies. There are just so many fruits that go well with bananas. A couple of my personal favorites include banana raspberry, blueberry banana, and finally strawberry banana.
For something completely different, you should give the pear and banana smoothie a try. It's one of the most refreshing drinks I have ever tried, so I highly recommend giving it a try.
I hope that you like this super easy banana yogurt smoothie recipe. If you come across any variations that you would love to share or have some feedback on the recipe, then please don't hesitate to leave a comment below.