A banana berry smoothie is an excellent combination of ingredients that will provide you with a drink that is not only healthy but is also extremely tasty.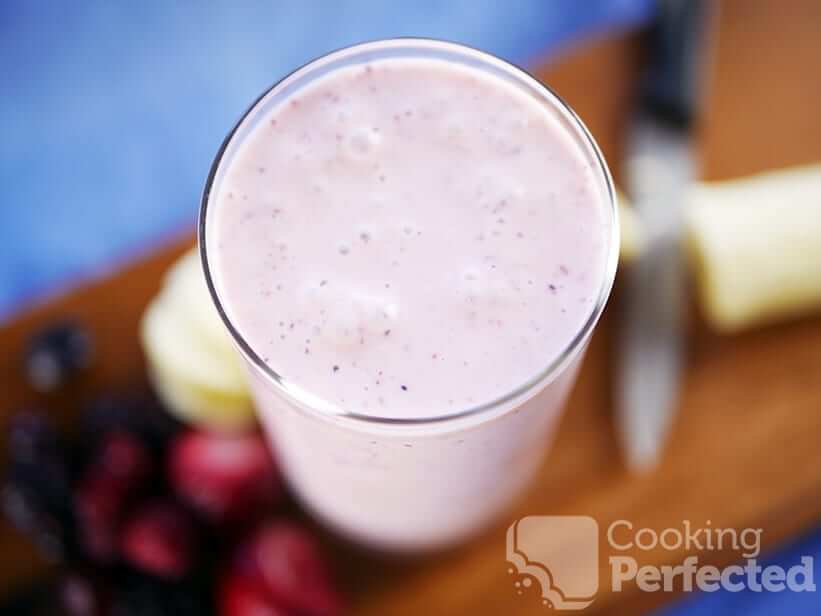 I love the fruit combination in this smoothie as it blends a range of delicious summer berries with the creaminess of yogurt. It's loaded with flavor and is a must-try if you love a good smoothie.
This recipe makes enough for two people, so if you want more or less, then don't forget to alter the quantities of the ingredients. As I mention in the smoothie tips further down the page, this smoothie won't keep for very long in the fridge, so it's best to drink it all as soon as it's ready.
Altering the Recipe
There are quite a few tweaks that you can do to this smoothie recipe to make it more to your liking. Below are a couple of ideas on what you can do.
The combination of berries that I recommend using is blueberries, raspberries, and of course, blackberries. You can change these fruits to whatever combination of berries that you would prefer. This range of berries is just my favorite mix. It is also the variety that you usually get if you buy frozen mixed berries.
If you're worried about the amount of fat in the milk and yogurt, then you can substitute these with low-fat variations. Keep in mind some low-fat variations can have high amounts of sugar in them. You can also try using almond milk or something similar.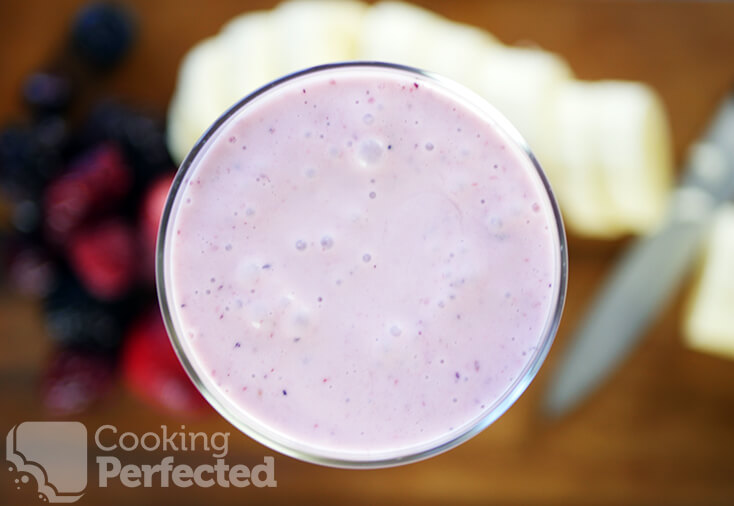 Don't be afraid to alter the recipe to have it better suit your tastes. For example, you may want some chia seeds, protein powder, or wheat germ. These all can add an extra bit of nutrition and flavor to your smoothie.
If you have any suggestions or improvements to make to this smoothie, then be sure to leave a comment below.
Make it Fresh
Smoothies are always best made and drunk fresh. Luckily it takes mere minutes to quickly blend this delicious drink. With that said, you can keep the smoothie in the fridge for 24 hours, but you may find it will split and start to discolor.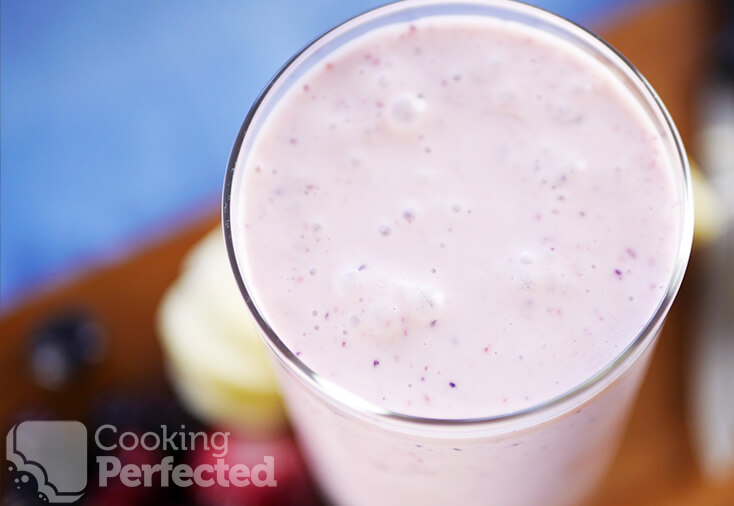 You can use either fresh or frozen fruit in this drink. I recommend using frozen as it's often cheapest and easiest to get your hands on. However, fresh is better, but it can be hard to find and very expensive.
If you want to see a cool video for making this fantastic banana berry smoothie, then be sure to check it out below. It's nice, short, and straight to the point and a great way to see what you're making.
Banana Berry Smoothie Recipe
Ingredients
½ cup mixed berries
1 banana
½ cup milk
1 cup plain yogurt
1 tsp vanilla essence
1 Tbsp honey
Instructions
Place the mixed berries, banana, milk, plain yogurt, vanilla essence, and honey into a blender.
Blend until smooth.
Serve & Enjoy.
Recipe Tips
Smoothies are best to consume within a very short period after being made. You can keep it in the fridge, but you may find it will split or just not be as lovely as when it was freshly blended.
If you're able to buy fresh berries cheap, then you should give them a go. You will be surprised at how good the smoothie will taste; otherwise, frozen works fine too.
Assuming you want your protein hit, then you can add your protein powder to this recipe. Depending on the powder you're using, you may want to leave the honey out as some protein powders are already quite sweet.
If you're not a fan of sweet things, then make sure you don't include the honey. The smoothie will still taste fine without it.
Using a frozen banana is a great way to thicken the smoothie without having to use ice. It's also a great way to store and keep bananas for longer.
Nutrition Information
Serving Size: 232g (8.2 oz)
Servings Per Recipe: 2
Calories Per Serving: 183
Amount Per Serving
Saturated Fat: 1.6g
Trans Fat: 0g
Total Carbohydrate: 30.6g
Dietary Fiber: 2.2g
Sugars: 24g
Cholesterol: 10mg
Sodium: 93mg
Protein: 7.9g
The information above is an estimate generated by an online nutrition calculator.
More Smoothie Recipes
If you enjoy this recipe, then make sure you check out some of the other healthy banana smoothies we have. Below are a couple of my absolute favorites.
One of my personal favorites is the banana and strawberry smoothie, but they're all pretty good, to be honest.
Another smoothie combination that I highly recommend that you try is raspberry and banana. It's sweet and loaded with flavor, it's also just as easy to make as this smoothie.
I hope you enjoy this simple yet amazing banana berry smoothie recipe. If you have a variation that you absolutely love and don't mind sharing it, then please drop a comment below.