This strawberry banana smoothie is an amazing blend of fruit that results in a tasty yet healthy drink.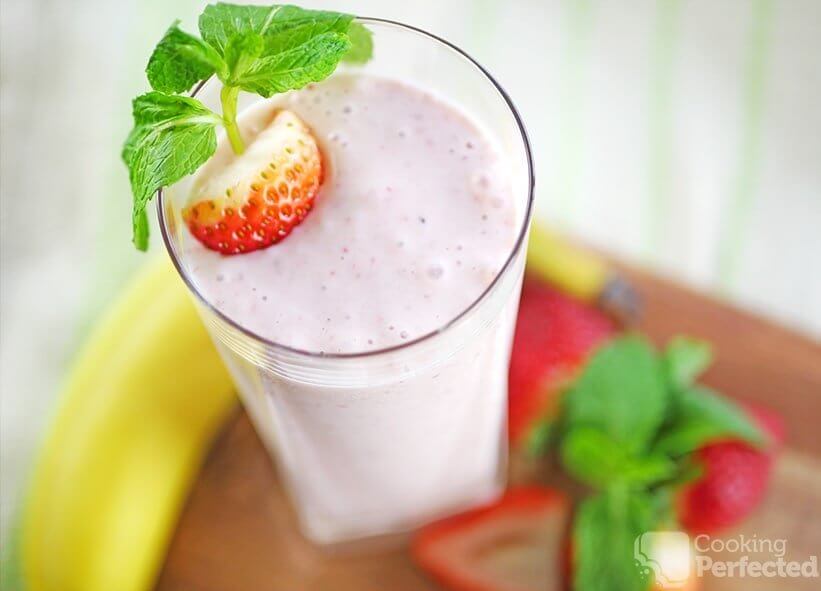 This refreshing smoothie is an absolute must-try. The combination of fruits gives you a smoothie that tastes great and looks fantastic. I find it is excellent for either breakfast or just as a snack.
To get the perfect smoothie, all you need to do is get the quantities roughly right. You can always tinker with the ingredients to get the best tasting smoothie. There isn't really any right and wrong, just be creative.
One thing that I love to do with my smoothies is to serve it with some whole fruit and some cereal. Using the smoothie as an alternative to milk certainly makes breakfast even more delicious.
You will only get roughly two serves out of this recipe, so if you're looking to cater for more people, then you will need to double or triple the recipe.
Tweaking the Smoothie
As with every smoothie, you can add some extra ingredients if you feel like experimenting a little. Below are a couple of ideas on what you can do.
A lot of people love to add ingredients such as protein powder or chia seeds. It's entirely up to you, but if you do add something like chia seeds, then I recommend adding one tablespoon to the standard recipe.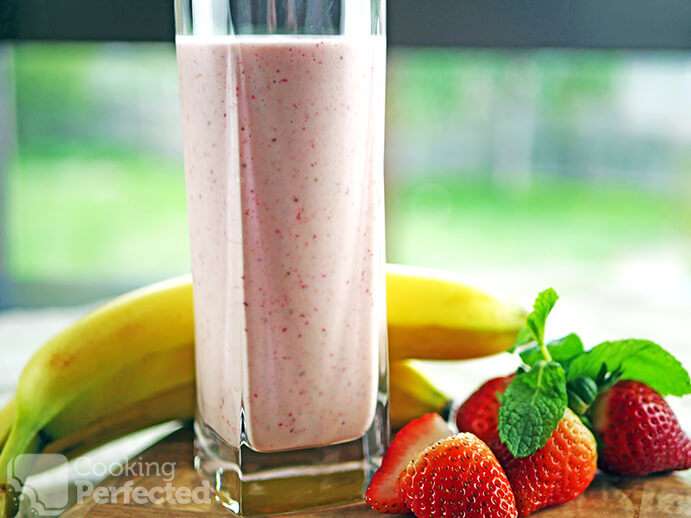 Using frozen bananas will help make the smoothie thicker than normal. Freezing bananas is also a great way to keep them from going bad so you can use them when bananas aren't as readily available.
I made use of regular yogurt and milk, but don't hesitate to substitute these for low fat or low sugar varieties. You could also use some almond milk or soy milk instead of ordinary milk.
The amount of variations is just insane for what you can do with strawberries. A couple of examples of some of my favorites include a strawberry and blueberry smoothie or an everyday strawberry yogurt smoothie.
Make it Fresh
The choice to use frozen fruit is entirely up to you. I find frozen fruit is usually more readily available and doesn't need to be used straight away. However, I find fresh fruit will work best.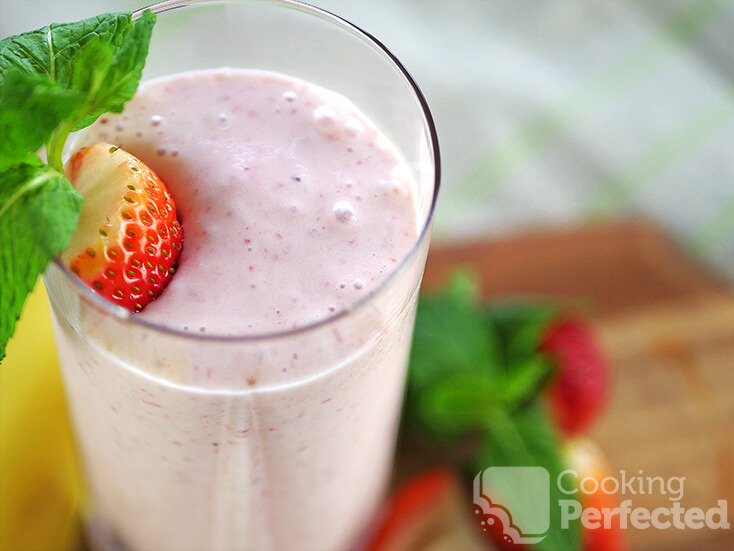 Like almost every smoothie, you will need to drink this as soon as possible, as it won't keep for very long in the fridge. If you have too much, you can always freeze it in ice cube trays and blend it later.
If you want to see how to make a strawberry banana smoothie, then be sure to check out the video below. It's super short, so it won't take up much of your time.
Strawberry Banana Smoothie Recipe
Ingredients
~1 cup strawberries
2 bananas
½ cup plain yogurt
1 cup milk
1 tsp vanilla essence
1 Tbsp honey
Instructions
Add the strawberries, bananas, plain yogurt, milk, vanilla essence, and honey into a blender.
Blend until well combined.
Serve & Enjoy.
Recipe Tips
You can use the low-fat varieties of yogurt and milk. You should still get a similar or the same result. Keep in mind some low-fat products have an increased amount of sugar in them.
If you like your smoothies ice-cold, then just add a few ice cubes to this recipe. A rough cup should be more than enough.
You're able to tinker with the honey to sweeten the smoothie even more. I find a tablespoon to be more than enough.
Greek yogurt is a decent alternative to using just plain yogurt.
Banana milk can be used in exchange for just regular milk. However, you will unlikely need any sweetener as banana milk is usually loaded with it.
Nutrition Information
Serving Size: 249g (8.8 oz)
Servings Per Recipe: 2
Calories Per Serving: 178
Amount Per Serving
Saturated Fat: 1.5g
Trans Fat: 0g
Total Carbohydrate: 33.9g
Dietary Fiber: 2.9g
Sugars: 24g
Cholesterol: 9mg
Sodium: 69mg
Protein: 6.1g
The information above is an estimate generated by an online nutrition calculator.
More Smoothies Worth Making
As I mentioned above, the number of smoothies that you can make with strawberries is just crazy.
If you're a fan of strawberries, then be sure to check out the raspberry strawberry smoothie. It's almost as good as this smoothie, and it is very easy to make.
There are a ton of other fruity drinks that you can easily make using a blender. One I highly recommend that you try is the banana berry smoothie, it's so delicious.
If you love or dislike this strawberry banana smoothie recipe, then be sure to let me know by leaving a comment below. Also, be sure to let me know any variations or anything else you have for this recipe.