This banana pear smoothie will please any pear lover and is a great way to start the day.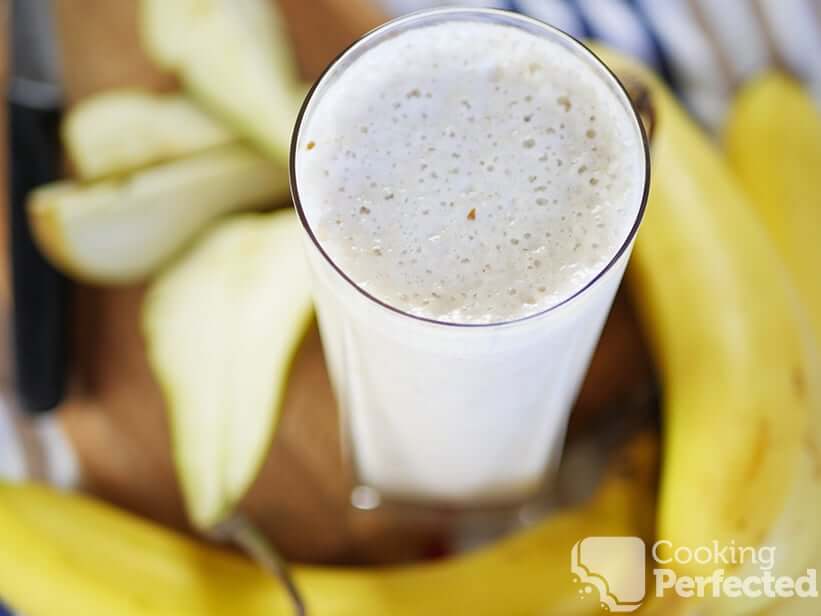 The blend of pear and banana makes for an incredibly delicious drink. The smoothie has strong pear flavors and a slight hint of banana. The ice helps cool and thicken the smoothie while the honey adds a slight bit of sweetness. It is an incredible combination of flavors.
This recipe makes enough for just one. If you need more than that, make sure you double or triple the recipe depending on the number of people you are making it for.
This smoothie is the perfect drink if you find yourself with an excess number of pears and bananas that need using. The blueberry pear crumble also might be worth checking out if you are looking for more pear-based recipes.
Personalizing this Smoothie
I like this smoothie without any changes, but feel free to add some extra ingredients to it.
You can add ingredients such as protein powder, chia seeds, oats, and much more. If you do go to add an extra, then I find about one tablespoon of whatever you are adding is more than enough.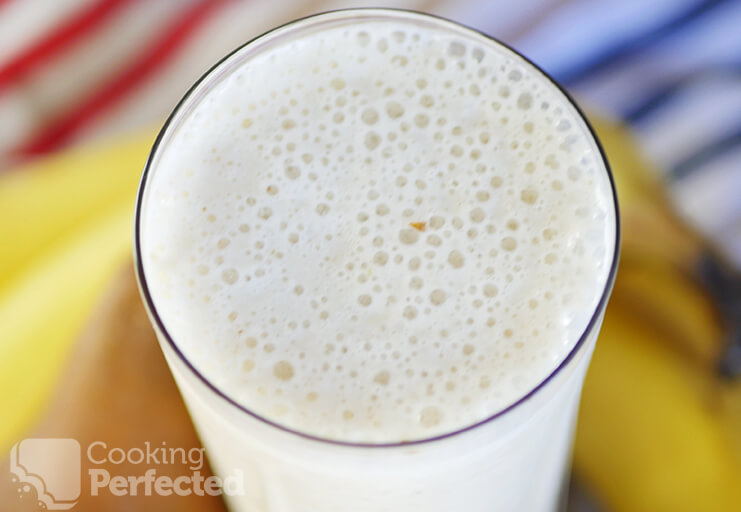 You can use frozen bananas instead of fresh ones. The smoothie will end up a little thicker and a lot colder. It is the perfect little tweak that radically changes the outcome of this delicious drink.
You can swap the milk out with something like almond milk if you want a lactose free smoothie. On the flip side, if you want an even thicker smoothie, replace a half cup of the milk with some plain yogurt or ice-cream.
The honey can also be removed if you do not need any extra sweetener. The sugars from the fruit should be more than enough to provide enough sweetness.
Make it Fresh
Like pretty much every smoothie, I would blend this fresh every time. You can keep it in the fridge, but it does not stay fresh for very long. At the 24-hour mark, the banana will have discolored, and the smoothie will not look very appealing.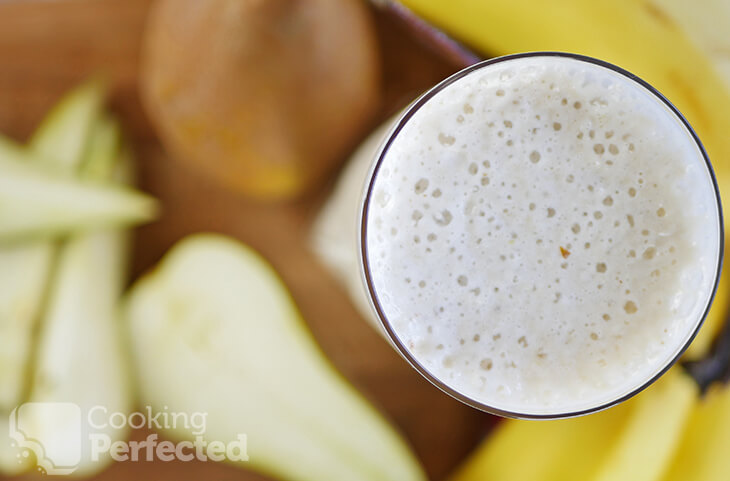 If you somehow end up with leftovers, you can pour the smoothie into an ice cube tray and freeze it. Whenever you need a smoothie, simply blend the smoothie cubes with a bit of yogurt.
The video below goes through all the steps to getting this smoothie blended and ready for serving. If you love videos, then be sure to check it out.
Banana Pear Smoothie Recipe
Ingredients
1 banana
1 pear
1 cup milk
1 Tbsp honey
½ cup ice
Instructions
Place the bananas, pears, milk, honey, and ice into a blender.
Blitz until smooth.
Serve & Enjoy.
Recipe Tips
You can leave the ice out of this recipe, but it will not be as cold and might be a bit runnier.
Depending on whether you like your smoothies sweet or not, you can also remove the honey without affecting the overall smoothie.
You do not need to peel the pears. However, you can peel them if you do not like pear skin in your smoothie. It is important to note that there are many nutrients in the peel of fruit and vegetables, so I usually always leave it on.
Nutrition Information
Serving Size: 256g (9 oz)
Servings Per Recipe: 2
Calories Per Serving: 149
Amount Per Serving
Saturated Fat: 1.2g
Trans Fat: 0g
Dietary Fiber: 3g
Sugars: 22.5g
Cholesterol: 8mg
Sodium: 49mg
Protein: 3.9g
The information above is an estimate generated by an online nutrition calculator.
More Smoothie Recipes
There are a ton of banana smoothie recipes out there, with each being unique in their own way.
A smoothie that is well worth making is the simple banana yogurt smoothie. It is very basic but has some incredible banana flavors that will please even the fussiest people.
For something a little fruitier, then you should give the raspberry banana smoothie a go. You get a lovely raspberry flavor along with a hint of banana. It is always a huge hit whenever I make it.
I hope you enjoy this banana pear smoothie. If you have some feedback, a variation that you like to share, or anything else, then please feel free to leave a comment below.