A crunchy Paleo granola is a fantastic way to start the day, and it makes for a great tasty breakfast.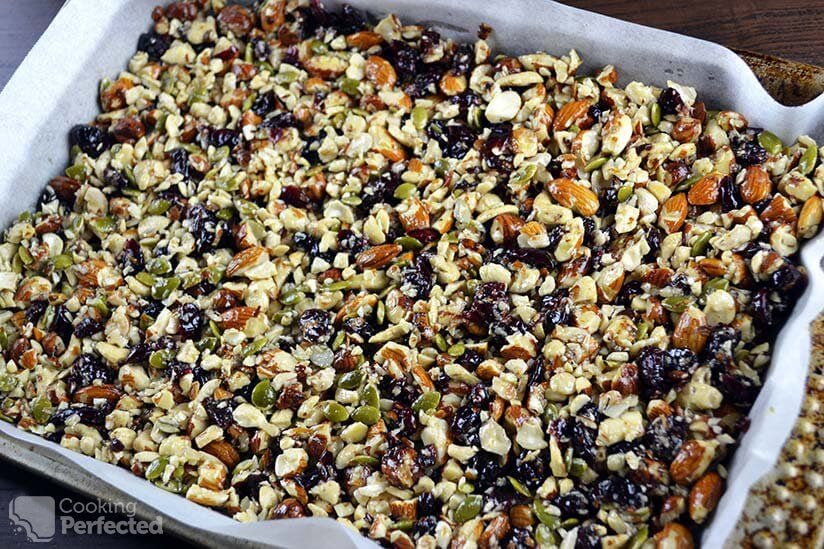 The combination of the honey, nuts, and cranberries make this granola incredibly moreish. Personally, I tend to make it almost every week, so I can have it for breakfast before I get started with work.
If you're already on the Paleo diet, then you will probably know that breakfast is a little harder than normal as all those cereals and bread are now off-limits. This gluten-free granola recipe makes for a great replacement of cereal and is great for breakfast on the run.
One of the downsides to this granola is how much it will hurt your pocket. The combination of dried fruit and nuts will likely set you back a bit of money. With that said, it's still likely to be cheaper than the Paleo-friendly store-bought varieties.
What to Serve with Paleo Granola
There are plenty of different ways you can serve this delicious homemade granola.
Some fresh fruit such as strawberries, raspberries, sliced apple, or even apricots will work nicely with this granola. Try not to go too overboard as the granola and fruit will add up to have quite a bit of natural sugar.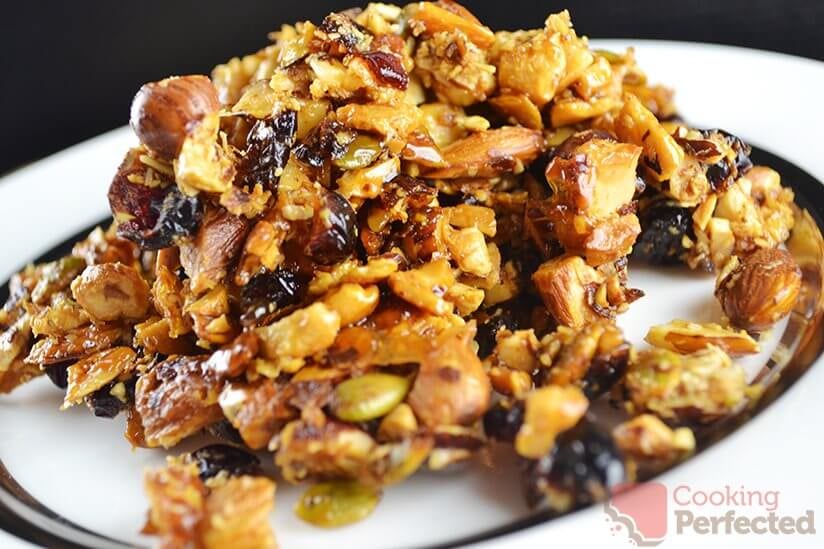 Some dairy-free yogurt or milk is the perfect replacement for regular milk. I love making some homemade almond milk to go with the granola, but some store-bought almond milk will also be fine.
My favorite combination is some summer fruits, almond milk, and a generous serving of the granola. It's a fantastic way to start the day.
If you have any suggestions that you're happy to share, then please don't hesitate to leave a comment below.
Personalizing this Recipe
There are lots of little tweaks that you can do to this recipe to make it more to your liking.
Coconut flakes are an excellent addition to this granola and help adds a wonderful coconut flavor. It's not for everyone, so I only suggest adding it if you like the taste of coconut.
Raisins can be used instead of cranberries. It really just comes down to what type of dried fruit you prefer. You could even add some dried apricots, apple, dates, and so much more.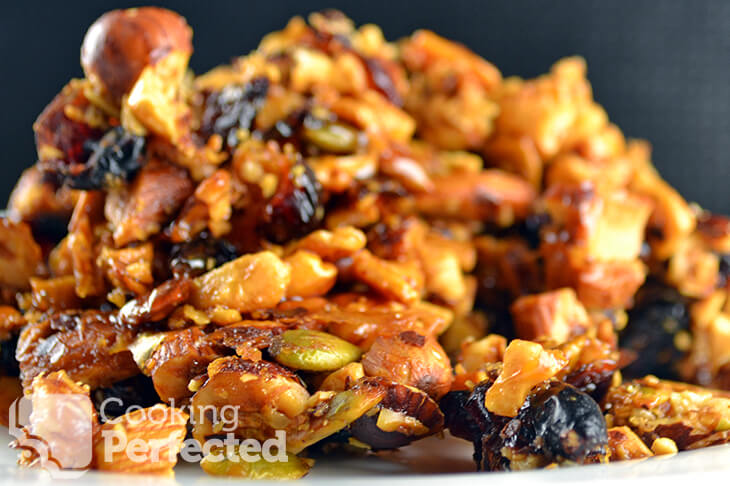 Spices can be added into the nut mixture for a bit of extra flavor. A teaspoon or two of cinnamon and nutmeg will add a lovely spiced flavor to the granola.
Be sure to let us know if you come up with a tweak that takes this delicious breakfast dish to the next level.
Storing the Granola
This granola will keep well for a few weeks stored in an airtight container in the cupboard. Whenever you need some granola, just scoop some out of the container.
Personally, I love having this around as it's not every morning I have time to cook breakfast. It also makes for a pretty good paleo-friendly snack as well.
Assuming you want to see how to make this delicious paleo granola, then check out the video I have prepared below.
If you like what you see, then please be sure to follow us, so you can stay up to date with all the latest and greatest paleo recipes, gluten-free, and many more recipes.
Paleo Granola Recipe
Ingredients
3 cups of mixed almonds, hazelnuts, cashews
¼ cup pumpkin seeds
¼ cup coconut oil
½ cup honey
1 tsp salt
1 cup cranberries
Instructions
Preheat an oven to 160°C (275°F).
Place the almonds, hazelnuts, cashews, and pumpkin seeds into a food processor. Carefully blitz so that the nuts are in medium to small chunks.
Over medium heat, add the honey and coconut oil to the pan.
Once melted, add the nut mixture, cranberries, and mix through.
Line an oven tray with baking paper.
On the baking paper, spread the granola mix out evenly.
Cook in the oven for about 20-30 minutes or until lightly golden.
Once done, allow to cool for 20-30 minutes.
Store in an airtight container and enjoy.
Recipe Tips
Keep an eye on the granola when you're baking it in the oven as honey contains a lot of sugar and will burn quickly. If it appears to be burning, then remove from the oven immediately.
This paleo granola recipe goes amazing with fresh berries and fruits. If you're looking for a super healthy breakfast, then try incorporating some in-season fruits in this dish.
Feel free to try other different types of dried fruits. My personal preference is either cranberries or raisins, but others work well too.
If you prefer a less chunky granola then leave it in the food processor for longer. I prefer mine to be slightly chunky.
Nutrition Information
Serving Size: 114g (4 oz)
Servings Per Recipe: 6
Calories Per Serving: 506
Amount Per Serving
Saturated Fat: 11.6g
Trans Fat: 0g
Total Carbohydrate: 38.9g
Dietary Fiber: 4.8g
Sugars: 26.3g
Cholesterol: 0mg
Sodium: 394mg
Protein: 10.2g
The information above is an estimate generated by an online nutrition calculator.
More Paleo Breakfast Recipes
There are a ton of other paleo-friendly breakfasts that you're able to make. Breakfasts range from a tasty grain-free porridge right through to scrambled eggs and bacon. It just comes down to what you feel like cooking in the morning.
A recipe that I highly recommend that you try is the delicious scrambled eggs. It's the perfect cooked breakfast that you can make in just a couple of minutes.
The other breakfast recipe that I highly recommend is the Paleo-friendly omelette. Much like the scrambled eggs, it's super easy to make quickly, and it tastes amazing.
If you have made this Paleo-friendly granola before and would love to share your thoughts and any variations you have, then feel free to leave a comment below.