Back to Recipe
Print Recipe
Paleo Granola Recipe
---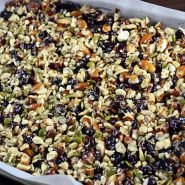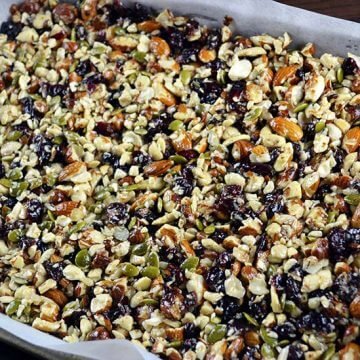 Prep time: 10 Minutes
Cook time: 30 Minutes
Total time: 40 Minutes
Serves: 6
Ingredients
3 cups of mixed almonds, hazelnuts, cashews
¼ cup pumpkin seeds
¼ cup coconut oil
½ cup honey
1 tsp salt
1 cup cranberries
---
Instructions
Preheat an oven to 160°C (275°F).
Place the almonds, hazelnuts, cashews, and pumpkin seeds into a food processor. Carefully blitz so that the nuts are in medium to small chunks.
Over medium heat, add the honey and coconut oil to the pan.
Once melted, add the nut mixture, cranberries, and mix through.
Line an oven tray with baking paper.
On the baking paper, spread the granola mix out evenly.
Cook in the oven for about 20-30 minutes or until lightly golden.
Once done, allow to cool for 20-30 minutes.
Store in an airtight container and enjoy.
---
Recipe Tips
Keep an eye on the granola when you're baking it in the oven as honey contains a lot of sugar and will burn quickly. If it appears to be burning, then remove from the oven immediately.
This paleo granola recipe goes amazing with fresh berries and fruits. If you're looking for a super healthy breakfast, then try incorporating some in-season fruits in this dish.
Feel free to try other different types of dried fruits. My personal preference is either cranberries or raisins, but others work well too.
If you prefer a less chunky granola then leave it in the food processor for longer. I prefer mine to be slightly chunky.
Did you make this recipe?
We want to see! Tag
@cookingperfected
on Instagram or use the hashtag
#cookingperfected
so we can find you!
---