This paleo porridge recipe is the answer to anyone who has cravings for a nice warm porridge in the morning.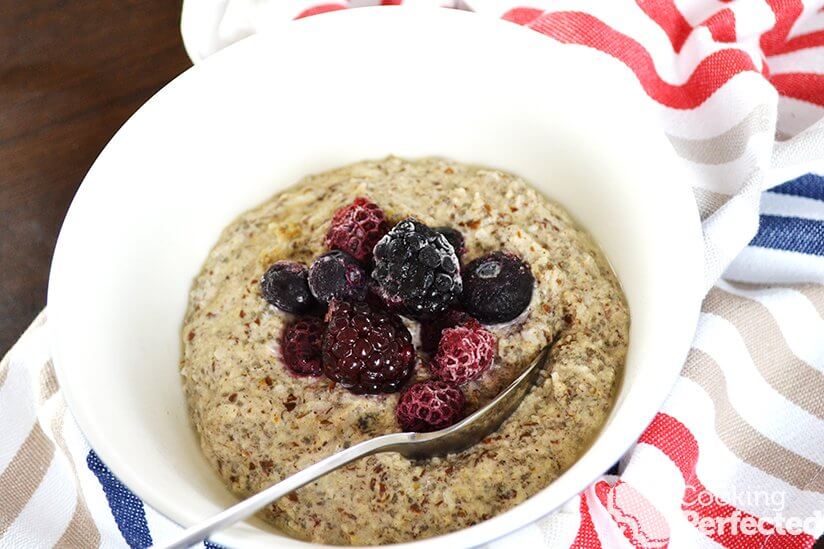 Porridge is traditionally a dish that is made by boiling up ground or crushed grain. The meal we all know today is commonly made with oats or oatmeal. It is also cooked using either boiling milk or sometimes just plain water.
There are also dozens of accompaniments that you would typically have with your porridge. Unfortunately, many of these are not considered Paleo-friendly. I mention some alternatives further down the page.
Paleo Modifications
Oats aren't allowed on the paleo diet, so we will use some other ingredients to replace them.
The shredded coconut and almond meal are the two ingredients we use instead of oats, and they help produce a lovely paleo-friendly porridge.
We also use coconut milk in place of just regular milk, so you still get that creaminess of a typical porridge. Personally, I think you get a much better porridge without oats, as it doesn't end up as gluggy.
The coconut milk can be replaced with another paleo-friendly alternative, such as almond milk. This change is ideal if you're not a huge fan of coconut.
Porridge Accompaniments
There are lots of different ingredients that you can have with this porridge that is paleo-friendly. I will quickly go through some of my favorites to have with this tasty breakfast recipe.
Some fresh fruit is excellent mixed in with the porridge. My favorites are some summer berries such as raspberries, blueberries, or even strawberries.
If you love a mix of savory and sweet, then some bacon bits and maple syrup are amazing. Simply scatter the bacon bits over the top and drizzle with the maple syrup.
Sliced bananas and a drizzle of honey is another combination that I love to have with this dish or on some pancakes. It's a must-try as it's so delicious.
There are lots more that you can have with this delicious grain free porridge. If you have some combinations that you would like to share, then please don't hesitate to leave a comment below.
Make it Fresh
This paleo breakfast porridge is super easy to cook, so it's perfect if you need a cooked breakfast fast.
Making this dish usually takes me about 5-10 minutes from start to finish; however, if you make the porridge dry mix up ahead of time, you can cut it down to only 3-4 minutes.
I do not recommend keeping any leftover porridge as it will not reheat very nice. However, as I mentioned above, you can prepare the dry porridge mixture early.
If you want to see how to make this paleo porridge, then be sure to check out the video below. Alternatively, the full recipe is immediately beneath the video.
Paleo Porridge Recipe
Ingredients
¼ cup shredded coconut
¼ cup almond meal
1 Tbsp flax seeds
1 Tbsp chia seeds
1 tsp cinnamon, ground
1 cup coconut milk
Instructions
Combine all the ingredients in a pot over medium heat.
Bring to a simmer while constantly stirring.
Cook for about 5 minutes or until thickened.
Transfer to a bowl.
Serve & Enjoy.
Recipe Tips
If you make a large mix of the dry ingredients and store it in an airtight container, then you can just quickly measure what you need, roughly half a cup per serve.
This porridge is fantastic with some fresh berries and a bit of honey or maple syrup. If you're wondering if those sweeteners are paleo, then you will be glad to hear that they are in small amounts.
As you can tell, this gluten-free porridge is very rich in coconut. So, if you're not a fan of coconut, then you might want to skip this recipe. Alternatively, you can try replacing the coconut milk with almond milk and the shredded coconut with more almond meal.
Almond meal is also known as almond flour or ground almonds.
Nutrition Information
Serving Size: 240g (8.5 oz)
Servings Per Recipe: 1
Calories Per Serving: 702
Amount Per Serving
Saturated Fat: 45.5g
Trans Fat: 0g
Total Carbohydrate: 23.9g
Dietary Fiber: 13.8g
Sugars: 8.5g
Cholesterol: 0mg
Sodium: 35mg
Protein: 12.5g
The information above is an estimate generated by an online nutrition calculator.
More Paleo Recipes
If you're looking for something else to have for breakfast, then be sure to check out our other healthy paleo breakfast recipes. There are plenty of fantastic recipes ranging from the simple porridge to the tasty omelette.
The paleo granola recipe is fantastic and can be cooked and kept for weeks in an airtight container. This porridge is great for those mornings when you need something fast.
Another recipe that I highly recommend trying is the frittata. It's perfect if you're looking for something a little more savory rather than sweet.
If you have feedback, variations, or anything else on the paleo porridge, then be sure to drop us a comment below.