These paleo blueberry muffins are so amazing you will find yourself wanting more. They are paleo-friendly, gluten-free, and bake to be incredibly moist and packed with flavor.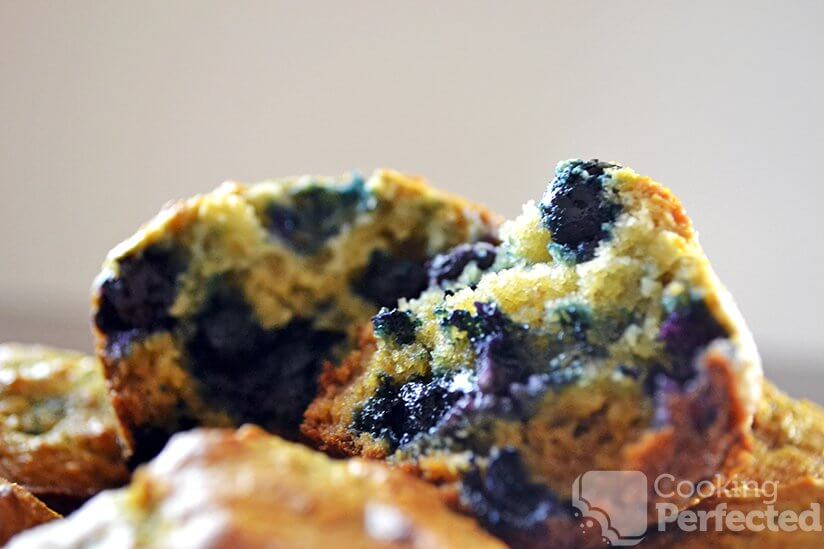 These moist blueberry muffins are an absolute delight and will easily impress anyone on the paleo diet. They are pretty easy to quickly prepare and have ready for dessert or snack time.
As you may already know, paleo baking is harder than usual since we cannot use a lot of the traditional baking ingredients. This difficulty does not mean it is impossible to make some excellent tasting baked goods.
You will get roughly eight to twelve muffins out of a single batch of this muffin mixture. You can easily double or triple the recipe if you need to make more. However, you might want to do a test batch before altering the recipe.
Perfecting these Blueberry Muffins
This muffin mixture will work in either a small or large muffin tray. Personally, I prefer smaller muffins rather than large ones. Just make sure you either use muffin papers or grease the tray before distributing the mixture into the muffin tin.
You can add some extra fruit for more flavor but be careful not to go overboard. A great addition is roughly one grated apple as it helps keeps the muffins moist and adds a little bit of extra flavor.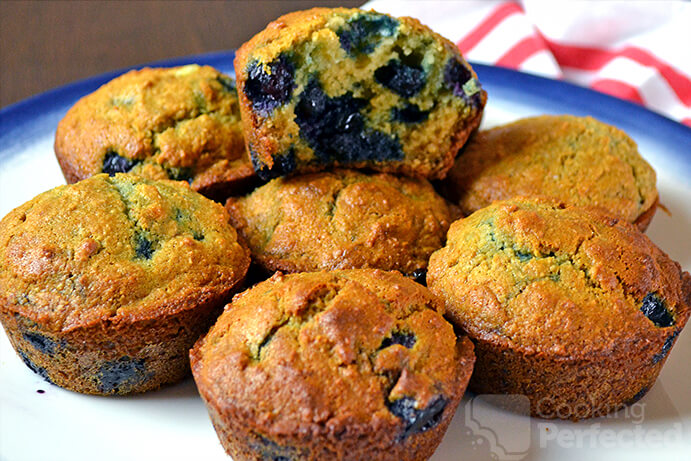 Spices are perfect for more flavor, but much like extra fruit, try not to go overboard as they can overpower the rest of the ingredients. I recommend adding half a teaspoon of nutmeg and cinnamon.
Paleo baked goods do not tend to age well, so I highly recommend that you eat these as fresh as possible. If they remain for more than a day, then they might start to become a bit dry.
If you want to see how to make these blueberry muffins, then be sure to check out the video below. Otherwise, there is an easy to follow written recipe right underneath the video.
Paleo Blueberry Muffin Recipe
Ingredients
¼ cup honey
1 tsp vanilla extract
2 Tbsp coconut oil, softened
1 Tbsp coconut milk
2 large eggs, room temperature
1 ½ cups almond flour
½ cup tapioca starch
½ tsp baking soda
½ tsp baking powder
¼ tsp sea salt
½ cup blueberries
Instructions
First, preheat an oven to 180°C (350°F).
In a bowl, beat the honey, vanilla, coconut oil, coconut milk, and the eggs together.
Add the dry ingredients and mix them in.
Fold in the blueberries.
Evenly divide the muffin batter into a greased muffin tin.
Bake for 20-25 minutes or until a skewer comes out clean.
Remove from the oven and let sit for 5 minutes before placing on a cooling rack.
Serve & Enjoy.
Recipe Tips
You can replace the coconut milk with almond milk or a similar paleo-friendly milk.
Make sure you beat the liquids, so they are well combined. If you do not, you may end up with a mixture that does not work very well.
If the muffins are starting to burn on the outside but are still uncooked in the middle, then try covering them with foil. This method will help stop them from browning any further while allowing the mix to continue to cook.
These paleo blueberry muffins or any kind of paleo baking can be very hit and miss. If you are having trouble getting this recipe to work, then be sure to check out the video above.
If you cannot get your hands on fresh blueberries, then frozen blueberries will work.
Vanilla essence contains alcohol, so if you are trying to steer clear of anything that is not 100% paleo-friendly, I recommend using a vanilla bean. Vanilla bean is slightly more expensive but is worth the money.
Nutrition Information
Serving Size: 66g (2.3 oz)
Servings Per Recipe: 8
Calories Per Serving: 228
Amount Per Serving
Saturated Fat: 4.4g
Trans Fat: 0g
Total Carbohydrate: 22.7g
Dietary Fiber: 2.6g
Sugars: 10.9g
Cholesterol: 47mg
Sodium: 157mg
Protein: 5.5g
The information above is an estimate generated by an online nutrition calculator.
More Paleo-Friendly Sweets
If you are looking for more great paleo sweets, then be sure to check out some of our paleo desserts. These dessert recipes are fantastic if you are craving something sweet but do not want to ruin your diet.
There are plenty more muffin recipes that you can try, I recommend trying out the apple muffin recipe if you like this one.
One of my favorite paleo-friendly sweets is rhubarb crisp. This dessert is super easy to do and is great if you need to cook for a crowd.
We hope you enjoy this paleo blueberry muffin recipe. If you have any feedback, variations, or anything you would like to share, then please leave us a comment below.