This Paleo rhubarb crisp is absolutely delicious as it has a lovely crunchy topping and a yummy apple and rhubarb base.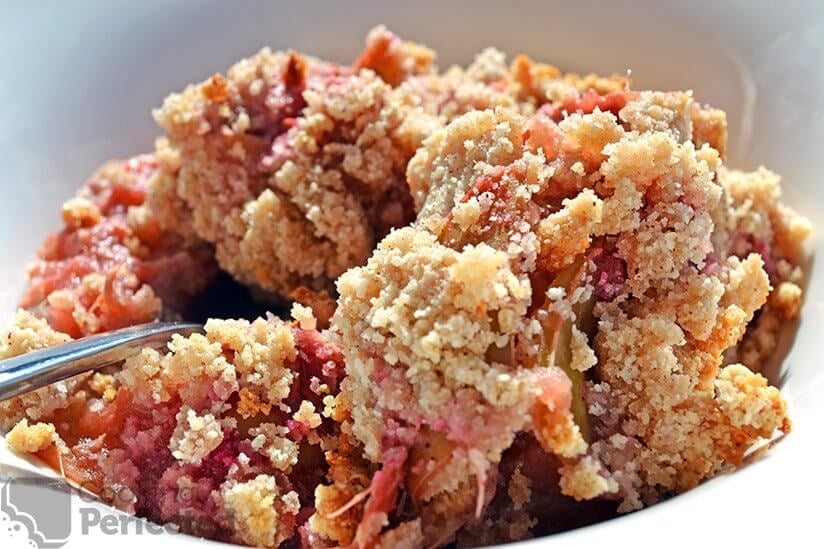 By the time this crisp is ready to eat, the rhubarb and apple will be soft and flavorsome. The crumble on top will be golden brown and have a slight crunch to it. It's the perfect fruity dessert to try out.
As you may or may not know, a crisp is also called a crumble in some parts of the world. It is the same dessert except for in the US and Canada where they're actually two different desserts.
This recipe removes all the ingredients that conflict with the Paleo diet and replaces them with the delicious Paleo-friendly equivalents.
As this recipe is paleo-friendly, it means this is also a gluten-free rhubarb crisp making it perfect for anyone who has the coeliac disease or has a gluten intolerance.
There are many benefits of the paleo diet that you should check out if you're looking at getting into the diet.
Personalize this Rhubarb Crumble
There plenty of slight adjustments that you can make to this crumble. For example, for a bit of extra crunch, you can add some chopped Paleo-friendly nuts to the topping such as walnuts or almonds.
Adding a different fruit such as strawberries or blueberries to the filling is another way of adding a bit more flavor. However, any additional fruit will radically change the flavor profile of this dessert.
You can use any apple variety to go in this dish. For the best result use something like Granny Smith, Jonagold or any other apple that's great for baking. Whatever you end up deciding the end result is usually still pretty amazing.
The Unlikely Leftovers
The leftovers are great to have for breakfast or as a sweet snack the next day. Simply keep the leftovers in the fridge and either serve cold or heat in the oven or microwave.
You should also check out the blueberry and pear crisp if you end up liking this dessert. Much like this one, the leftovers are incredibly delicious.
If you want to see how to make this delicious rhubarb crisp recipe, then check out the video I have prepared below. As always if you like what you see, then please subscribe to our mailing list so that you can stay up to date.
Paleo Rhubarb Crisp Recipe
Ingredients
7 apples
5 rhubarb stems
1 tsp cinnamon, ground
1 tsp lemon juice
For the topping
1 cup almond flour
2 Tbsp coconut flour
¼ cup honey
1 tsp cinnamon, ground
4 Tbsp coconut oil
Nuts if you prefer an extra crunch
Instructions
Preheat an oven to 180°C (350°F).
Chop the apple into large chunks and place into a saucepan.
Chop the rhubarb into 5cm (2 in) pieces and place on top of the apples.
Add the lemon juice and cinnamon.
Place the pot on the stove and cook for 10-15 minutes or until the apple has softened.
Meanwhile prepare the crumble by placing all the topping ingredients in a bowl (Almond flour, coconut flour, honey, cinnamon, coconut oil).
Using your fingers, mix the ingredients until it resembles a crumbly mix.
Place the apple and rhubarb mixture into a greased 8×8 deep baking dish.
Now add the topping on the top of the apple mix.
Place in the preheated oven and cook for about 15-20 minutes or until golden brown on top.
Serve & Enjoy.
Recipe Tips
As mentioned in the ingredient list, I suggest that you add nuts for a bit of extra crunch. Try adding nuts such as macadamias, almonds, hazelnuts and almost any other nut except peanuts.
Since the apple and rhubarb is already cooked, the only reason you need to bake this in the oven is for the topping. If you prefer a more chunky filling, then I suggest cooking the apple for a bit less in the pot.
If you find the topping mixture is too wet simply add some more of the dry ingredients. Alternatively, if the mixture is too dry try adding some more coconut oil.
This Paleo rhubarb crisp goes excellent with some coconut custard. If you have the time, I highly recommend trying it out.
Nutrition Information
Serving Size: 300g (10.6 oz)
Servings Per Recipe: 6
Calories Per Serving: 367
Amount Per Serving
Saturated Fat: 11.3g
Trans Fat: 0g
Total Carbohydrate: 48.2g
Dietary Fiber: 9.2g
Sugars: 35.2g
Cholesterol: 0mg
Sodium: 6mg
Protein: 4.7g
The information above is an estimate generated by an online nutrition calculator.
More Paleo Desserts
There are plenty of other paleo desserts that you need to try. I love to sometimes make a paleo-friendly apple crisp instead of doing this rhubarb crisp. Both are delicious just different flavors and textures.
Another sweet dish that you should try is the baked apples. They have a beautiful walnut, honey and date filling that matches the baked apple perfectly.
If you have any feedback or a variation that you would love to share for this yummy Paleo rhubarb crisp, then please be sure to leave a comment below.