This easy apple crumble is one of my favorite dishes to eat for dessert. It's super simple, so it's perfect for those times when you just want something easy but delicious.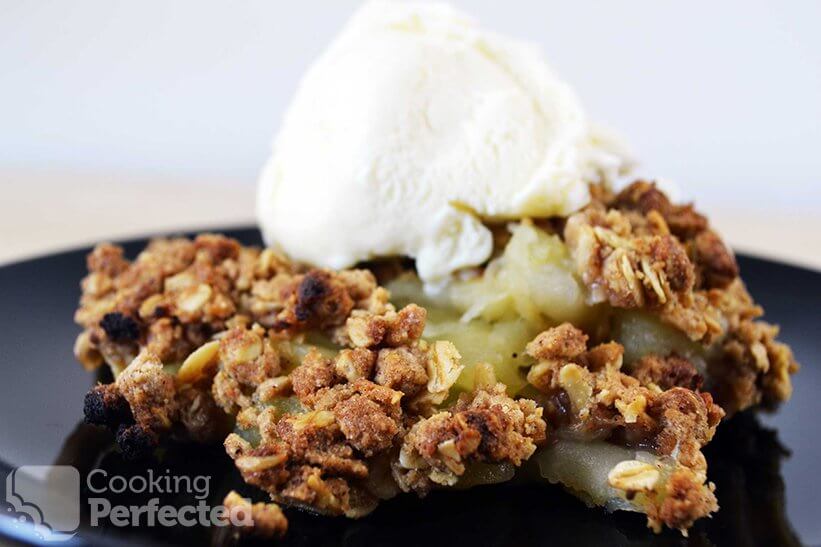 When you pull this apple crumble from out of the oven, the topping will be golden brown and have a lovely crunch to it. The apple filling will be giving off some lovely apple aromas, and it will be deliciously tender when you bite into it.
The hardest part of this recipe is making the crumble. The apple filling is from a can, but you can make it from scratch. If you want to be healthy, then you can always try making a paleo-friendly apple crumble.
You should be able to feed about four people with a single batch of this delicious dessert. You can easily double or triple the recipe if you need to feed more.
What to Serve with Apple Crumble
If you're looking for something to go with this apple crumble, then there are a couple of things that will match perfectly with this fruity dessert.
Some delicious vanilla ice cream is one of my favorite extras to have with this tasty crumble. I prefer to go with vanilla as its flavors won't conflict with the spices and apple.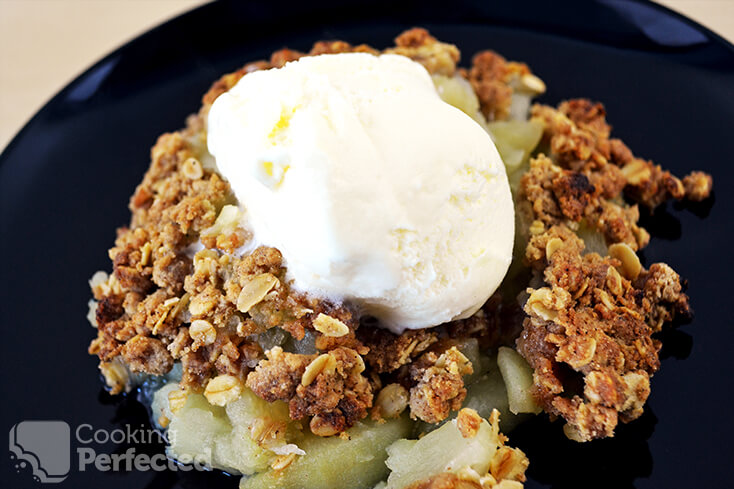 The easiest but tasty option is to drizzle some heavy cream over the top. It's perfect if you don't want to overcomplicate what should be an easy dessert.
Lastly, some homemade custard is an excellent match with apple. If you don't have the time, then some store-bought custard will work just as well.
Personalizing the Recipe
Adding frozen raspberries to the apple mix makes for a fantastic raspberry and apple crumble. Remember to defrost the raspberries; otherwise, you may end up with an overcooked top and a cold apple mix.
You can also add other fruits to the apple. Rhubarb and apple are one of my favorite combinations, so I highly recommend giving that a try. Apple and blueberry is also a pretty good combination.
Consider adding some chopped nuts in with the crumble mixture for a crunchier topping. Walnuts, hazelnuts, pecans, or even almonds will work nicely with the rest of the flavors in this recipe.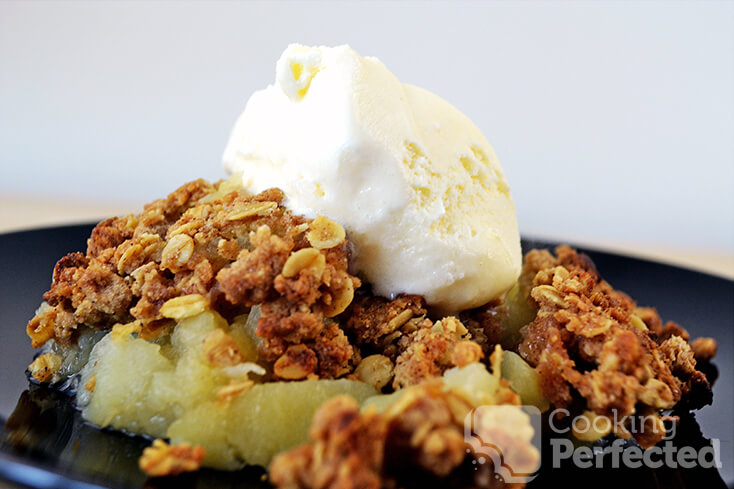 Depending on how motivated you are, you can replace the can of apples with fresh apples. Don't forget that if you're using fresh apples that you should cook them a little first. Otherwise, you may end up with apples that are a little too hard.
Make sure you keep any leftovers as they will reheat the next day nicely. Personally, I love to have the leftovers as a quick and easy breakfast. The leftovers taste amazing even when they're cold.
Learn how to make this easy apple crumble recipe by watching the video below. It will take you through all the steps that are needed to perfect this delicious recipe. Alternatively, there is an easy to follow written recipe immediately below the video.
Easy Apple Crumble Recipe
Ingredients
60 g (2.1 oz) unsalted butter, softened
80 g (2.8 oz) brown sugar
60 g (2.1 oz) rolled oats
80 g (2.8 oz) plain flour
2 tsp cinnamon, ground
800 g (1.8 lb) cans of apple
Instructions
Preheat the oven to 180°C (350°F). Also, lightly grease an 8×8 baking dish.
Add the butter, brown sugar, oats, plain flour, and cinnamon into a bowl. Combine until it resembles large breadcrumbs.
Add the apple to the baking dish.
Lastly, add the topping over the apple.
Place into the oven and cook for approximately 20 minutes or until golden brown on top.
Serve & Enjoy.
Recipe Tips
If you have free time, you can use fresh apples rather than tinned. The best way to cook fresh apples is in a saucepan with a little bit of water, sugar, and cinnamon. It should take about ten minutes before the apples are tender and ready for use in the crumble recipe.
On the assumption that you're a bit of a sweet tooth, you can add even more sugar, but be careful as it can become very sickening fast.
Altering the apple crumble topping recipe can result in a massive change in flavors. You can try using muesli instead of oats or you can add some sunflower seeds. These are just a couple of examples of things that you can add to the topping mix.
If you're on a gluten-free diet, you can replace the flour with gluten-free flour and the rolled oats for corn flakes. However, be careful as some brands do put wheat into their corn flakes.
Nutrition Information
Serving Size: 271g (9.6 oz)
Servings Per Recipe: 4
Calories Per Serving: 369
Amount Per Serving
Saturated Fat: 5.4g
Trans Fat: 0g
Dietary Fiber: 8g
Sugars: 40g
Cholesterol: 16mg
Sodium: 76mg
Protein: 6g
The information above is an estimate generated by an online nutrition calculator.
More Tasty Apple Recipes
You can also cook an apple crisp in a slow cooker if you want to prepare it ahead of time so you can do other stuff while it cooks. Much like this recipe, it is straightforward to do, but you will probably want to use fresh apples instead.
If you're after a similar apple dessert recipe, then you should also take a look at the easy apple turnovers. These are sweet pockets of apple wrapped in puff pastry with cinnamon and a bit of sugar. Perfect for any apple lover or sweet tooth.
I hope that you love this easy apple crumble recipe as much as I do. If you have some suggestions that you wish to share, then feel free to leave us a comment in the comments section below.