Back to Recipe
Print Recipe
Easy Apple Crumble Recipe
---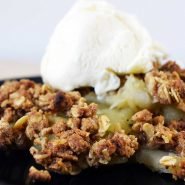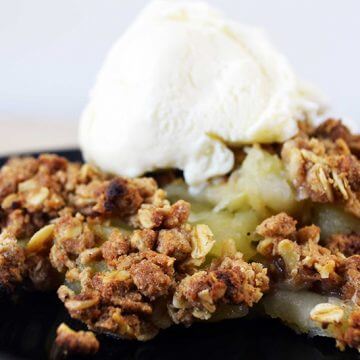 Prep time: 5 Minutes
Cook time: 20 Minutes
Total time: 25 Minutes
Serves: 4
Ingredients
60 g (2.1 oz) unsalted butter, softened
80 g (2.8 oz) brown sugar
60 g (2.1 oz) rolled oats
80 g (2.8 oz) plain flour
2 tsp cinnamon, ground
800 g (1.8 lb) cans of apple
---
Instructions
Preheat the oven to 180°C (350°F). Also, lightly grease an 8x8 baking dish.
Add the butter, brown sugar, oats, plain flour, and cinnamon into a bowl. Combine until it resembles large breadcrumbs.
Add the apple to the baking dish.
Lastly, add the topping over the apple.
Place into the oven and cook for approximately 20 minutes or until golden brown on top.
Serve & Enjoy.
---
Recipe Tips
If you have free time, you can use fresh apples rather than tinned. The best way to cook fresh apples is in a saucepan with a little bit of water, sugar, and cinnamon. It should take about ten minutes before the apples are tender and ready for use in the crumble recipe.
On the assumption that you're a bit of a sweet tooth, you can add even more sugar, but be careful as it can become very sickening fast.
Altering the apple crumble topping recipe can result in a massive change in flavors. You can try using muesli instead of oats or you can add some sunflower seeds. These are just a couple of examples of things that you can add to the topping mix.
If you're on a gluten-free diet, you can replace the flour with gluten-free flour and the rolled oats for corn flakes. However, be careful as some brands do put wheat into their corn flakes.
Did you make this recipe?
We want to see! Tag
@cookingperfected
on Instagram or use the hashtag
#cookingperfected
so we can find you!
---