This gluten-free apple crisp is the perfect fruity dessert. It goes fantastic with some ice cream or a dollop of double cream. It is also amazing just by itself.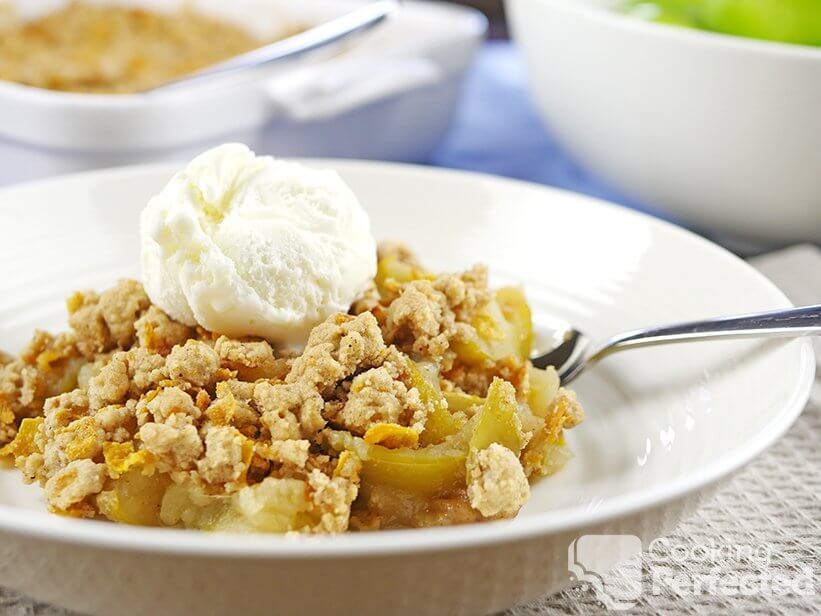 The filling of this apple crisp cooks to be deliciously tender and not too sweet. The topping will have a lovely crunch to it and compliment the apples without overpowering them.
A crisp is also known as a crumble in some countries. There are some very slight differences between the two, but they're essentially the same dessert.
This delicious dessert will feed about four people, but this depends on how hungry everyone is. I like to serve it with some accompaniments to help it go further.
Best Type of Apple to Use
You can use just about any type of apple in this tasty gluten-free dessert. I love using any apples that I might have lying around. Especially the ones that are starting to look like they're about to go bad.
If you're buying some apples specifically for this dish, then try getting some baking apples such as Jonagold, granny smith, or even McIntosh.
What to Serve with the Apple Crisp
Like most apple crisps, this dessert goes great with a wide range of delicious extras. Below are a couple of my favorites.
My personal favorite is to serve the apple crisp with a scoop of vanilla bean ice cream. It's the perfect blend and gets even better when the ice cream starts to melt.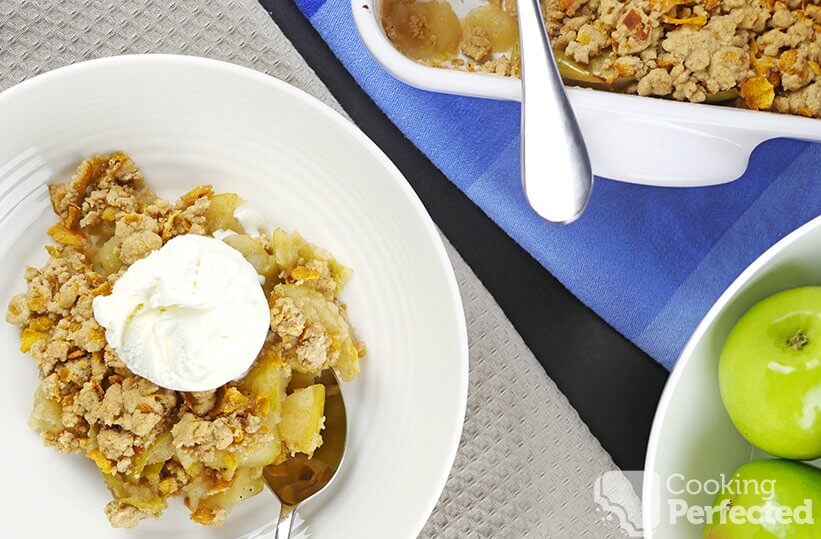 Homemade custard is pretty delicious poured over the top of this dessert. If you don't have the time, then a store-bought custard will work just as well.
The easiest but still tasty accompaniment is some cream from out of the carton. I like to drizzle it over the top of my apple crisp as it won't overpower anything and helps cut through a bit of the sweetness.
Tweaking the Recipe
A lot of other gluten-free apple crisp variations uses "gluten-free" oats, but for most people, these will still cause an upset. In this recipe, I use gluten-free cornflakes, which, from my experience, seem to be a great cost-effective crunchy replacement.
If you prefer to use a recipe that uses almond flour and no cornflakes, then there are some pretty good paleo-friendly apple crisps around.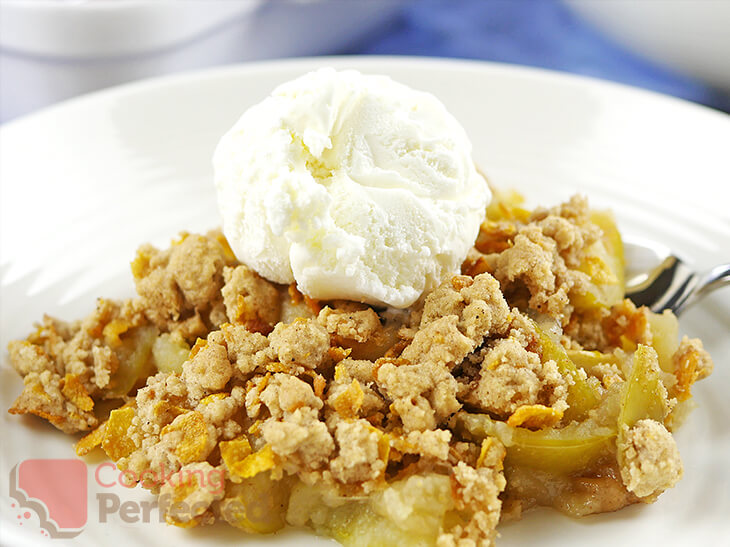 I also like to add some nuts into the topping for a bit of extra crunch. For example, you can add some chopped walnuts, almonds, macadamias, or a mix of different nuts.
Feel free to tweak the spices for a bit more flavor. However, be careful not to go overboard as spices such as cinnamon can quickly overpower all the other flavors.
Storing Leftovers
If you end up with any leftovers, make sure you keep them as they will reheat really well the next day. I personally love to eat the leftovers for breakfast as it makes for a delicious quick, and easy meal.
You can store the leftovers in either the fridge or freezer. If you keep them in the fridge, they should last for three to four days. Alternatively, the leftovers should last for six months in the freezer.
If you want to see how to make this gluten-free apple crisp, then be sure to check out the video below. It goes through every step to making this delicious apple crisp. You can find a full written recipe right underneath the video if that's what you prefer.
Gluten-Free Apple Crisp Recipe
Ingredients
8 apples, cut into chunks
1 tsp cinnamon, ground
2 Tbsp lemon juice
2 Tbsp water
Topping
Instructions
Preheat an oven to 180°C (350°F). Also, lightly grease an 8×8 baking dish.
Add the chopped apples to a pot with the cinnamon, lemon, and the water.
Cook over medium heat for 10 minutes or until the apples are tender.
Meanwhile, in a bowl, mix the butter, cinnamon, nutmeg, brown sugar, and gluten-free flour by using your fingertips.
Work the mixture until it resembles large breadcrumbs. Lastly, gently rub in the cornflakes.
Transfer the tender apple into the prepared baking dish.
Top the apple with the crumble mix and place it into the preheated oven.
Bake for 20 minutes or until the topping is golden brown.
Serve & Enjoy.
Recipe Tips
While corn doesn't contain any gluten, some brands of cornflakes do. If it's not labeled as gluten-free, then it's likely not. With that said, always double-check the ingredients to be sure as I have found some brands are gluten-free even though it's not advertised.
You can swap the cornflakes out for some chopped nuts. Something like macadamias, almonds, or even pecans would go well in the topping.
If you love your desserts being on the sweet side, then try adding a sweetener to the apple mix. Something like maple syrup or sugar will do the trick. Personally, I wouldn't add more than half a cup of sugar.
You can also swap the gluten-free plain flour for something like almond meal. You will get a very similar topping, but it will be a bit nuttier. It just comes down to personal preference.
You're able to use any type of apple in this apple crisp recipe. Still, as I mentioned above, if you want the best results, it's best to stick to something like Jonagold, or granny smith.
Nutrition Information
Serving Size: 334g (11.8 oz)
Servings Per Recipe: 4
Calories Per Serving: 821
Amount Per Serving
Saturated Fat: 22.1g
Trans Fat: 0g
Dietary Fiber: 12.7g
Sugars: 82.8g
Cholesterol: 92mg
Sodium: 312mg
Protein: 5.5g
The information above is an estimate generated by an online nutrition calculator.
More Gluten-Free Recipes
There are plenty of other gluten-free desserts that you can make. One of my favorites is a flourless orange cake. It bakes to be incredibly moist and has a lovely orange flavor to it. It is a must-try if you love citrus.
Another dessert that I reckon that you will like is apple and rhubarb crisp. It's very similar to this recipe, but the filling instead has a delicious amount of rhubarb in it. I highly recommend trying the recipe if you like rhubarb.
I hope you enjoy this gluten-free apple crisp as much as I do. If you have a variation or some feedback, then please don't hesitate to leave a comment below.