This gluten-free orange cake is deliciously rich and amazingly moist. It's a great way to use some oranges and is perfect for either a dessert, morning tea, or afternoon tea.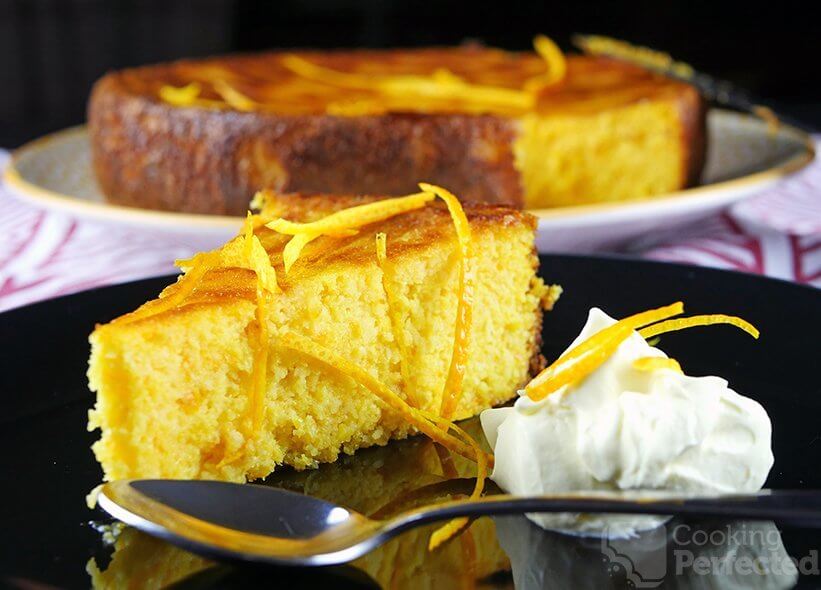 This cake is one of my personal favorite orange cake recipes, and I have been cooking it for years. It's also one of the most consistent recipes with excellent results every time.
It's an excellent cake to have after a delicious dinner or for an afternoon or morning tea. Sometimes there is leftover cake, and it's so good to eat for breakfast or a quick snack the next day.
You will find that this cake will feed roughly six people, but you might be able to feed more. It depends on how hungry they are.
What to Serve with this Orange Cake
I find this cake doesn't need syrup to compliment it and is excellent just by itself. With that said, if you feel like making an orange syrup to drizzle over the top, then I highly recommend trying it. Let me know how it goes if you decide to try it.
There is one thing this cake goes amazing with, and that is some whipped cream. If you prefer something sweeter, then you could have it with a scoop or two of ice cream. With all that said, I find it perfect without any extras.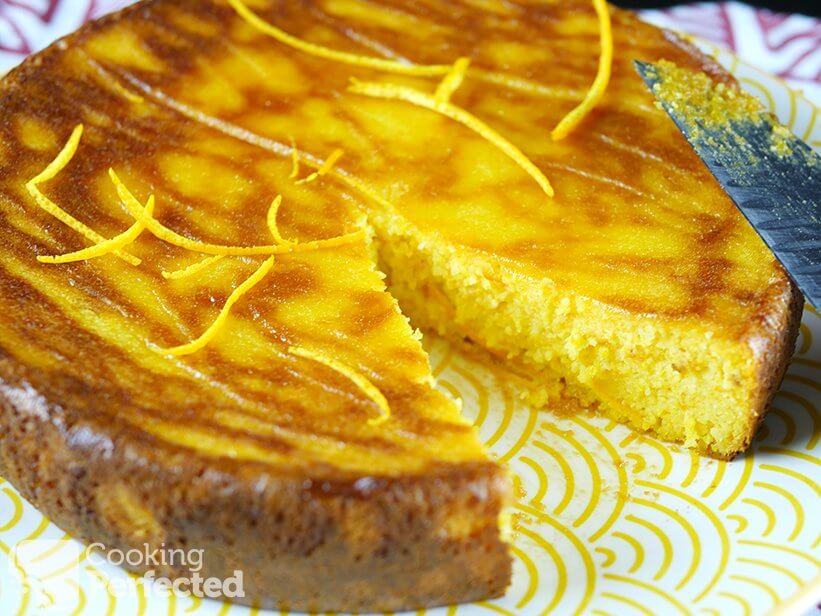 This delicious flourless orange cake also goes great with some freshly brewed tea or coffee. My personal favorite is to have a homemade cinnamon latte with this.
The orange peel in the photos is not essential and was merely put there for decorative purposes. Some candied orange peel will taste pretty great with this cake if you feel like making some.
Tweaking the Recipe
A great variation on this cake is to thinly slice an orange and place the orange slices on the bottom of the cake pan. Pour the cake mix over the top and bake. Once done, you're left with an incredible looking cake top. Add some demerara sugar to the orange slices if you would like them to be a bit sweeter.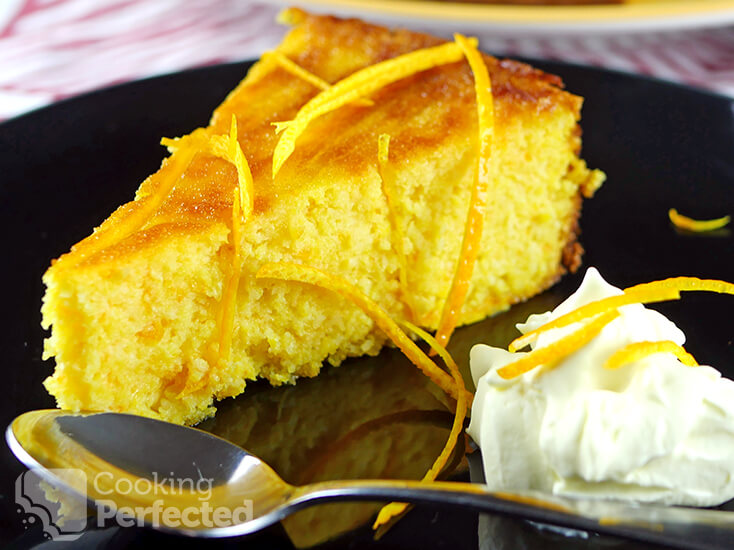 Once the cake has finished cooling down, you can sprinkle it with icing sugar or cocoa powder to decorate.
If you love watching videos, then be sure to check out the one below. It will take you through all the steps to getting this fantastic flourless orange cake made and ready for eating.
Gluten-Free Orange Cake Recipe
Ingredients
2 large oranges
5 large eggs
1 & ½ cups caster sugar
2 cups almond meal
¼ tsp bicarb soda
Instructions
First, place the oranges in a pot and fill with water. Boil until very soft (1-2 hours). Try to make sure the oranges remain covered with water.
Drain the water and blitz the oranges until they're like a puree. Put to the side and allow the puree to cool.
Preheat an oven to 180°C (350°F), also line a 25cm (10 inches) springform pan with baking paper.
In a mixer, whip together the caster sugar and egg until it's thick and pale.
Combine the almond meal and bicarb soda, then fold into the egg mixture with the orange mix.
Pour into the prepared cake tin and place into the preheated oven.
Bake for 1 hour or until a skewer comes out clean.
Serve & Enjoy
Recipe Tips
Beating the eggs is incredibly important when it comes to making this recipe. If you don't beat them for long enough, then you may find the cake will come out a bit flat.
With this orange and almond cake, I just blitz the oranges whole, I usually don't end up with any seed problems. However, if you have the time, I recommend removing the core and any seeds so you can get a smoother finish.
Almond meal is also known as almond flour or ground almonds.
If you don't have time to wait for the oranges to boil, you can cook them in a microwave instead. Simply prick them with a skewer all over and wrap in some paper towel. Cook in the microwave until they are nice and tender. It should take between five to fifteen minutes.
Caster sugar is also known as baker's sugar or superfine sugar.
Nutrition Information
Serving Size: 185g (6.5 oz)
Servings Per Recipe: 6
Calories Per Serving: 459
Amount Per Serving
Saturated Fat: 2.5g
Trans Fat: 0g
Total Carbohydrate: 64.3g
Dietary Fiber: 5.4g
Sugars: 57.4g
Cholesterol: 155mg
Sodium: 59mg
Protein: 12.5g
The information above is an estimate generated by an online nutrition calculator.
More Gluten-Free Desserts
If you're not really feeling like eating orange cake, there are a ton of other gluten-free desserts that you should try.
One of my personal favorites is the sticky date pudding, it's deliciously gooey. It has a fantastic caramel sauce to go with it and goes perfect with a scoop or two of ice cream.
Another cake that you must try is the chocolate fudge cake. Like this cake, it too is gluten-free and cooks to be amazingly moist. It's a pretty dangerous cake as it's really hard to stop eating.
I hope you enjoy this gluten-free orange cake as much as I did. If you have any thoughts, suggestions, or anything else that you would love to share, then please don't hesitate to leave a comment below.