This gluten-free chocolate fudge cake is moist and has that rich chocolate flavor we all know and love. You will love this recipe if you're a massive fan of chocolate.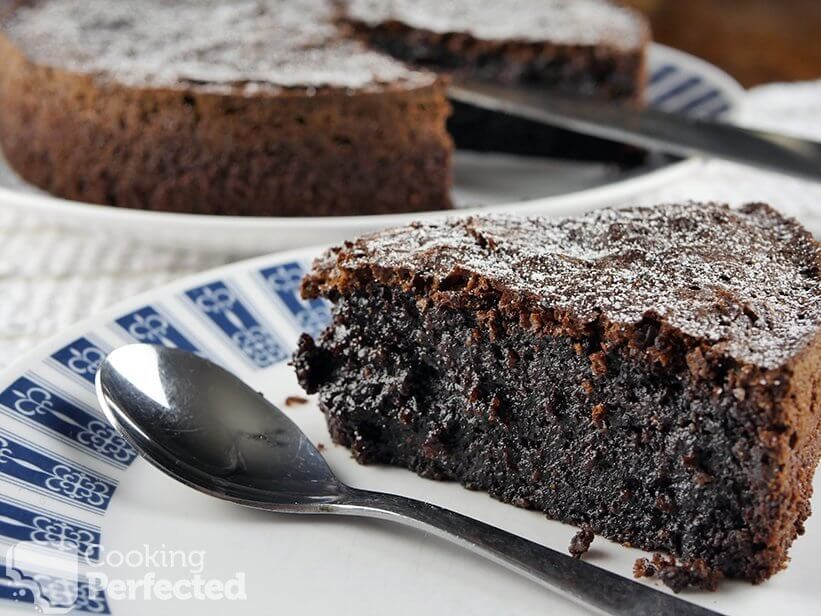 You don't need large pieces of this fudge cake to feel satisfied. It also means you can probably feed more people out of a single cake when compared to some other chocolate cake recipes.
The leftovers of this cake are as good as when the cake was fresh out of the oven. Simply store in the fridge and eat whenever you're feeling a little peckish. The leftovers are great for lunch the next day. They're even great as a bit of a sweet breakfast.
This cake will feed roughly six people, but you might be able to feed more. It depends on how large you cut the slices and how hungry everyone is.
What to Serve with this Chocolate Fudge Cake
The richness of this fudge cake might be too much for some people. If you find yourself thinking this is a bit too rich for your liking, then a dollop of fresh cream really helps.
A light dusting of icing sugar is also an excellent addition to this cake. It adds a touch of sweetness and makes it look great. Try not to add too much icing sugar as it could detract from the flavors of the cake.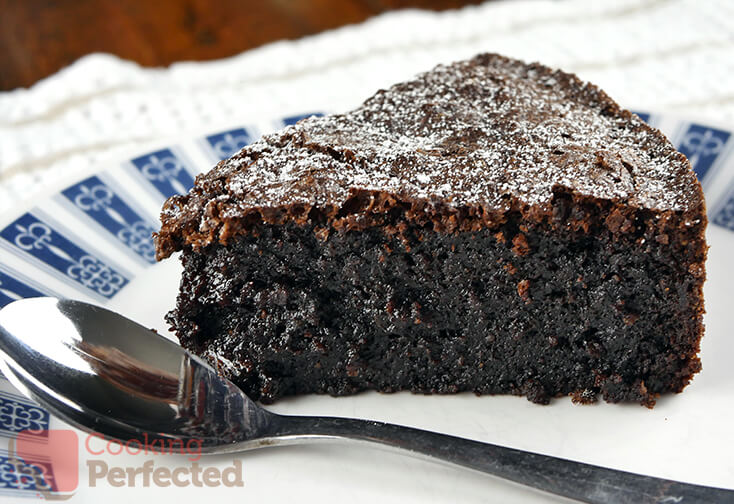 You could make a chocolate ganache to go over the top of this cake. A ganache adds a rich chocolate layer and will hide any defects with the cake, such as cracking. I think the cake is rich enough without it, so unless you really love chocolate, I recommend sticking to the original recipe.
My last suggestion is serving this delicious cake with a scoop or two of vanilla bean ice cream. If you want to go one step further, then a rich chocolate fudge ice cream is pretty amazing alongside this cake.
You can find the full recipe for this gluten-free chocolate fudge cake right below. If you love this recipe and would like more, then please don't forget to follow us on social or sign up to our mailing list.
Gluten-Free Chocolate Fudge Cake Recipe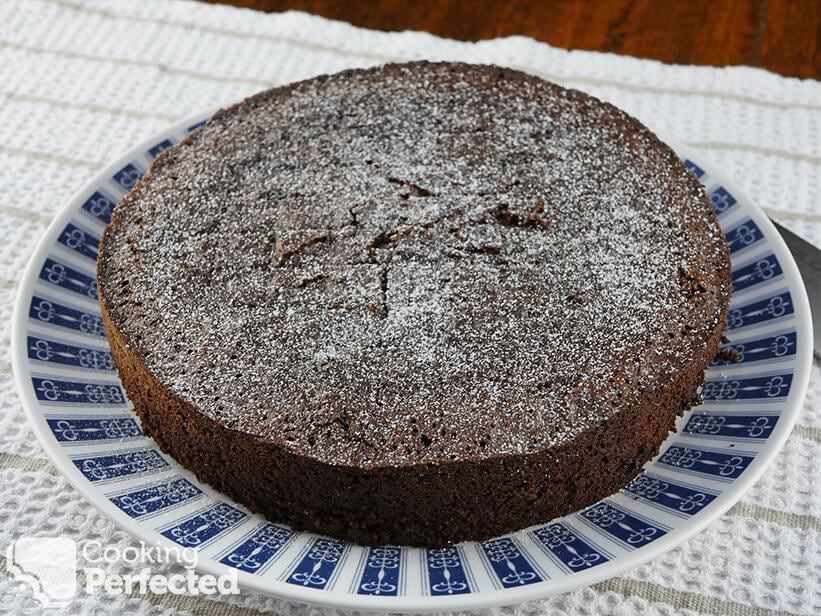 Ingredients
1/3 cup cocoa powder
1/3 cup hot water
1 cup brown sugar
1 cup ground almonds
150 g (5.3 oz) dark chocolate, melted
150 g (5.3 oz) unsalted butter, melted
4 eggs, separated
Instructions
Preheat an oven to 160°C (320°F).
Grease and line 19cm (7.5 in) cake tin.
Combine the cocoa powder and hot water in a large bowl, stir until smooth.
Add the melted chocolate, butter, sugar, ground almonds, and stir until combined.
Stir in the egg yolks one by one.
In another bowl, beat egg whites until soft peaks form.
Fold the egg whites into the chocolate mixture in two batches.
Spread the cake mixture into the prepared cake tin.
Bake in the oven for 1 hour and 15 minutes or until the cake is firm.
Cool in the pan.
Serve & Enjoy.
Recipe Tips
The best way to tell if the gluten-free chocolate fudge cake is cooked is to see how much the cake has firmed up. It should hardly wobble, and a skewer should come out mostly clean.
Melting the butter and chocolate is best done in either a microwave or in a double boiler. The easiest method is to use the microwave.
Dark chocolate can be swapped out for milk chocolate. Using milk chocolate will make the cake slightly sweeter.
Ground almonds are also known as almond flour or almond meal. Any of these will work perfectly in this recipe.
The most important part of this recipe is folding the egg whites into the chocolate mix. Try to do this method as gently as possible as you don't want to knock too much air out of the egg whites.
Nutrition Information
Serving Size: 145g (5.1 oz)
Servings Per Recipe: 6
Calories Per Serving: 544
Amount Per Serving
Saturated Fat: 15.4g
Trans Fat: 0g
Dietary Fiber: 5g
Sugars: 45g
Cholesterol: 27mg
Sodium: 124mg
Protein: 10g
The information above is an estimate generated by an online nutrition calculator.
More Gluten-Free Cakes
If you can't get enough chocolate, then you should check out some of the other gluten-free recipes you can do. The self-saucing chocolate pudding is certainly a dish that you will love if you like rich desserts.
Another delicious gluten-free cake that you need to try is the flourless orange cake. It has lovely citrus flavors and is amazing with a dollop of cream.
I hope that you enjoy this gluten-free chocolate fudge cake recipe. If you have some feedback, tips, or something else that you would like to say, then please don't hesitate to leave a comment below.