This gluten-free chocolate cheesecake is one of the creamiest and tastiest cheesecakes that you will ever try. It has a tasty coconut base that just really goes well with the creamy chocolate filling.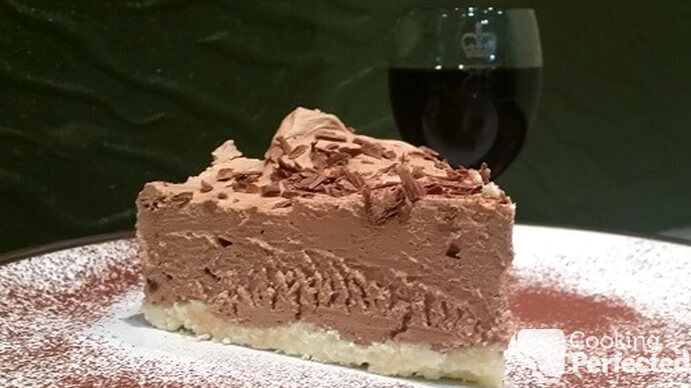 When you go to take a bite out of this gluten-free cheesecake, you will be greeted with a smooth chocolate cheese and a slight bit of coconut from the base. It's a match made in heaven and can be dangerously addictive.
One of the best things that I like about this recipe is that it's not a baked cheesecake. Not being baked means it's really easy to make and pretty hard to get wrong to the point it's inedible.
Adjusting the Recipe
There are some slight changes that you can make to the recipe, so I will just quickly go through a couple of ideas of what you can do.
If you don't like coconut, then you might want to consider changing the base to something else. If you don't mind spending a bit more time in the kitchen, then a gluten-free almond crust will work pretty well.
You can adjust the type of chocolate that you're using for a slightly different flavor. To take away some of the sweetness, you can use dark chocolate instead. It's a small change but will cause a big difference in flavor.
Some spice can be added if you wish to change the flavors of this recipe radically. For example, a teaspoon of cinnamon will add a delicious cinnamon flavor throughout the chocolate.
Of course, there are lots more changes that you can make to the recipe, so if you have any ideas, then we will love to hear them.
How long will the Cheesecake Last
You can keep this cheesecake in the fridge for roughly three days, maybe a bit longer. The best thing is that it won't go stale or require reheating. It will taste just as good as when you first made it even the next day.
If you're ready to make this delicious chocolate cheesecake, then you can find the full written recipe right below.
Gluten-Free Chocolate Cheesecake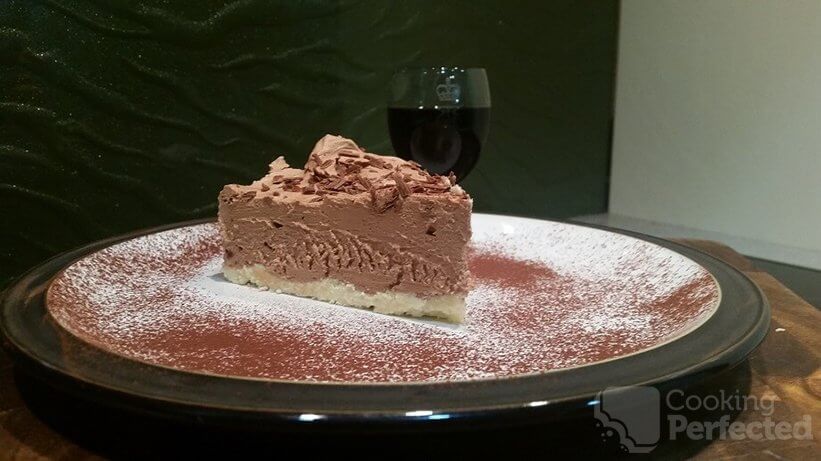 Ingredients
Base:
150 g (5.3 oz) unsalted butter, melted
1 cup desiccated coconut
2 Tbsp caster sugar
1/2 cup gluten-free cornstarch
1/4 cup milk
Filling
250 g (8.8 oz) milk chocolate, melted and cooled slightly
1 & 1/2 cups heavy cream
500 g (1.1 lb) cream cheese, softened
1/4 cup caster sugar
2 & 1/2 tsp gelatin, dissolved in 1/4 cup boiling water.
Instructions
Base:
 Mix the butter, coconut, sugar, cornstarch, and milk in a bowl until well combined.
Filling:
Begin melting your chocolate either in the microwave or a double boiler, and you want this to be nice and melted before you get to step four.
Softly whip the cream and put it to the side.
Beat the cream cheese and sugar with an electric mixer until smooth.
Add both the dissolved gelatin and chocolate and mix until combined.
Fold through the whipped cream into the filling.
Pour the mixture evenly over the prepared base and chill for 2 hours or until the filling is set.
Serve & Enjoy.
Recipe Tips
Make sure the cream cheese is at room temperature before trying to make this dish as it can cause consistency issues such as lumps of plain cream cheese throughout your cake.
You can use a combination of both milk and dark chocolate for a slightly different flavor. It will help take away a little bit of the sweetness.
Nutrition Information
Serving Size: 184g (6.5 oz)
Servings Per Recipe: 8
Calories Per Serving: 834
Amount Per Serving
Saturated Fat: 49.4g
Trans Fat: 0g
Total Carbohydrate: 44.3g
Dietary Fiber: 6.7g
Sugars: 29.1g
Cholesterol: 125mg
Sodium: 356mg
Protein: 14.3g
The information above is an estimate generated by an online nutrition calculator.
More Gluten-Free Recipes Worth Making
There are so many gluten-free desserts that you're able to make. From simple cakes right through to custards, apple crisps, and so much more. One of the best things about modern gluten-free ingredients is how well they're able to replicate gluten products.
A dessert that is one of my all-time favorites is the apple crisp. Traditionally it isn't coeliac friendly, but with a few changes, you get one super delicious dessert. I highly recommend making it if you love apples.
For something a little sweeter, I recommend making the chocolate fudge cake. It's rich, moist, and incredibly addictive. I can never hold myself back from having seconds whenever I make it.
I hope that you love this gluten-free chocolate cake as much as I do. If you have any feedback or a variation that you would love to share on it, then be sure to leave a comment below.