This gluten-free almond flour pie crust is perfect for a delicious dessert. It's super easy to make and won't take too much time to prepare quickly. Once made, all you need is a delicious filling to pour into this tasty pie crust.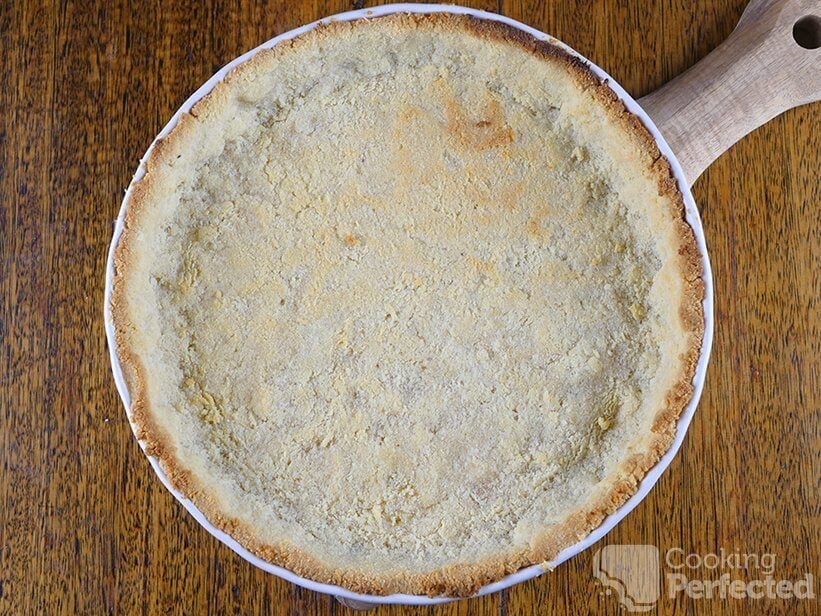 You can use this pie crust for both sweet and savory dishes. If you're using it for savory, I recommend leaving the sugar out of the crust. Also, replacing the coconut with something like cornstarch might be a good idea.
This pie crust works pretty well as a gluten-free base for slices and cheesecakes. For example, you could use this recipe for the base in some lemon bars or chocolate cheesecake.
A single batch of this dough will make roughly one pie crust. However, this can heavily depend on how large your pie tin is. For me, it made enough for a 20cm (8 in) pie tin.
Achieving the Best Possible Pie Crust
Blind baking is a must for this pie crust as you will need to make sure the egg is cooked, and the crust is strengthened. It's good practice to use pie weights to help the pie crust keep its shape.
You can prepare this almond flour pie crust a day or two ahead of when you need it. However, with that said, I recommend that you prepare and bake it fresh.
Since we're not relying on gluten products, the almond pie dough will not roll out very well. Instead, I recommend pressing it into the pie tin, you will want it to be roughly half a centimeter (0.19 in) thick.
Unlike the coconut pie crust, this crust can be quite thin and still retain its shape and strength. It's perfect if you need an excellent thin base that will still hold a filling quite well.
Gluten-Free Almond Flour Pie Crust Recipe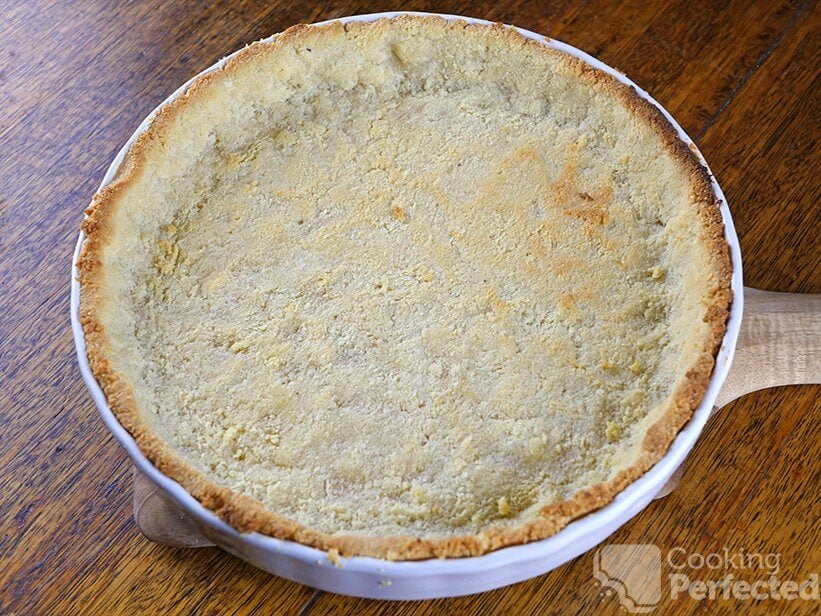 Ingredients
200 g (7.1 oz) almond flour
45 g (1.6 oz) desiccated coconut
1 Tbsp caster sugar
1 egg
85 g (3 oz) unsalted butter, melted
Instructions
Preheat an oven to 190°C (375°F).
Lightly grease a pie tin.
Mix all the ingredients in a bowl. It should come together to be one ball of mixture.
Press the almond flour pie crust mixture into the tin.
Gently prick the pie crust.
Lay some baking paper over the top and pour in some pie weights.
Bake for 10-15 minutes or until lightly golden.
Use the almond pie crust as required.
Recipe Tips
As I mentioned above, you can leave the caster sugar out if you want to use this crust for a savory dish.
Coconut can be substituted with another ingredient if you're not a fan of the taste of coconut. Something like cornstarch or flaxseed is the perfect substitute.
If the pie mixture is looking too wet, then add a bit more almond flour. Be very careful as you don't want to make it too dry.
Almond flour is also known as ground almonds or almond meal. All of these ingredients will work in this recipe.
Keep an eye on the pie when it is blind baking. Doing this will help make sure you avoid burning the pie crust.
Caster sugar is also known as baker's sugar or superfine sugar. These sugars are ideal for baked goods.
Nutrition Information
Serving Size: 45g (1.6 oz)
Servings Per Recipe: 8
Calories Per Serving: 251
Amount Per Serving
Saturated Fat: 7.9g
Trans Fat: 0.4g
Dietary Fiber: 3g
Sugars: 2g
Cholesterol: 43mg
Sodium: 10mg
Protein: 6g
The information above is an estimate generated by an online nutrition calculator.
Pie Fillings for this Almond Pie Crust
There are so many pie fillings that you can add to this pie crust. One of my favorites is a gluten-free key lime pie. It tastes as good as it looks. It's the perfect gluten-free dessert to impress your friends and family.
Another filling that you should try is a chicken pot pie. This pastry will work perfectly as a crust on top. Of course, you don't get that lovely fluffy texture of puff pastry, but it's still delicious.
I hope that this gluten-free almond flour pie crust bakes to be as great as it was for me. If you have any feedback, tips, or anything else, then please feel free to let me know.