This gorgeous gluten-free key lime pie is an absolute must-try. The filling is creamy and has that lovely zesty lime flavor you expect with this delicious dessert.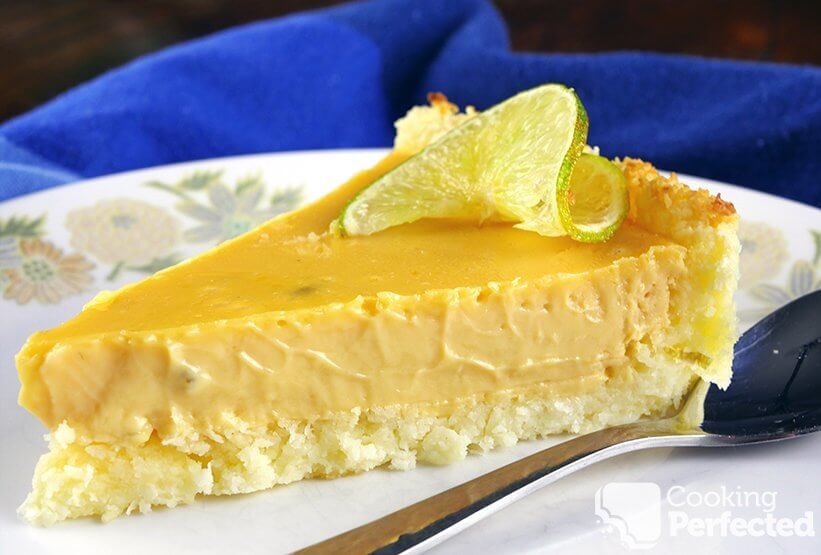 Key lime pie is an American dessert that is a much-loved classic. It has a rich, creamy filling that is made of key lime juice, sweetened condensed milk, and egg yolks.
This recipe is a slight alteration on the classic as it also uses cream and just regular limes. However, feel free to use key limes if you can get them.
If you want to keep this pie as authentic as possible, then try and source some key limes. If you're unable to, then ordinary limes will suffice. You do a lose a bit of flavor, but this dish is still delicious.
Adjusting this Recipe
To go one step further with this dessert, try adding a meringue topping. Making a meringue complicates the recipe quite a bit, but is certainly worth it. You will need to bake the meringue for the best results.
Modern variations can also have a whipped cream topping instead of meringue. Add the whipped cream once the pie has cooled completely. Personally, I found this just fine without any topping.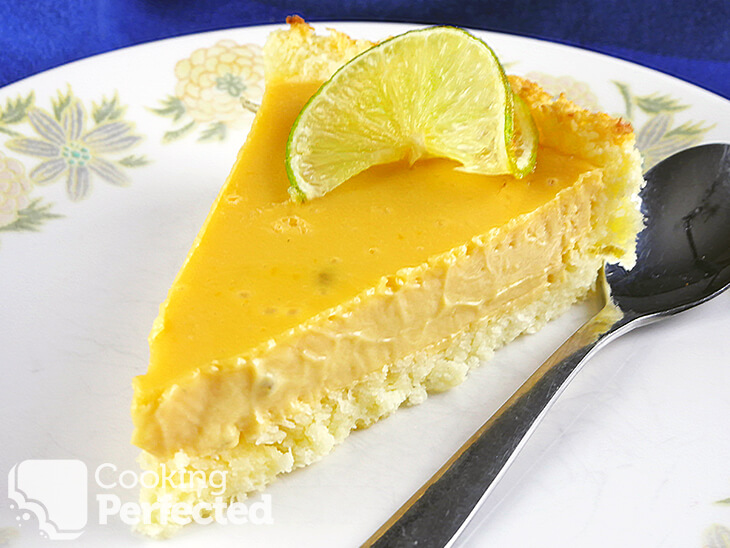 The reaction between the ingredients of the pie filling will have it set without any baking. However, due to the risks of consuming raw eggs, it is recommended that you bake it slightly for a short amount of time. Baking also ensures a much firmer filling.
If you're ready to make this incredible key lime pie, then you can find the full recipe right below. It will take you through everything you need to know about this recipe.
Gluten-Free Key Lime Pie Recipe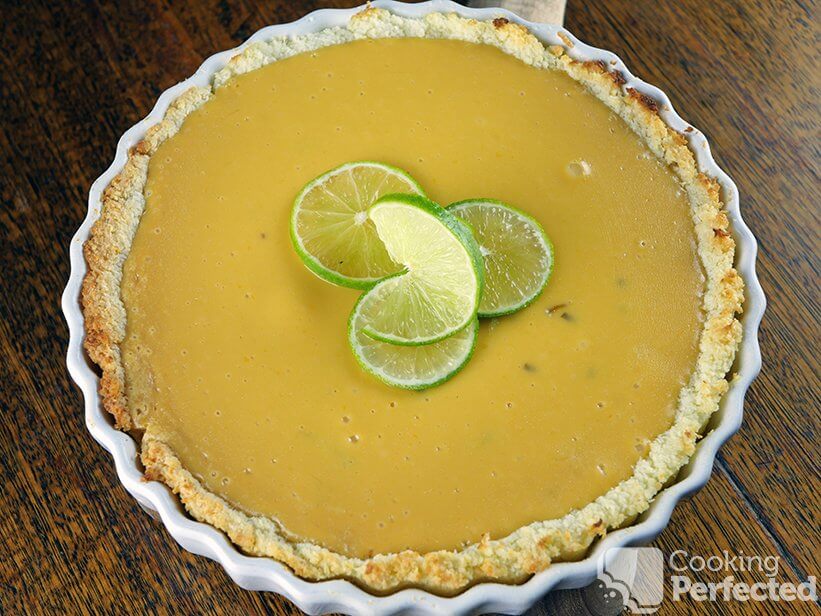 Ingredients
Pie Crust
Filling
4 egg yolks, lightly beaten
395 g (13.9 oz) can sweetened condensed milk
1 cup heavy cream
1/2 cup lime juice
1 tsp lime zest
Instructions
Preheat an oven to 170°C (340°F).
Whisk together the eggs, sweetened condensed milk, lime zest, heavy cream, and lime juice until smooth.
Pour the mixture into the pie crust and bake for 30 minutes or until set.
Allow to cool completely. This is best done in a fridge.
Serve & Enjoy.
Recipe Tips
This gluten-free key lime pie works excellent with either the coconut or almond pie crust. I have tried both, and I would lean towards using the almond crust for this pie.
For the best results, I recommend using fresh lime juice, but if you're unable to get your hands on some, then bottled will work just fine.
The pie filling will continue to cook for a while after being removed from the oven. So, don't stress too much if it looks slightly runny when you pull it out of the oven.
If you don't have enough time, then you can always buy a pre-made gluten-free pie crust. These can be difficult to find, but a specialty gluten-free shop should stock them.
Heavy cream is also known as thickened cream in Australia or double cream in the United Kingdom.
Nutrition Information
Serving Size: 103g (3.6 oz)
Servings Per Recipe: 8
Calories Per Serving: 293
Amount Per Serving
Saturated Fat: 10.4g
Trans Fat: 0g
Dietary Fiber: 0g
Sugars: 28g
Cholesterol: 150mg
Sodium: 78mg
Protein: 6g
The information above is an estimate generated by an online nutrition calculator.
More Gluten-Free Dessert Recipes
This pie is just one of the many gluten-free desserts that you're able to bake. Below are some more delicious desserts that you can do.
If you're looking for something a little less fruity, then take a look at something like the chocolate self-saucing pudding. It's as good as it sounds, and it is surprisingly easy to make.
One of my favorite cakes to make is the gluten-free orange cake. It has some lovely citrus flavors and is completely flourless. I highly recommend giving it a try if you love oranges.
I hope that this recipe has been able to guide you through all the steps to making an incredible gluten-free key lime pie. If you have any feedback, thoughts, tips, or anything else, then please don't hesitate to leave a comment below.