This three-ingredient easy chocolate fudge is perfect if you want to make a delicious snack.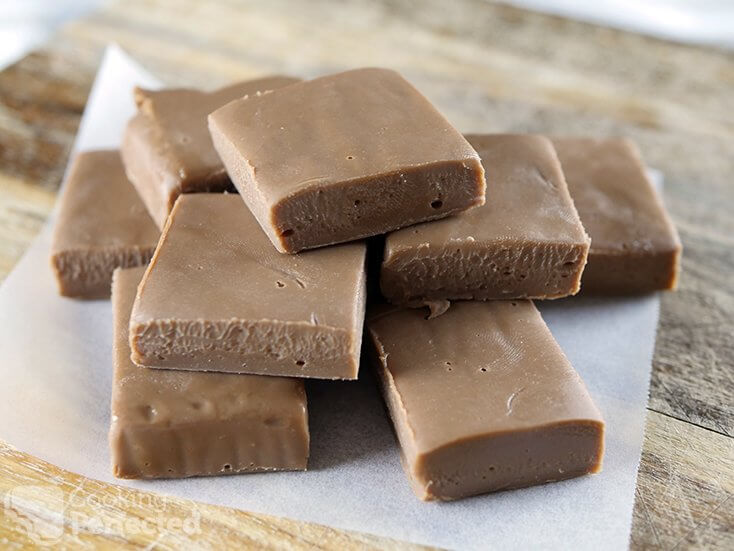 This fudge is surprisingly simple to make and tastes amazing. It is also cheap to make as it only needs three ingredients that you can easily pick up for under ten dollars at the local store.
The chocolate fudge is gluten-free, so if you have a gluten intolerance or are coeliac, this is perfect for you. If you add any extra ingredients, you may want to double-check that they are gluten-free too.
As you can imagine, this fudge is excellent for a platter at a party or as a treat in a kid's lunchbox. I personally love keeping some in the fridge for when I am feeling a little hungry. It is an easy snack that will please any sweet tooth.
You will get roughly twenty-four bite-sized pieces out of a single batch of this recipe. You can easily double or triple the recipe if you need more.
Personalizing the Chocolate Fudge
There are lots of ways that you can personalize this fudge without radically changing the recipe. Below are a couple of ideas on what you can do.
A popular addition for any fudge is adding ingredients such as M&Ms into the mixture. It is a great way to add a bit of color, flavor, and crunch. I highly recommend adding some if you are making the fudge for some kids.
You can easily add some extra flavors by using an essence. For example, if you love a slight hint of vanilla, you can add one teaspoon of vanilla essence or vanilla bean paste. Peppermint extract is another great flavor to add to the fudge.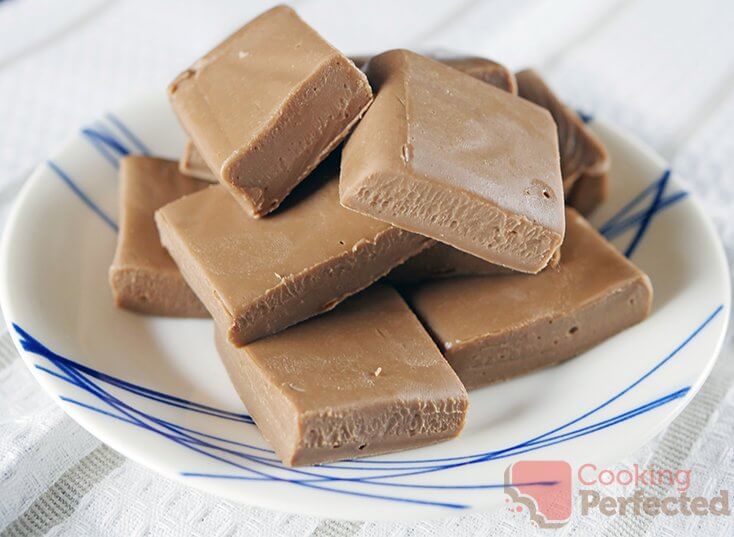 Chopped nuts are a great way to add a bit of crunch and flavor into the fudge. My favorite is some chopped hazelnuts, but sliced almonds or chopped pecans will work rather good too. You should only need half a cup of nuts.
If you want to see how to make this chocolate fudge, then be sure to check out the video below. It goes through all the steps to getting it prepared, cooked, and cooling in the fridge. If you love the video, then be sure to subscribe.
Easy Chocolate Fudge Recipe
Ingredients
400 g (14.1 oz) chocolate chips
30 g (1.1 oz) unsalted butter
400 g (14.1 oz) can sweetened condensed milk
Instructions
Grease an 8×8 square pan with melted butter. You can also line it with non-stick baking paper to help ensure easy removal.
Place the chocolate chips, butter, and condensed milk in a microwavable bowl.
Microwave in 1-minute intervals and stir between the breaks. Repeat until well combined and melted, roughly 3 minutes.
Pour into the prepared pan.
Place in the fridge for a minimum of 2 hours.
Once set, cut into squares.
Store in an airtight container in the fridge until needed.
Recipe Tips
There are a ton of variations that you can do on this recipe. One of my favorite changes is adding some chopped nuts. You will find half a cup should be more than enough. Almonds or walnuts are the two most popular additions.
You can also cook this fudge on the stove. Just place everything in a pot and cook over low heat. Make sure you continuously stir to stop the chocolate and milk from burning. Once melted, pour into the prepared tray.
It does not matter what type of chocolate you use for this recipe. I stick to milk chocolate, but something like dark chocolate will work just as well.
Nutrition Information
Serving Size: 40g (1.4 oz)
Servings Per Recipe: 24
Calories Per Serving: 184
Amount Per Serving
Saturated Fat: 7g
Trans Fat: 0g
Dietary Fiber: 3g
Sugars: 12g
Cholesterol: 9mg
Sodium: 38mg
Protein: 4g
The information above is an estimate generated by an online nutrition calculator.
More Chocolate Recipes
If you really love chocolate, then be sure to check out some of my other recipes. Both of the suggestions below are fantastic dessert recipes and go amazing with some ice cream.
The chocolate mug brownie is one of the easiest sweets that you can make. All you need is a mug and a few ingredients. The result is a rich chocolate dessert that goes perfect with a dollop of cream.
I also love making self-saucing chocolate pudding for dessert. It bakes to be an amazingly fluffy cake that is drenched in a rich chocolate sauce. If you are looking for a crowd-pleaser, you must give this one a try.
I hope this three-ingredient easy chocolate fudge recipe worked out alright for you. If you do come across any issues, have a variation, or feedback, then please do not hesitate to leave a comment below.