These tasty nachos are incredibly delicious and super easy to make. I highly recommend giving them a try for your next party, movie night, or relaxed dinner.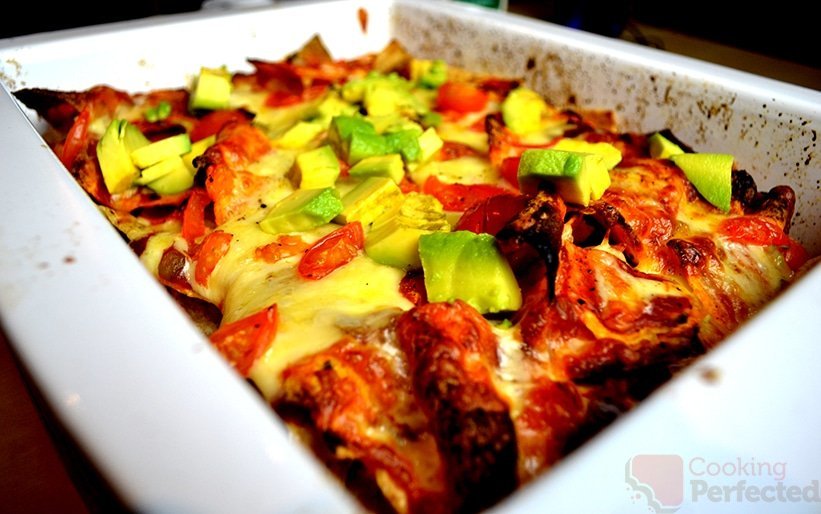 These nachos cook to be incredibly cheesy and loaded with flavor. It's the perfect dish to cook for your next movie night or if you just want to feed a crowd.
For those who don't know, nachos are a dish that originated out of Mexico. Traditionally it is just tortilla chips covered with a cheese-based sauce. However, this recipe will be doing a variant that makes use of refried beans, salsa, and some ground beef.
A single batch of these nachos will feed roughly two to four people. Still, it really heavily depends on how hungry everyone is. You can make some side dishes to feed even more people.
Tweaking the Recipe
If you're not a fan of ground beef, you can omit it from the recipe or replace it with different meat such as shredded chicken, pulled beef, or pulled pork. You can leave the meat out entirely if you would prefer to not have any meat in there at all.
The refried beans are optional, so if you're not a huge fan, then simply leave them out. I do highly recommend adding them as they do add a lot more flavor to the nachos.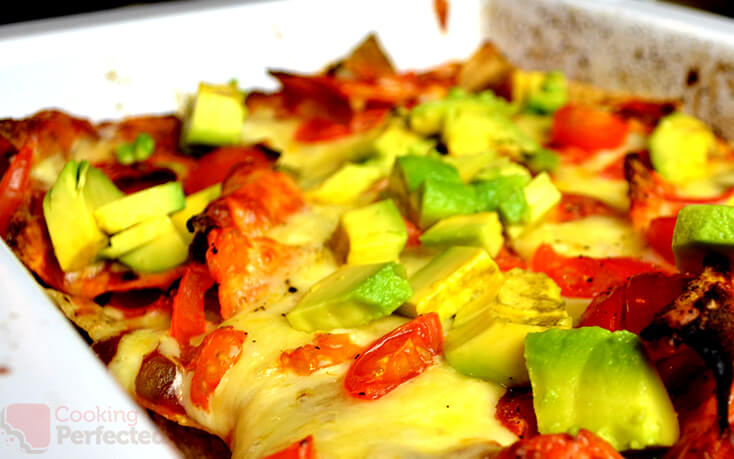 Jalapeno peppers can be added into the beef mixture for a bit of extra spice and flavor. I recommend adding them after you have finished cooking the ground beef.
Keep an eye on the nachos while they're in the oven as the corn chips might start to burn. If the corn chips are burning, then simply remove from the oven early.
What to Serve with Nachos
Typically nachos are great without the need for anything extra, but if you're feeding a large crowd you might need more. Below are a couple of ideas of some side dishes.
Some delicious garlic bread is the perfect side dish to nachos. It's super easy to prepare the garlic bread, and you can cook it at the same time as the nachos. I highly recommend giving it a try.
There are a lot of extra condiments that go perfectly with nachos. For example, homemade tomato salsa, guacamole, or refried beans go perfectly with the rest of the ingredients in the nachos.
You can make these nachos as a side dish and have it alongside a main meal such as sloppy joes, tacos, chili con carne, and much more.
If you like to see how to make recipes, then the video below will take you through all the steps to making these deliciously easy nachos.
Easy Nachos Recipe
Ingredients
250 g (8.8 oz) ground beef
15 g (0.5 oz) taco seasoning
200 g (7.1 oz) refried beans
150 g (5.3 oz) salsa
150 g (5.3 oz) cheese
200 g (7.1 oz) corn chips
Optional
Instructions
Preheat the oven to 220°C (430°F).
Heat a pan over medium-high heat and add a splash of oil.
Add the ground beef to the pan and cook till it is lightly brown.
Next, add taco seasoning and mix well.
Add refried beans to the mix and add a little bit of water to help loosen the refried bean mix.
Remove from the stove once boiling and thick.
On a greased oven tray, add a layer of corn chips.
Next, add a layer of the beef mixture.
Add a layer of salsa onto the top of the other layers.
Optional: Finally, top with cheese and cherry tomatoes.
Place in preheated oven and cook for 10-15 minutes or until the cheese is melted and starting to brown.
Serve & Enjoy.
Recipe Tips
If you need to make the nachos in a real rush, you can use a microwave, but this will probably result in soggy corn chips and may not taste nearly as good.
If you don't have any taco seasoning in the cupboard, then you can make some from scratch.
Homemade nachos are not only great tasting, but you have the freedom to change it to whatever you like best. Experiment and work out what combination of flavors work best for you.
Check out the easy guacamole recipe if you're looking for some yummy guacamole to go with this nachos recipe.
If you're running low on corn chips but have some extra tortillas, you can use my easy homemade tortilla chips recipe to make some. They don't take very long at all and taste just as good as the bought corn chips.
Nutrition Information
Serving Size: 241g (8.5 oz)
Servings Per Recipe: 4
Calories Per Serving: 592
Amount Per Serving
Saturated Fat: 11.7g
Trans Fat: 0.3g
Total Carbohydrate: 42.7g
Dietary Fiber: 5.9g
Sugars: 2g
Cholesterol: 100mg
Sodium: 974mg
Protein: 35.1g
The information above is an estimate generated by an online nutrition calculator.
More Delicious Recipes
There are lots more recipes that I can recommend making, so below are a couple of my favorites.
You have got to give Sloppy joes a try as they're loaded with flavor and super easy to make. It's the perfect easy meal when you don't have much time but want something delicious and fulfilling.
Another dish that's great if you're feeling a little lazy or don't have much time is the lazy lasagna. It's super easy to make, and the end result is very similar to regular lasagna. I highly recommend giving it a try if you love tasty meals.
If you have any tips or improvements on this easy nachos recipe, then feel free to leave a comment below. If you do like our recipes, then be sure to follow us on any of the major social networks!