Back to Recipe
Print Recipe
Easy Nachos Recipe
---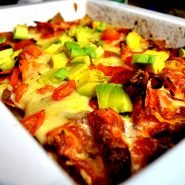 Prep time: 15 Minutes
Cook time: 15 Minutes
Total time: 30 Minutes
Serves: 4
Ingredients
250 g (8.8 oz) ground beef
15 g (0.5 oz) taco seasoning
200 g (7.1 oz) refried beans
150 g (5.3 oz) salsa
150 g (5.3 oz) cheese
200 g (7.1 oz) corn chips
Optional
---
Instructions
Preheat the oven to 220°C (430°F).
Heat a pan over medium-high heat and add a splash of oil.
Add the ground beef to the pan and cook till it is lightly brown.
Next, add taco seasoning and mix well.
Add refried beans to the mix and add a little bit of water to help loosen the refried bean mix.
Remove from the stove once boiling and thick.
On a greased oven tray, add a layer of corn chips.
Next, add a layer of the beef mixture.
Add a layer of salsa onto the top of the other layers.
Optional: Finally, top with cheese and cherry tomatoes.
Place in preheated oven and cook for 10-15 minutes or until the cheese is melted and starting to brown.
Serve & Enjoy.
---
Recipe Tips
If you need to make the nachos in a real rush, you can use a microwave, but this will probably result in soggy corn chips and may not taste nearly as good.
If you don't have any taco seasoning in the cupboard, then you can make some from scratch.
Homemade nachos are not only great tasting, but you have the freedom to change it to whatever you like best. Experiment and work out what combination of flavors work best for you.
Check out the easy guacamole recipe if you're looking for some yummy guacamole to go with this nachos recipe.
If you're running low on corn chips but have some extra tortillas, you can use my easy homemade tortilla chips recipe to make some. They don't take very long at all and taste just as good as the bought corn chips.
Did you make this recipe?
We want to see! Tag
@cookingperfected
on Instagram or use the hashtag
#cookingperfected
so we can find you!
---