This lazy lasagna is the next best thing to the actual thing as it takes a fraction of the time and still tastes delicious.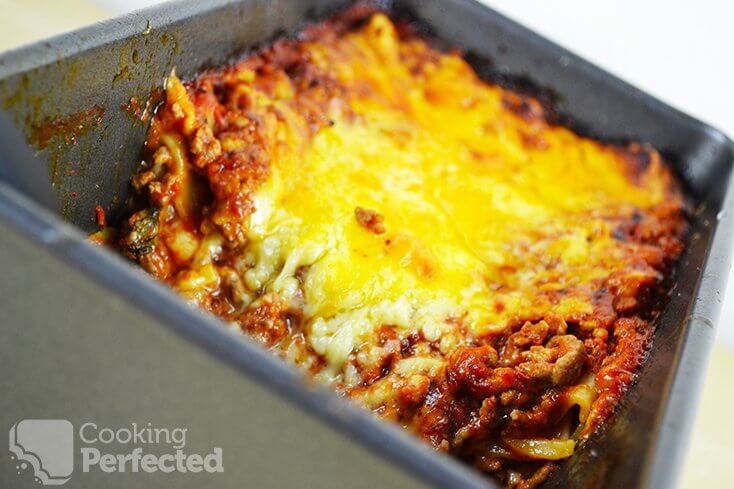 I experimented a little with this recipe because while I loved traditional lasagna, the time it takes to make is just too long for when you want to be a bit lazy.
This dish is sometimes called lazy man lasagna or lazy mom's lasagna. While recipes will vary, they all have the same goal, and that is to make the easiest lasagna possible.
A few tweaks here and there, I was able to shorten the time it took to make this dish considerably but still retain that yummy lasagna taste and texture. It is the perfect easy pasta dish that can feed quite a few people.
To make this recipe gluten-free, simply either make some gluten-free lasagna sheets or buy some from your local supermarket. Either option will result in one super tasty lasagna.
Side Dishes to have with Lasagna
Below are some ideas on how you can serve this delicious lasagna.
The first thing I think of when it comes to side dishes for lasagna is garlic bread. You can buy garlic bread from the supermarket, but I love to make some homemade garlic bread as I think it tastes the best.
A simple salad always works nicely with lasagna. My personal favorite is a combination of lettuce, cherry tomatoes, avocado, and cucumber. However, any salad will work nicely, even taco salad.
For something a little healthier, you can serve this dish with some steamed vegetables. Sugar snaps, broccoli, cauliflower, or even carrots will work nicely as a side dish.
Be sure to let us know if you have any more ideas on what to serve with this lasagna.
Using Dry Lasagna Sheets
If you are using dry sheets, you should par-cook them to speed up the cooking process. You do not need to do the following steps if you are using fresh lasagna sheets.
1. Get a deep baking dish and fill with boiling water.
2. Place the sheets into the water, so there is only one layer. Wait until they have softened.
3. Remove the sheets from the water and brush with oil to prevent them from sticking together.
4. Repeat until you have enough sheets. You may need to replace the water with fresh boiling water.
If you want to see how to make a lazy lasagna, then check out my video below. It is a quick and easy way to learn how to throw this great recipe together.
Lazy Lasagna Recipe
Ingredients
350 g (12.3 oz) fresh lasagna sheets
500 g (1.1 lb) ground beef
700 g (1.5 lb) pasta sauce
100 g (3.5 oz) wilted spinach
2 cups cheese, shredded
½ cup Parmesan cheese, shaved
Instructions
Preheat an oven to 180°C (350°F).
Place a frypan over medium heat and add the ground beef. Cook until browned.
Add the pasta sauce and the spinach.
In a deep loaf tin, add a tiny bit of the sauce. This sauce will help stop the sheets from burning to the bottom.
Add one layer of lasagna sheets.
Add enough sauce to cover the sheets.
Sprinkle both kinds of cheese over the top.
Repeat from step 5 until you are out of either lasagna sheets or sauce
Top with leftover cheese.
Place in the oven for 20 minutes or until golden brown on top.
Serve & Enjoy.
Recipe Tips
Miss the béchamel? My best suggestion would be to buy it from the supermarket or make it from scratch.
This lazy day lasagna is also perfect for reheating. Cook it, and it will last in your fridge for a few days and retain the awesome flavors.
You can use fresh or frozen spinach. I find frozen spinach tends to be a lot easier as it does not need to be sautéed.
If you decide to use dry lasagna sheets, then I recommend that you par-cook them first.
Nutrition Information
Serving Size: 466g (1 lb)
Servings Per Recipe: 4
Calories Per Serving: 599
Amount Per Serving
Saturated Fat: 18g
Trans Fat: 0g
Total Carbohydrate: 77.6g
Dietary Fiber: 5g
Sugars: 8.6g
Cholesterol: 173mg
Sodium: 1039mg
Protein: 64.1g
The information above is an estimate generated by an online nutrition calculator.
More Ground Beef Recipes
If you do not feel like lasagna but have some ground beef to use, then there are plenty of easy ground beef dishes to try.
A good meatloaf always goes down a treat. The recipe I recommend has a delicious mustard and tomato sauce that complements the meatloaf.
You have got to try the Tater Tot casserole. It features a delicious ground beef sauce, lots of cheese, and crunchy potatoes. I highly recommend giving it a try.
If you have your own variation on this deliciously easy lazy lasagna, then be sure to let me know by leaving a comment at the bottom of this page.